There are a lot of tasks involved in processing a customer's order, but with WooCommerce you can cut down on these with automatic order printing. It's a time-saver that might also make your business more efficient and productive to boot.
Printing receipts and orders is a vital task for a restaurant, fulfillment station, warehouse, and many other retail businesses. Automating this point in the chain can give you time back, give orders greater clarity, and plenty more benefits.
If you're looking for a reliable solution to automate printing for your WooCommerce orders, we've got you covered. In this tutorial, we'll explore the top three automatic order printing plugins for WooCommerce, and explain why our top choice is BizPrint. With BizPrint, you can easily integrate printing into your WooCommerce workflow, making order processing faster and more efficient. We'll guide you through the features of this plugin and show you how to get started with it.
So let's dive in and discover how WooCommerce and automatic order printing can help streamline your business operations!
Why You Should Use Automatic Order Printing Within WooCommerce
It's clear already that auto-printing can offer a number of benefits to any business:
Physical receipts still matter to many, despite the rise in online shopping.
A customer will need evidence of purchase, and the ability to auto-print it saves time and guarantees they will receive it.
You may also need to supply the order details to others in your team and keep it for your records. Automatic order printing lets you hand this off without worry.
It's helpful to look at some of the use cases that your industry (and others) might come up against that auto-printing can assist with:
For example, a food outlet will need to print orders for the kitchen and wait staff. What's more, you'll want to offer the customer a receipt that matches the order.
Warehouses also need instant records of an order, so that they can zip into action and fulfill the purchase and delivery.
Any industry can benefit from good branding, and automatic order printing lets you apply consistent branding to each and every printout.
If you want your business to improve its efficiency, consistency, and profit margin, automatic order printing can be a stellar way to do the job. You get to make more sales with less stress on your team. On the flip side, a customer gets a friction-free service that boosts their experience and keeps them coming back.
Why a Plugin Is a Great Way to Implement Automatic Order Printing
WooCommerce is the leading e-commerce solution for WordPress – as the figures prove. However, like its parent Content Management System (CMS), WooCommerce offers a basic, yet full, feature set. Unfortunately, this means there is no native way to implement automatic order printing.
In order to achieve order printing without automation, you'd need to make sure your supply chain prints each order or receipt. This is not only time-intensive but potentially fraught with issues. It can erode your business' efficiency, and hit you where it matters – in the pocket, and to your reputation.
However, a dedicated plugin can help you set WooCommerce up with automatic order printing. What's more, you can alter the implementation to your own workflow. This is essentially a custom order system, tailor-made for your business and the needs of your customers.
Next, we're going to discuss some options to make this happen.
3 Top WooCommerce Plugin to Set Up Automatic Order Printing
Next, we're going to look at some of the best WooCommerce plugins to add automatic order printing to your site. Then, we'll highlight the best option from this list, and show you how to use it.
1. BizPrint
If you want a WooCommerce automatic order printing plugin that's almost beyond compare, BizPrint would be it. It's reliable, scalable, flexible, and easy on your budget. You can get started by choosing a flexible payment plan that best suits your business's unique needs. Plans start as low as $3 per month!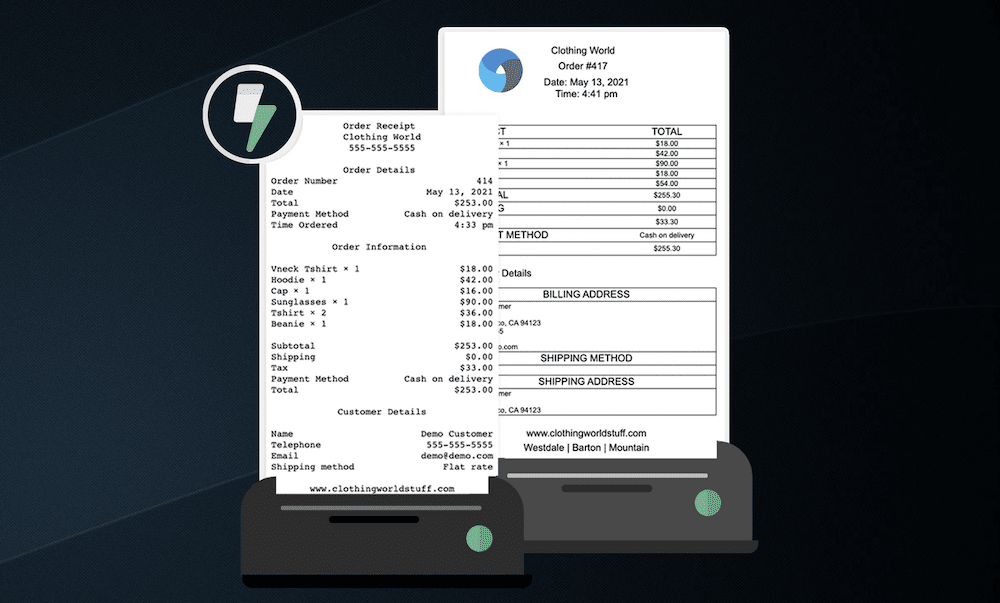 This plugin suits practically every business that needs to auto-print WooCommerce orders, receipts, packing slips, delivery notes, shipping labels, and fulfillment notices. As such, you'll find it in use across a wide range of industries and business setups.

BizPrint comes with a number of clear benefits and positives:
Its interface and approach helps you reduce time, labor, and the general cost of business that relates to manual order processing.
You can offer custom receipts, with your own branding in place on every one. BizPrint also has extra print templates available out of the box.
There's flexibility in how you get these physical copies of order confirmations to users. For example, you can send order emails, send notifications, auto-print, and more.
Customers can choose the shipping method (whether that's a collection or delivery), and you get to define the rules to process the order.
What's more, you don't need to update your infrastructure or workflow to accommodate BizPrint. The plugin has compatibility with every printer – including industry solutions such as thermal printers – which means you implement it and continue with greater efficiency. Your overheads remain as they were.
2. Automatic Order Printing for WooCommerce
The Automatic Order Printing for WooCommerce extension is a product for auto-printing WooCommerce orders, developed by a third party and sold on WooCommerce.com. The features and functionality deliver as you'd expect:
You can automate your order printing with ease.
There's a WordPress-based way to edit custom templates and branding, which gives you a familiar interface to do so.
You have integration with WooCommerce
While it seems as though it's perfect on the surface, there is one caveat to note about the solution. It's not an end-to-end order printing solution like BizPrint and doesn't handle the order prints within the extension's ecosystem.
The biggest issue here is that you'll need two separate accounts and purchases to set up automatic order printing. Not only will you need to buy the WooCommerce extension, but you'll also need a PrintNode account to fulfill print jobs. PrintNode is a separate company to the developer of the extension.
3. WooCommerce Print Invoices & Packing Lists
The WooCommerce Print Invoices & Packing Lists extension is another popular third-party plugin solution. It's a comprehensive way to print off orders, receipts, shipping labels, packing slips, invoices, and more.

You get lots of functionality with this extension:
There's a dedicated order page to help you manage both individual purchases, and bulk orders.
You get the opportunity to add vital customer and order information to your invoices and packing slips.
The printing process is super-simple – it takes around two clicks to print a new order
There's a number of customization options to help you tailor printouts to your business and customer's needs.
We'd suggest that this is a cut above the other WooCommerce.com-listed extension, but nowhere near the functionality of BizPrint. There are some automated processes to get invoices to customers, but if you want to reap the benefits of automatic printing, you can't choose this solution because automatic printing functionality is nonexistent.
What's more, there are a few poor user reviews that could see you opt for another solution with a more rounded feature set. If you want to implement automatic order printing, the choice is clear.
BizPrint: Why This WordPress Plugin is the Best Auto-Printing Solution
We've talked about the general feature set of BizPrint in a previous section, but we didn't mention how much you can expand on it. BizPrint provides a way to enhance its core functionality through premium add-ons in the marketplace.
For example, there are a few ways we can recommend you enhance your own fulfillment chain:
The Product Mapping add-on gives you a way to send orders to different printers anywhere based on the product and category. For instance, you could set up a printer at a Point Of Sale (POS) location, then another at a fulfillment station that helps your team pack and deliver the order.
Speaking of which, the Pickup Delivery Scheduler add-on lets you take control of your shipping methods from within WordPress. You get to set up time slots and capacity throughout a custom and user-defined schedule which is critical for restaurants and retail stores doing any type of in-person pickup or delivery.
For some businesses, you might not want to take orders within certain timeframes. The Store Order Hours add-on lets you define your opening hours, display them to users, and restrict functionality until you're back in the building. That way, you can always be ready to fulfill an order.
While each add-on is available within our marketplace for an individual price, you'll get unique bundles within our premium plans. This way, you can choose the add-ons that matter to you, while knowing exactly how much everything will cost.
How to Set Up Automatic Order Printing Using WooCommerce and BizPrint
If you don't yet have BizPrint, you'll need to grab an account. We cover this and some other basic steps in our Quick Start Guide. When you have access to the BizPrint Cloud Dashboard, you'll need to set up your business as a new application (through the "Applications" tab):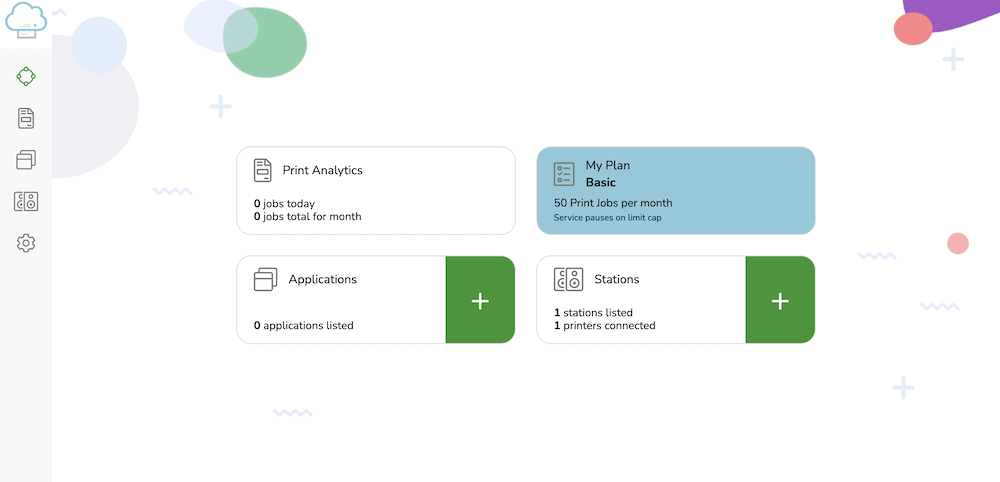 All you'll need to do this is enter a name and provide a URL for your WooCommerce store: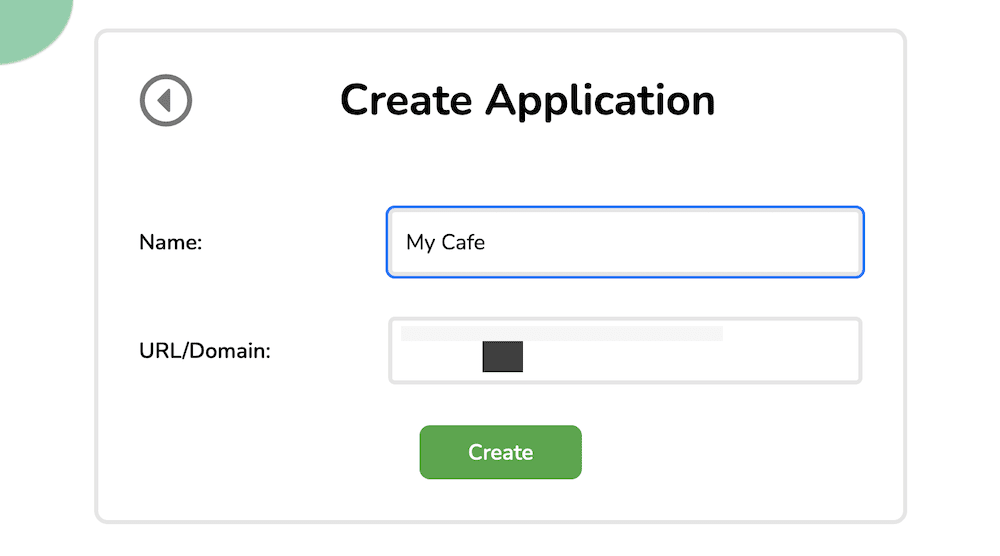 While you're in the dashboard, head to the "Stations" screen and set up the locations within your premises:

The Windows and macOS BizPrint Cloud app lets you define and send jobs to the printers at those locations. You can even set up a PDF printer if you need to email or otherwise provide digital receipts: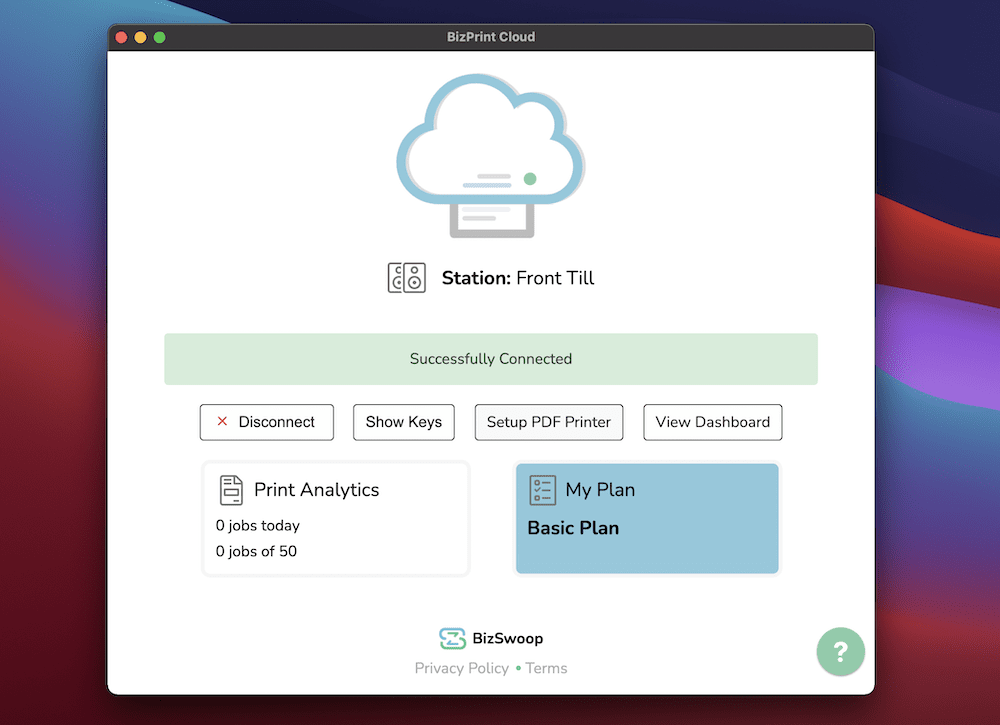 You'll also need to connect BizPrint's cloud services to WordPress. Once you install the free plugin (ZIP available here), you'll head to the "WooCommerce > Print Settings > General" tab to enable automated order printing with one click, and set up your order status information: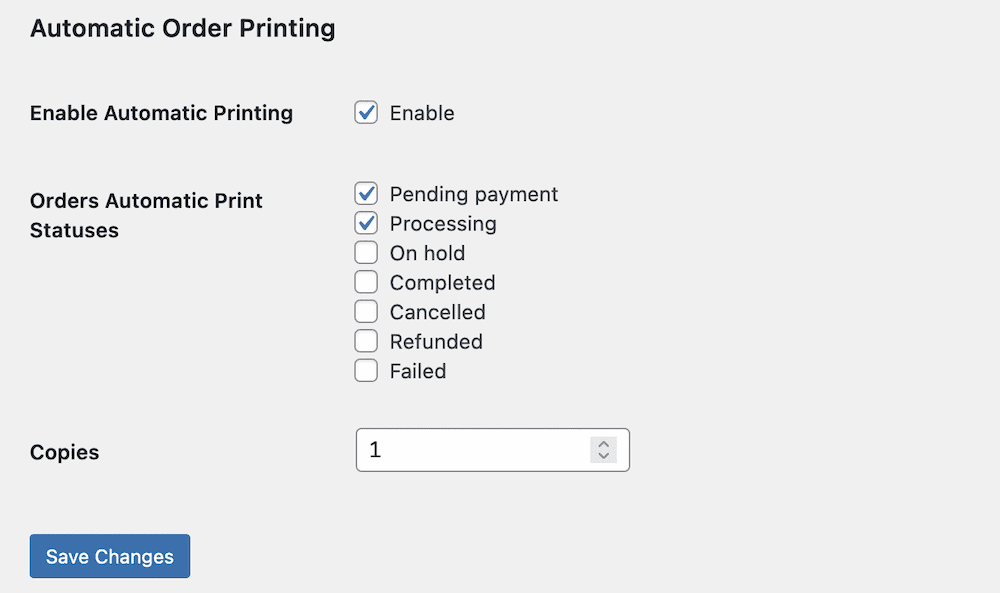 From here, you can develop your setup even further. For example, the "WooCommerce > Print Settings > Locations" screen is where you'll set up custom order templates: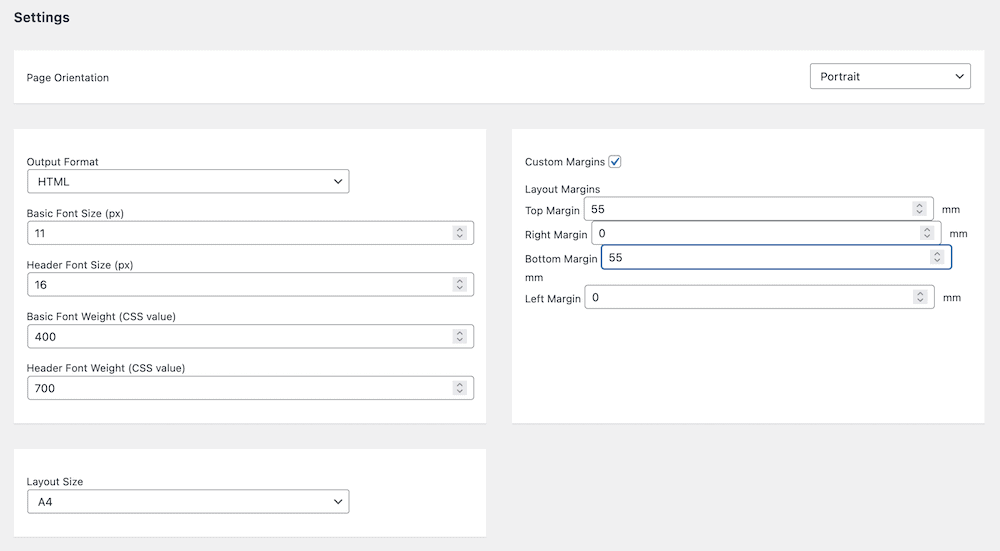 You'll also control the options for BizPrint add-ons such as store hours and smart delivery scheduling from WordPress too.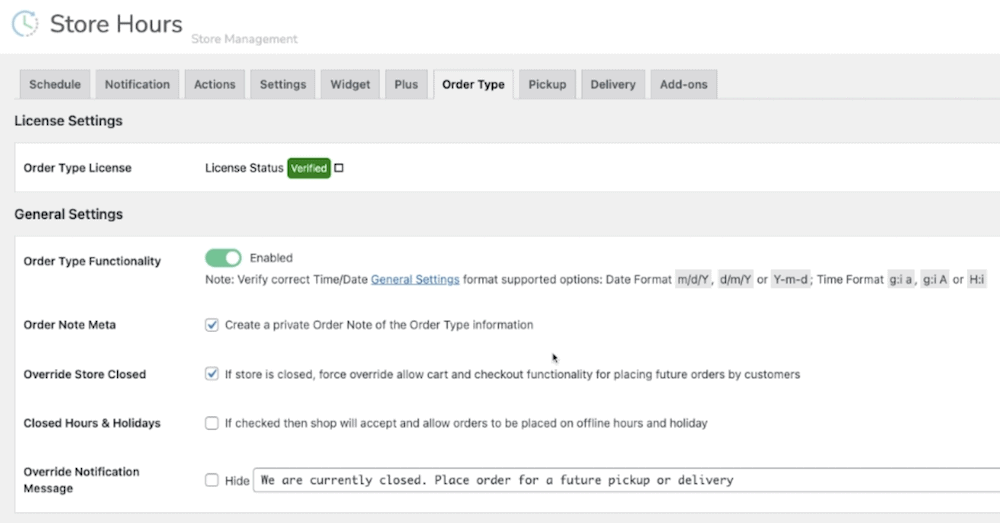 It gives you a familiar and intuitive way to set up your entire automatic order printing from one location.
Automate Your Order Printing with BizPrint
Any time you can hand off a task to a reliable colleague is a good day. However, if you choose to automate your order printing, you can not only free up a team member, you can get a near-perfect result every time. WooCommerce can accept automatic order printing through a dedicated plugin – BizPrint is the best option available.
The plugin gives you a fantastic way to set up auto-printing for orders, packing slips, receipts, and more – all from a slick interface that's intuitive to use. What's more, the WooCommerce integration means if you know your way around the platform, BizPrint is a snap to integrate into your existing workflow.
BizPrint offers a range of flexible pricing plans to suit every budget. Get started today to reap the benefits that automatic printing can bring to your WooCommerce store.