Are you looking for a packing slip solution to extend the functionality of your WooCommerce store? As WooCommerce doesn't offer packing slip functionality out-of-the-box, you'll need a plugin to generate and print packing slips. A good WooCommerce packing slip plugin will support various areas of business, which we discuss in this article. We have also curated a list of the five best plugins that handle packing slips for WooCommerce stores.
What are packing slips?
A packing slip is a document that indicates the contents of a package or shipment. It is useful at both ends of the eCommerce delivery process, as summarized below.
Warehouse or fulfillment center operatives can refer to a packing slip to locate the right items for an order. In this sense, packing slips are similar to packing lists, but they're also intended to convey package or shipment information to carriers and order details to customers. This is why they contain information such as product weight, dimensions, price, tax rate, a fragile label for a product that can be easily broken, and other information specific to the product.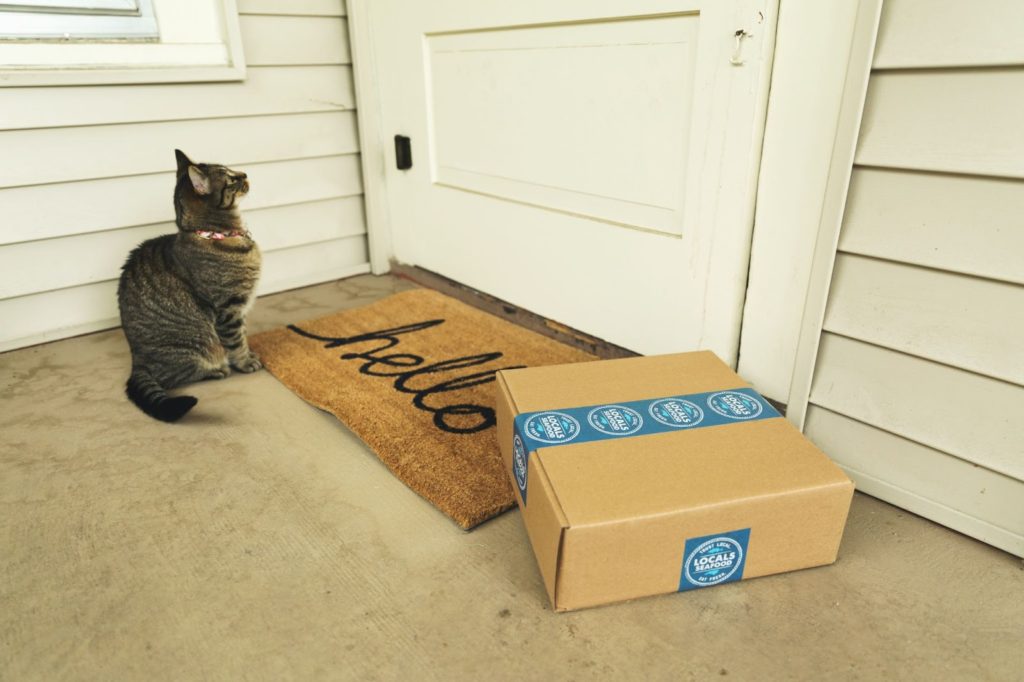 The packing list is typically appended to the physical shipment in a waterproof covering. It can also be included within the package. The document is there for the customer to compare the items they've received against the itemized list on the packing slip included with the package. So, if an item is missing or a wrong variant or product has been delivered, then the customer can use the packing list as evidence when they inform the shipper's customer service team.
How do these packing slip applications translate to business benefits? Take a look.
Benefits of packing slips for WooCommerce stores
As a reference document, packing slips are beneficial in a number of business scenarios, as discussed below.
A link between store owners and warehouse staff
A packing slip tells warehouse operatives everything they need to know to pack the right items for each order. If you use a third-party fulfillment provider, it assumes even more importance as they will be handling items for many companies in the same warehouse. In both cases, the packing slip tells packers what they need to know, reducing the need for overcommunication, saving time for both parties, and helping simplify the fulfillment process.
Reduce human error while packing
A picklist can also double as a packing list. The document can be given to the warehouse operator and also be appended to the package to be sent to the customer. Creating a packing list that contains detailed information about the product helps keep human error while packing to a minimum.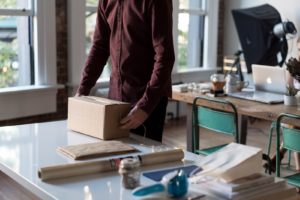 Your team can refer to the packing slip to confirm that the right items have been packed before the package goes out. This matters a great deal when you consider that even a picking error rate as low as 1-3% can cost you $50 to $300 per error or an 11-13% drop in profitability.
Use as gift receipts
For orders marked as gifts, the packing slip can show proof of purchase and item quantity and details but leave out pricing information. Depending on the extent of customization your WooCommerce packing slip plugin allows, you may also be able to include a gift message. With all the details added to the editable template, you can print out the packing slip and use it as a gift receipt for applicable orders.
Improve operator productivity
Labor costs are typically the largest operating expense in the warehouse. You'll no doubt want to ensure that warehouse operatives are productive and support them in this regard. One way is to create packing slips that make fulfillment easier for staff at their end. You could, for example, add only the key information that staff needs to scan to pack items quickly.
Consolidate items from different warehouses
If your products are stored in multiple locations and an order comes in that requires products from more than one warehouse, you can create separate packing slips and send each of them to the appropriate warehouse. A WooCommerce packing slip plugin allows your staff to quickly identify all the items that need to be packed in one box or parcel, and execute complex orders without difficulty.
Aid inventory management and bookkeeping
Packing slips also serve as a physical record of sales and inventory, telling you what products are in demand and the sales you're generating. Creating and printing packing slips in WooCommerce is beneficial from the perspective of bookkeeping, where maintaining accurate records is paramount. For example, a packing slip can serve as a backup and provide order information when you've misplaced a commercial invoice.
Increase brand transparency
66% of consumers cite transparency as one of the most attractive qualities of a brand. A packing slip increases transparency between your store and customer by acting as a shared document that both parties can refer to in the event of a missing or wrong item. Customers can cross-check the packing slip against their online or in-store order receipt to spot discrepancies. They can take a photo of the packing slip and send it to you as proof and you can approve refunds or plan reshipment without delay.
Increase brand trust
A packing slip is not only an important document in the fulfillment process but also a tool to generate trust. You can add your company slogan, refund policy, and customer care email address to it, reinforcing what you say on your website or other online or offline channels. This consistency can pay off – consistent presentation by a brand has the potential to increase revenue by 33%. You also have the opportunity to add marketing messages such as a brief mention of a current promotion or an upcoming product to keep brand engagement high and build greater trust with customers.
The 5 Best WooCommerce packing slip plugins
Of the multiple WooCommerce plugins that enable packing slip functionality, these five solutions stand out for the reasons explained below.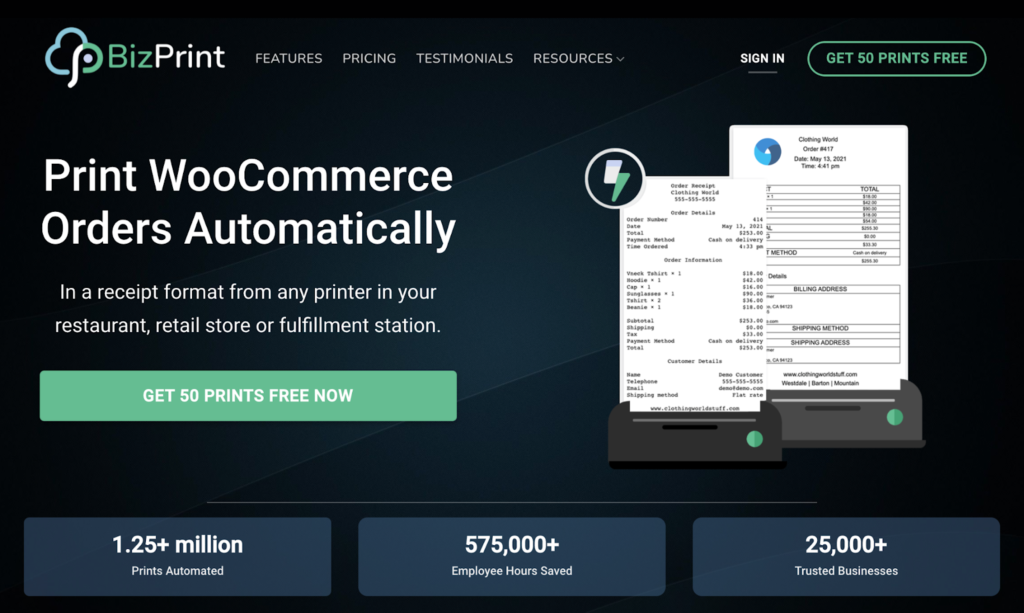 BizPrint is an all-in-one solution for creating and printing documents in your WooCommerce store. It has applications for all types of eCommerce stores and allows you to automatically generate packing slips and print them on your existing printers at your warehouses, fulfillment stations, or other specialized locations. Here are the key things to know about BizPrint:
The plugin is easy to set up and quickly integrates with your WooCommerce store. You can start printing packing slips directly from the WordPress dashboard straight away!
BizPrint isn't only for printing packing slips – it can also create packing slips as PDF files to send electronically to the warehouse.
Packing slip templates can be customized to fit the needs of your warehouse or distribution center. You can exclude information that isn't relevant to your packing slip – such as price or customer billing address, adjust colors, configure the template to use the right paper size, change the font size for better readability, and more.
The WooCommerce packing slip plugin can print on demand automatically! You can configure BizPrint for auto-printing for your warehouse or other inventory location, which can dramatically speed up the fulfillment process. If your products are stored in multiple locations, you can distribute printing between locations based on product categories or SKUs in two ways:

Use the Product Mapping Add-on, which allows you to set up printers to print specific products or items from specific categories.
Use the Shipping Mapping add-on to set up printers to print based on specific shipping zones or methods. For example, you can assign a printer location to create packing slips for wireless products that will need to be shipped overnight for guaranteed next-day deliveries. So, when an order for a wireless speaker is placed with a next-day delivery option, then it would trigger printing at the predefined location for speedy fulfillment.

Print packing slips in bulk from the 'Orders Overview' page containing order lists, order statuses, and order numbers. Rather than having to manually print each order, you can send print jobs for all orders to the printer at the same time.
Use the editable templates to create and print invoices, receipts, delivery notes, shipping labels, and other documents. This flexibility is especially useful when your customers can also order items from your physical store.
With so many thoughtful features for the online store owner, BizPrint is the best WooCommerce packing slip plugin to increase your business efficiency and keep customers satisfied. BizPrint is the best WooCommerce packing slip plugin. We also have a separate tutorial on how to automatically print your packing slips for new WooCommerce orders.

WooCommerce Print Invoices & Packing Lists is a premium plugin available on the official WooCommerce store. With this plugin, you can create and print packing slips from the WooCommerce orders page, as well as send lists by email to your customers.
On the other hand, customization and template options are limited. You get three line items to include or exclude – customer details like address, email and phone number, customer notes, and virtual items. You can use sequential order numbers or WooCommerce order numbers as your invoice numbers. Also, advanced features like mapping printers to specific categories or shipping zones are missing. Packing slips destined for different warehouses have to be generated manually. For more customization and features, you'll need to look at another WooCommerce packing slip plugin.

This is a PDF invoice and refund generation and printing plugin that also contains inbuilt functionality for packing slips. With Challan, you can generate customizable packing slips based on a core packing slip template, and send them to your customer via email. You can also generate PDF invoices with unique invoice numbers. More customization is possible with the use of custom CSS and Filter and Action hooks.
The WooCommerce packing slip plugin offers bulk downloads but not bulk printing, which is a drawback for WooCommerce stores with high sales volumes.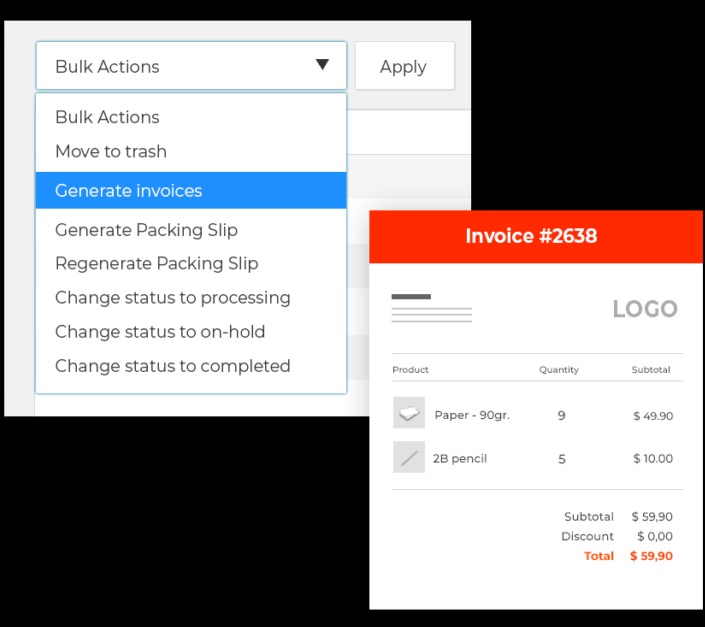 The YITH PDF invoice plugin features invoice and packing slip functionality. It gives you the option to generate packing slips manually or automatically. It automatically backs up the documents to Dropbox or Google Drive. Additionally, you can customize the packing slip document by using the three inbuilt templates as a starting point. The information you can show includes product weight and size, cost, and shipping method. A neat feature is credit notes – you can easily manage refunds through the credit note function inside the plugin.
The WooCommerce packing slip plugin doesn't extend to printing proforma invoices and packing slips. It can be a good solution if you only need to generate and manage documents without the need to print.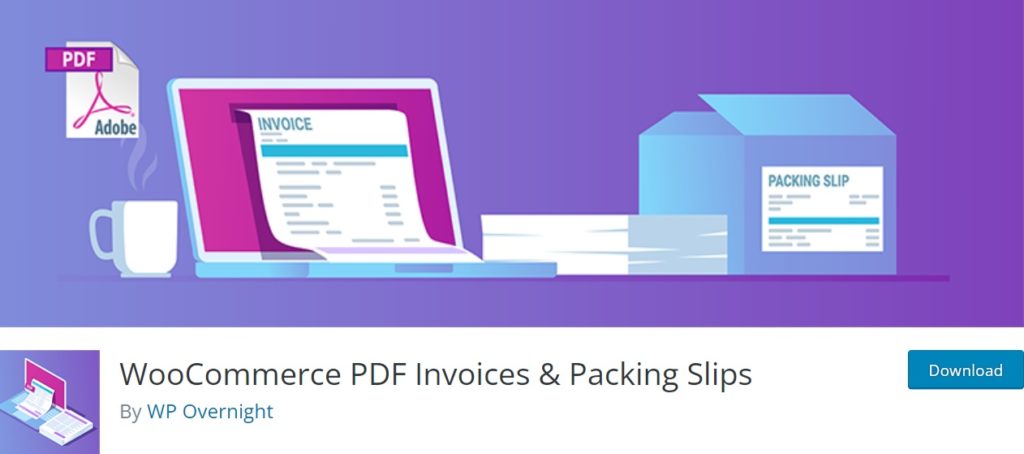 A WooCommerce extension from WP Overnight, this plugin allows you to create and download PDF invoices and packing slips. The solution automatically adds a PDF packing slip to customer order confirmation emails. It also generates PDF WooCommerce invoices and assigns them an invoice number.
The WooCommerce packing slip plugin offers pretty advanced customization with multiple custom fields, including header image/logo and footer information. It also provides HTML/CSS-based packing slip and invoice templates to further tailor documents to your specific requirements.
The plugin allows you to generate packing slips in bulk and download them from the 'Order Admin' page. But the free version does not include auto-printing functionality – to print documents, you'll need to get the premium version.
Create professional-looking packing slips
Packing slips have many applications for WooCommerce store owners. They support many of the goals that online store owners have in common, including:
Increasing delivery speed to boost customer satisfaction;
Improving brand trust by serving as a shared reference point between shipper and customer;
Easier inventory management and sales tracking; and
Greater efficiency across the eCommerce fulfillment process.
BizPrint helps accelerate the achievement of these goals. It is the best WooCommerce packing slip plugin as it offers several useful features out-of-the-box and extends capabilities with add-ons. Using BizPrint, you can:
Create and print packing slips on-demand, and save time on manual slip generation and printing.
Generate and print packing slips in bulk to meet high sales volumes and peak season demand.
Print to multiple printer locations and send different packing slips to different warehouses.
Set up and use the BizPrint WordPress plugin without requiring HTML/CSS/PHP coding knowledge.
Make the most of customizable packing slip templates to generate physical copies of various other business documents and labels.
Put BizPrint to work for you by choosing from one of our range of flexible pricing plans, suitable for businesses of all shapes and sizes. Sign up now!