Looking for an easy way to generate and print shipping labels for the products you sell on your WooCommerce store?
While WooCommerce offers a plethora of features for managing a successful eCommerce store, it falls short when it comes to printing labels to efficiently manage product deliveries, such as shipping labels.
That's why WooCommerce plugins exist – to enhance the functionality of your online store. And the plugin to know for easily creating and shipping labels is BizPrint. Using this native WooCommerce solution from BizSwoop, you can create order-specific and product-specific shipping labels.
Read on to learn how BizPrint makes the process of generating and printing WooCommerce shipping labels easy and seamless.
Why Shipping Labels are Important for eCommerce
Shipping labels serve certain purposes during the order fulfillment process. They have an impact on customer experience and loyalty.
Shipping labels contain all the information needed to deliver a product
A shipping label displays all the necessary information about the package to ensure it reaches the right destination and can be tracked in real-time on its way to the destination. It can include information such as:
Recipient's name and address
Origin/Return address
Weight of the package
Shipping method (Priority Mail/Next Day Air/First Overnight)
A barcode that can be scanned to quickly see information about the sender, receiver, item, etc.
A tracking number that helps to track the package online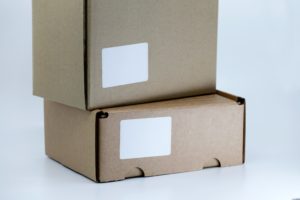 Without a clear shipping label, a package can be delayed in transit, delivered to the wrong address or lost. If it is lost, you'll have to conduct a search for the missing package and if unsuccessful, replace the missing item or issue a refund – a financial loss for you. You'll only be adding to your shipping costs, which are among the most significant eCommerce costs.
Should the package run late due to issues with the shipping label, delivery times can be affected. Late deliveries can cost your business – 13% of consumers say they wouldn't order again from a store owner after failing to receive their package within the expected time. Between replacements, returns and refunds, you can suffer a hit to your profit.
A common reason packages don't get delivered is because their shipping labels are damaged and there are no packing slips included either to determine the origin and destination of the items, in the event that the item is lost or misplaced. A packing slip is a document with a list of items in a package. It helps the customer to check if they received all the items they ordered and contains information such as the recipient's address, order number and date, order total, return policy, customer service number, and other information.
By using WooCommerce shipping labels, you can provide all the information that the shipping carrier/Post Office and customers need to know. Not only is it important to have a system to print these labels, but to also ensure that they contain complete and accurate information, and are scannable and therefore, trackable.
All shipping carriers require shipping labels
Major shipping carriers like USPS, DHL, FedEx and Canada Post require shipping labels to keep packages moving through their respective networks to the final destination. In case of international shipping, shipping labels help ensure smooth customs clearance. If you're sending a fragile package to a customer in another country, then including information like 'Special Handling – Fragile' on the shipping label tells carriers that they need to handle the package with care. This, apart from beefed up padding and other precautions, minimizes the risk of damage to the item and a complaint from the customer.
When it comes to creating shipping labels, a generic solution won't do as it cannot integrate with WooCommerce. You will need to consider a plugin that allows you to print WooCommerce shipping labels for smoother and faster dispatch from your side.
Tracking numbers allow both parties to keep tabs on the progress of shipments
A tracking number is a unique identification number or code assigned to a package or parcel. It is usually represented as a barcode on WooCommerce shipping labels. The barcode is scanned as it passes through various points, from drop-off/pick-up to delivery. At each point, the barcode is scanned and the location of the package recorded.
51% of customers want real-time visibility into the status of their orders. Tracking numbers can be provided to customers in the digital receipt they receive upon payment, or via text messages or electronic mail. They can use the tracking number to track shipments at any point in time. Shipment tracking numbers are especially useful to know the location of time-sensitive deliveries.
Generating tracking numbers and adding them to WooCommerce shipping labels is beneficial from the point of view of customer service. You can use them to send customers notifications on the latest status of their orders, which can help increase customer satisfaction.
The Benefits of BizPrint for Managing WooCommerce Shipping Labels
WooCommerce doesn't offer built-in features to create, manage and print shipping labels. You could install multiple plugin add-ons to generate and print labels, and configure their API settings to work in tandem.
This limitation of WooCommerce core can be overcome with BizPrint. The shipping label plugin extends the functionality of the eCommerce platform, allowing you to create, manage and automate the printing of shipping labels right from your WooCommerce dashboard, thereby reducing your order processing time.
Say your products are stored at multiple fulfillment centers. You can easily configure BizPrint to generate WooCommerce shipping labels with custom tracking numbers when an order is sent to a specific center. Or, if products within one physical location have variable or flat shipping rates, then you can include the specifics by using custom templates within BizPrint.
How to Generate Shipping Labels for Your WooCommerce Orders
You can create WooCommerce shipping labels in just a few steps. First, you'll need to get BizPrint. BizPrint offers a wide range of different pricing options, making it a great fit for your business, regardless of the scale you want to print shipping labels at. Better yet, it even works with your existing printer, so you won't even need to purchase a specialized printer.
Then, select the printers that will carry out label printing. The next part is creating the shipping label with the information that needs to go on it for visual identification and scanning. Then, you can configure the plugin settings to customize your WooCommerce shipping labels in different ways.
Part 1: Set-up
1. Create a BizSwoop account.
2. Install and set up the plugin using the BizPrint quick start guide. The setup will include adding your existing printers to BizPrint, and connecting BizPrint to WooCommerce.
3. Go to 'WooCommerce > Print Settings > Locations', then click 'Add New'

4. Add a location title to indicate the location of the printer. You could write 'office', 'warehouse'' or 'driver copy', for example.

5. Select the printer you want to use. You will have designated printers at the time of setting up BizPrint.
Part 2 – Creating the shipping label
As mentioned already, information like the recipient's address, origin/return address, package contents, shipping option, and other details go on a shipping label. A barcode is the other element, which contains much of the same information present on the shipping label. While creating WooCommerce shipping labels, you'll need to include both visual and scanning information.
Visual information is displayed for human eyes to comprehend by reading the label. You can include any details from the order page that need to be known by the shipping company and customer.
Scanning information is represented by the barcode, which you can generate using a third-party plugin or the carrier's online service. As explained previously, major shipping carriers offer online services using which you can generate shipping labels. Click-N-Ship (USPS), My DHL Express (DHL) and FedEx Ship Manager Lite are the online tools that automatically generate a barcode from shipment information.
A plugin for WooCommerce that allows you to generate barcodes for shipping labels or embeds them into invoices or other transaction documents is the other option to consider. A good one to consider is A4 Barcode Generator. It allows you to print barcode labels manually or import them from orders.
After the barcodes intended for your WooCommerce shipping labels are ready, you can proceed to add them to the label template using WordPress hooks/filters. You can create shipping label templates for any shipping service you use, from major carriers to lesser-known local providers. Here are the steps to follow:
1. Choose a template, and then check the boxes applicable to your shipping label. The main ones here are 'include billing and shipping details' and 'include shipping method', but there are other options for shipping rate and order cost, should you wish to include those details on your shipping label.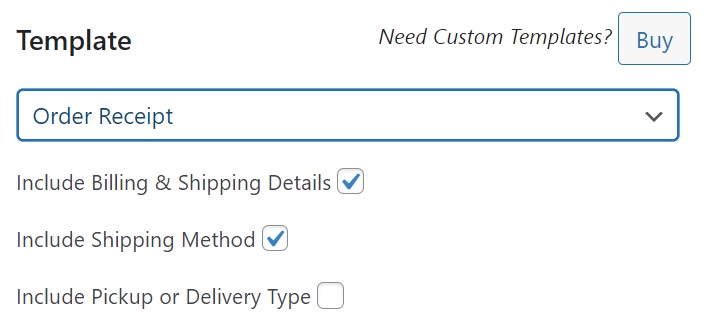 2. In the 'appearance' box, add any extra order details that you want to show on the shipping label. This is where you can write your company name, information, tracking number or product SKUs. There are multiple fields in which you can input information relevant to the specific product, such as mentioning that it is 'fragile' or 'flammable'. This will help ensure that your package is handled appropriately and reaches the customer in the best condition. You can even add barcodes to make package tracking seamless and smooth throughout the supply chain.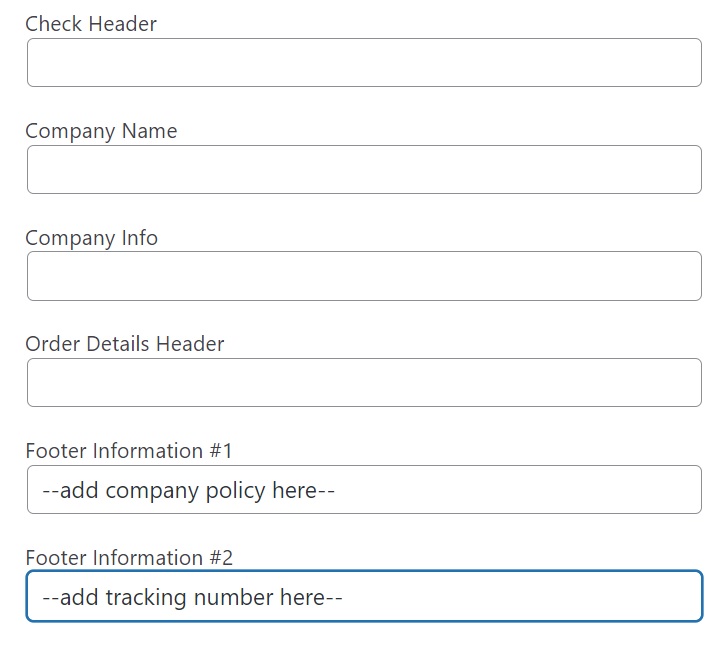 3. The shipping labels you generate are completely customizable with code. Using WordPress hooks and filters, you can create custom templates for specific shipping countries, flat-rate shipping, third-party delivery or bulk shipments, for example. You could even use code to pull in shipping labels generated by third-party carriers, such as USPS, FedEx or DHL!
Part 3: How to Print Your Generated WooCommerce Shipping Labels
1. Go to WooCommerce > Print Settings > General
2. Click the checkbox to enable automatic order printing, or leave it unchecked to print orders manually.

3. The Product Mapping add-on (included in Pro plans and higher) allows you to print one category or type of product at a specific fulfillment location, and a different type/category at another fulfillment location.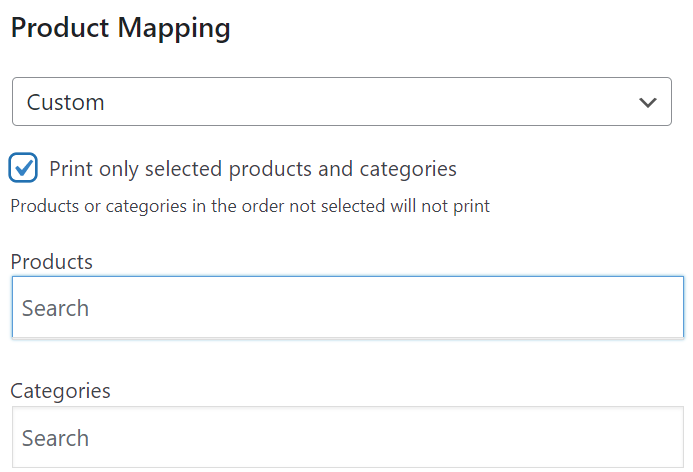 Set up and Print WooCommerce shipping labels with BizPrint
A shipping label contains all the information that allows shipping carriers to deliver packages accurately and efficiently. It has a tracking number that enables customers to track order status and stay on top of their shipments. All shipping carriers require shipping labels to execute their part in the order fulfillment process. You can generate FedEx/USPS shipping labels using these carriers' online tools, but this method can be time-consuming and costly.
If you ship a higher volume of packages, BizPrint is ideal for your needs. Here's a quick recapitulation of the benefits of using BizPrint:
Templates, customization and auto printing save you time on creating shipping labels.
You don't have to use an add-on or another plugin to generate and print shipping labels.
Bulk printing rather than individual printing helps boost order fulfillment efficiency.
You can create shipping labels that meet the requirements of your shipping carrier.
Product Mapping add-on can support existing workflows at your fulfillment centers.
BizPrint has other applications for WooCommerce stores – you can automatically print invoices, receipts at checkout, return labels, packing slips and delivery notes.