WooCommerce is a popular e-commerce platform and it's no surprise – it's flexible, powerful, and easy to use. But what if you also want to have physical sales channels? Can WooCommerce, on its own, support your physical retail store?
WooCommerce, by default, offers an e-commerce checkout with forms. That's not ideal for in-person sales.
Fortunately, help is here: you can utilize WooCommerce point of sale (POS) plugins that transform your WooCommerce install into a physical point of sale, with the same features you'd expect from a mature POS system.
You can use WooCommerce to sell products at your physical store, or sync your store POS system with your e-commerce site for seamless online and in-person sales.
In this article, we explore the benefits of using a POS plugin, and the top WooCommerce plugins for a better POS system for your retail business. We'll see why our favorite POS plugin in the list is Jovvie, which integrates seamlessly with BizPrint, an order printing plugin.
What is a POS plugin? Why should you use it?
A point of sale system is the place where your customer makes a payment for the product they bought at your store. A WooCommerce POS plugin offers a front-end interface that you can use at your brick-and-mortar store or merchant booth at a trade event to complete in-person transactions.
Typically, WooCommerce POS plugins use the REST API for seamless communication to and from platforms. They may offer tablet apps or responsive designs that allow you to use the web-based POS on different devices. For example, you can use your smartphone or iPad to sell your products at a trade show, your pop-up store, or any POS terminal.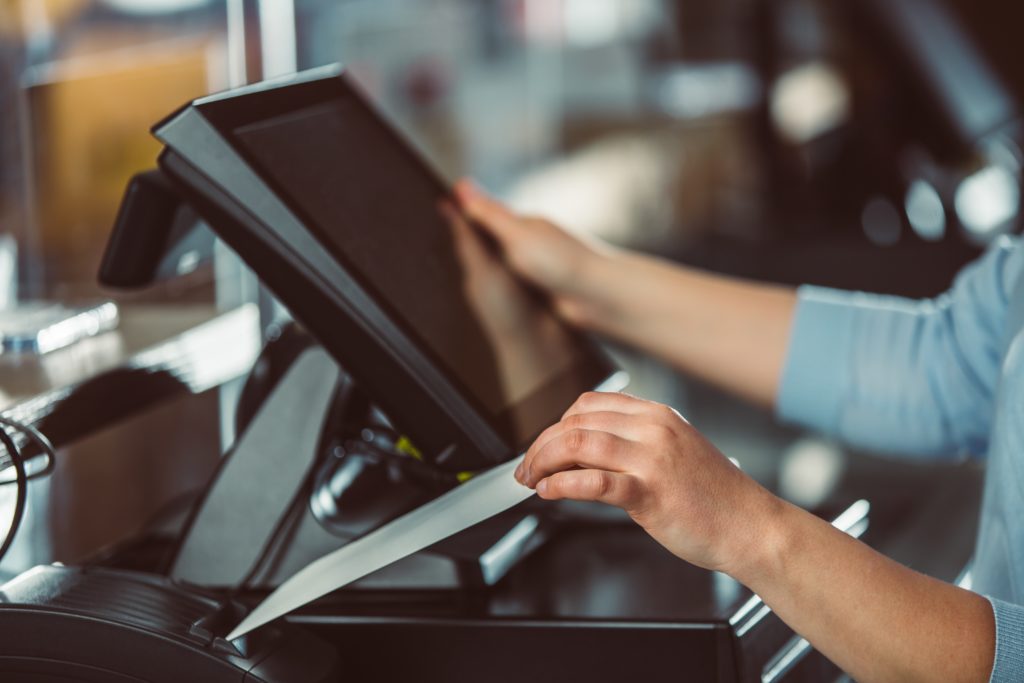 You can print receipts, manage your inventory, scan barcodes and capture customer information from anywhere. You can also send notifications about orders directly to new customers while maintaining a record for order processing at different checkpoints. If you don't want to sell online, you can simply use WooCommerce POS to sell in-store.
Do you need a POS plugin?
U.S. e-commerce sales are forecasted to exceed 1.3 trillion dollars by 2025. However, 72% of retail sales are expected to still take place offline in 2024. Today's shoppers want flexibility in terms of where they can buy products, how they can pay for them, and their delivery options.
There's another reason an omnichannel presence can be beneficial for store owners. Research shows that people who shop on multiple channels spend more in brick-and-mortar stores. A study by Harvard Business Review found that shoppers who conducted prior research online on a retailer's site or other e-commerce sites spent 13% more in physical retail stores.
How do WooCommerce POS plugins come into the picture?
A POS plugin enables you to set up a secure and efficient omnichannel retail presence. It has emerged as a popular category, and the best one can make a big difference to your business growth.
How to evaluate a WoooCommerce POS plugin? Here are the key features to look for.
Ease of use
You should be able to set up the plugin in a few, simple steps. Once installed and activated, you should face no problems in using it. A clean interface and intuitive operation are the hallmarks of user-friendly POS plugins.
Support for popular payment methods
Shoppers are used to getting multiple options for payments on e-commerce stores. Replicating the same experience in-person is vital to ensure a good customer experience. The best WooCommerce POS plugins offer support for popular payment methods such as cash, check, credit card, Apple Pay, Google Pay, Stripe, and other WooCommerce payment gateways.
Selling at multiple locations and across multiple devices
Your POS plugin should go everywhere you go to sell. It needs to be powerful and reliable enough to allow seamless online, in-person, or online-to-physical sales and back, from anywhere. The mobile phone is the modern cash register. A great WooCommerce POS plugin enables you to accept payments on your mobile devices, on-the-go.
Comprehensive features
The best POS plugins for WooCommerce offer features that enable and support key POS tasks, such as sales order, inventory, and shipping management. It needs to connect with scanner, iPads, cash registers and receipt printers to support seamless operations at the points where transactions are executed.
Stable and Modern
A POS plugin with a stable core delivers the speed and consistent performance you expect. Some of the older POS plugins use older coding languages. Jovvie uses REACT, which is made by Meta (Facebook) and has a stable code and predictable UI components. Customers have called Jovvie "the most stable POS plugin on the market" – they tried out various other plugins before reaching this verdict.
Top WooCommerce POS plugins and their features
When choosing a POS plugin for your ecommerce site, consider features like ease of use, support for various payment methods, selling at multiple locations and stability. We've taken these aspects into account while reviewing point of sale plugins for WooCommerce. Here's our list of the top products along with our take on their features.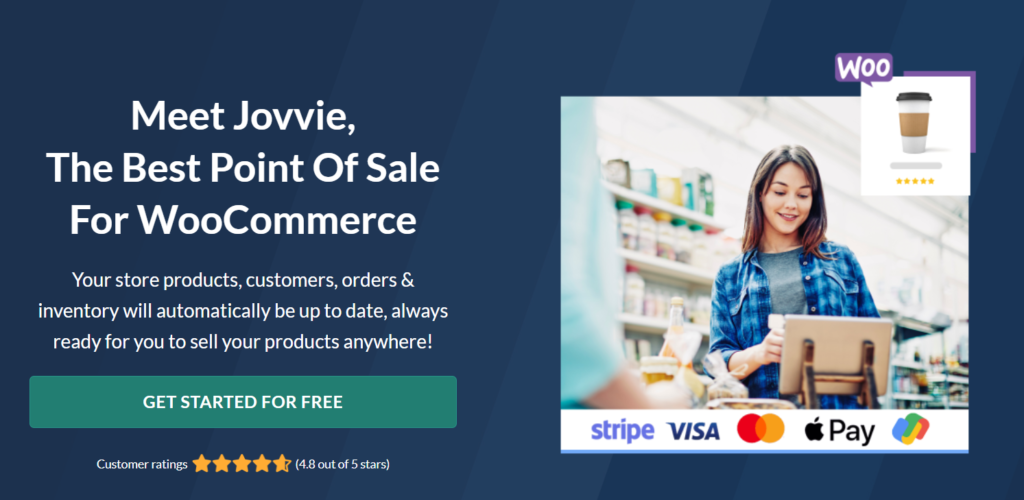 Jovvie is a sister product to BizPrint, from the suite of BizSwoop WooCommerce plugins that help you maximize your sales. The WooCommerce POS plugin sits in your WordPress dashboard and is therefore fast to set up. Your WooCommerce store connects to your Point of Sale in seconds.
Jovvie is built to feel like a natural extension of WordPress and WooCommerce. The POS layout is intuitive and easy to use.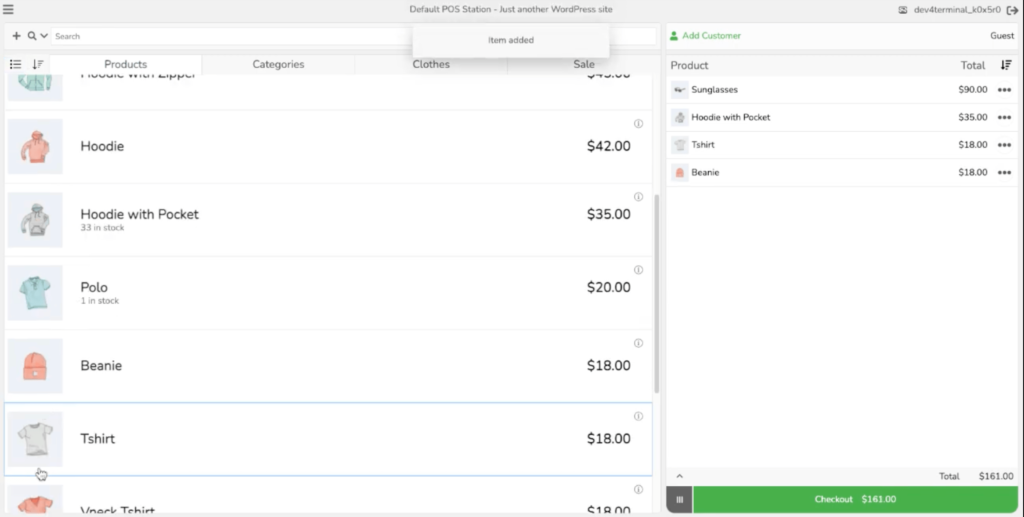 If you're looking for an all-in-one solution to manage your online store and physical sales, Jovvie is exactly what you need. It allows you to set up multiple POS stations suited to your store.
The deep native integration with BizPrint lets you take orders a through a cashier POS and automatically print receipts, print invoices, and print packing slips with the printers either at the POS or in a separate fulfillment center (including thermal printers).
Most WooCommerce POS plugins fall short in integration between the physical and the digital, so auto-printing with your existing printer is where Jovvie and BizPrint shine.
You can set up accounts for different roles or responsibilities like cashier, manager, salesperson and so on. You can determine appropriate access to business and/or customer data based on the requirements of each individual role. And you can add new products directly in the POS register.
Jovvie POS pulls orders, customers, taxes and other data from your WooCommerce store. It stays in sync with your WooCommerce inventory. You can handle your multi-platform sales efficiently and get a clear idea of your inventory exposure to avoid excessive selling.
Jovvie has everything you might expect from a modern point of sale system. It works on your desktop browser, or can be installed as an iOS or Android app on iPads, tablets and phones.
The WooCommerce POS plugin enables you to accept payments using multiple methods. Connect it to a Stripe Terminal for swipe, tap and scan payments. Accept payment in cash, check, credit card or accept digital payments using your current payment processor.

Barcode scanners are the key to a checkout process. Jovvie's barcode scanning functionality is built into the mobile and tablet app. It's super convenient! If you need to set up email notifications for orders generated at your POS, Jovvie helps with that as well.
Everybody loves coupons. You may have hundreds or thousands of coupon codes on your online store. With Jovvie, you can create fixed value or percent discount coupons directly on the POS interface.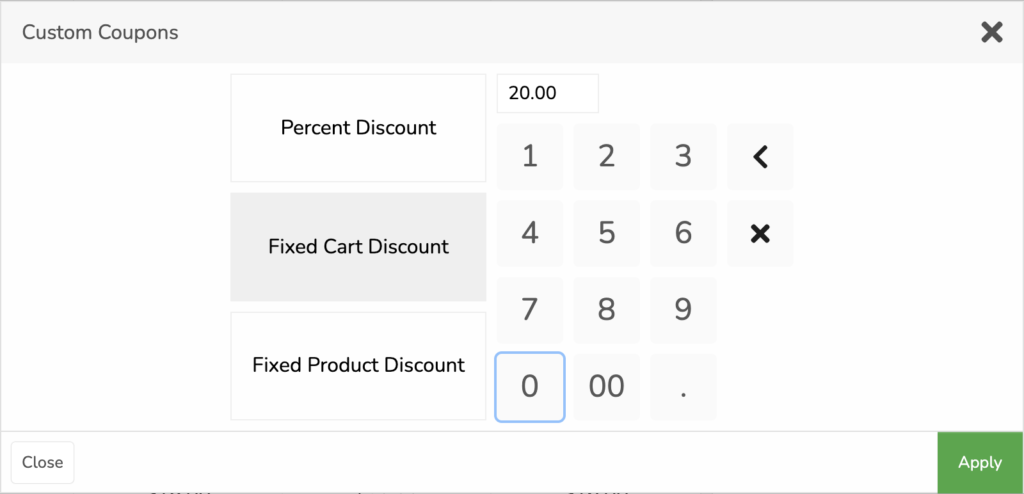 Another neat feature is the ability to save a customer order in the event that the customer needs to step away mid-purchase, and pick up where you left off when they're ready to checkout.
Jovvie is a mature, reliable WooCommerce POS solution. Jovvie is available for WooCommerce both cloud-hosted (more flexibility, and hosting etc is taken care of), or self-hosted (runs directly on your WooCommerce hosting). The deep native integration with BizPrint, which can print receipts automatically through your existing printer, is the deal-maker here. You can get Jovvie here.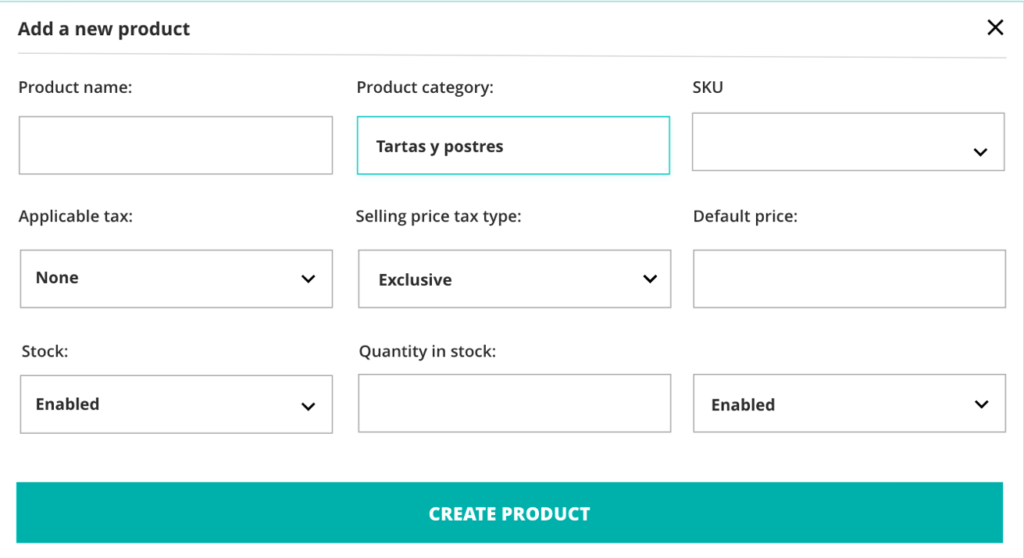 YITH Point of Sale for WooCommerce is another option to convert your WooCommerce store to a point of sale for your physical store. It syncs the sales and inventory between your online store and physical retail outlet. All POS orders on the front-end automatically sync to your WooCommerce database, as with most other WooCommerce POS plugins.
You can create an unlimited number of stores and POS registers. For each register, you can set up several cashiers, categories, and products, select specific payments, customize receipts, and more. Similar to Jovvie, YITH has a 'suspend and save' button that lets you temporarily freeze a shopping cart and save it in a separate tab, so as to open a new order. You can later retrieve the frozen cart and complete the checkout.
This WooCommerce POS plugin isn't available as an app. Its checkout process is ok. You'll need to accept the payment and click the 'Pay' button to mark the order as paid. This is because YITH WooCommerce Point of Sale does not natively support payment gateways, instead requiring the use of an existing WooCommerce payment gateway (which requires a separate step).
For functionalities like barcode scanning, you'll need to integrate with a separate WooCommerce barcode plugin.
Like Jovvie, YITH WooCommerce Point of Sale sends email notifications. But unlike Jovvie, it doesn't have advanced features and doesn't quite fit the bill of a modern POS plugin.

The WooCommerce point of sale plugin allows you to create multiple store outlets for your online store and assign sales agents to each. It syncs data between your physical and online sales channels for efficient sales order and inventory management.
The plugin includes barcode scanning. You can add a product to the cart by its SKU or product ID, and apply a coupon to it.
For more features and functionality, you'll need to install add-ons developed specifically for the plugin. It offers add-ons to apply discounts, assign inventory to a product from the back-end by scanning the product barcode, create refunds, offer customers loyalty or reward points based on different rules, and send order-related messages to POS sale customers over WhatsApp.
The add-ons create a feature-rich plugin. But they also increase the total cost of the plugin.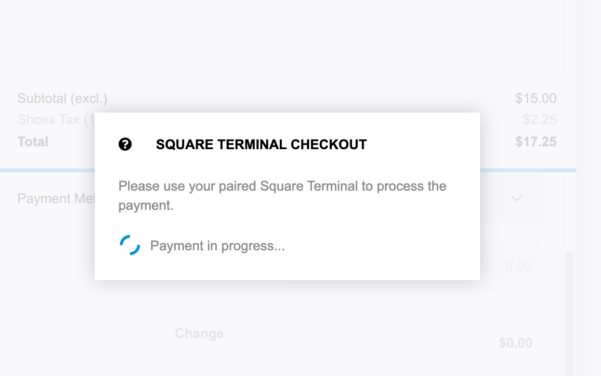 The plugin works natively with WooCommerce and, similar to Jovvie, it enables you to convert any device – like an iPad or Android tablet – into a point of sale device. It syncs with your online store using the WooCommerce API, and brings your product, order, and customer profiles to your POS securely. It also updates your orders, inventory, and customer data in real-time.
FooSales for WooCommerce works in most modern web browsers including Google Chrome, Safari, Firefox, and Microsoft Edge. You can also use it as a POS app and connect it to a Bluetooth barcode scanner or the built-in camera on your phone to scan the barcodes on products.
The best WooCommerce POS plugins allow you to apply discounts based on the coupons on your WooCommerce stores. FooSales for WooCommerce is no exception. Upon completing an order, you can apply a coupon to it, and the cart is discounted by the particular amount.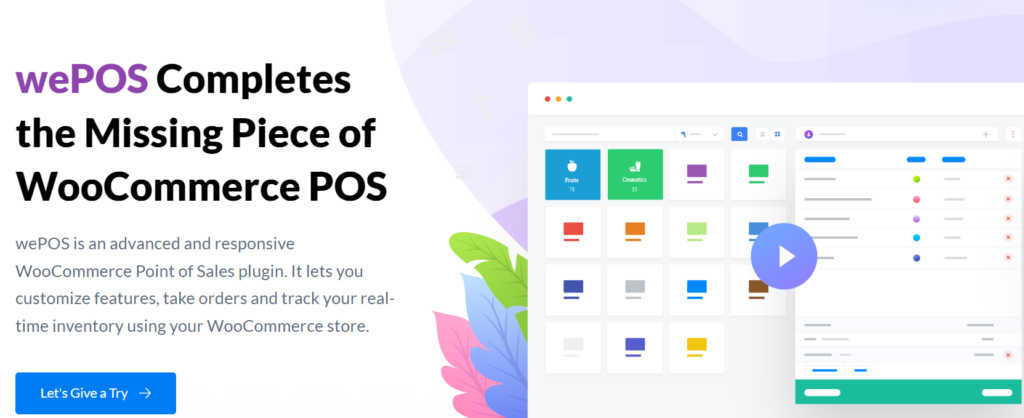 This desktop and tablet WooCommerce POS plugin helps you manage multiple retail channels. You can create unlimited outlets and counters simultaneously, and assign different cashiers to each. The cashiers can access only the counters you've assigned to them, ensuring privacy and secure payment. In addition, the cashiers can view only the front-end, which reduces the risk of dishonest activity on their part.
wePOS is a single page application based on REST API. A search option allows you to find products and customers quickly. The tab style Cart Management makes operating multiple live carts easy. You can initiate checkout for multiple customers at the same time.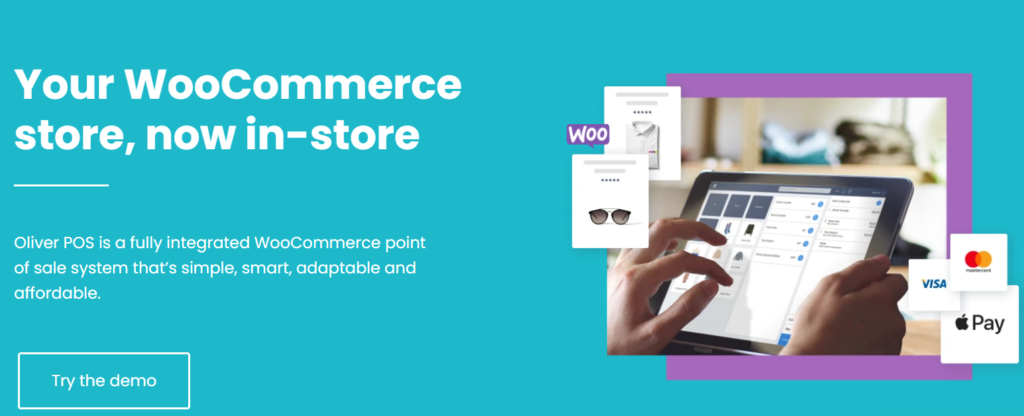 Oliver POS comes close to Jovvie in serving as an all-in-one WooCommerce POS plugin. Your POS outlet syncs seamlessly with your WooCommerce products, product inventory, customers, orders, settings, and thousands of WooCommerce plugins.
Like Jovvie, it automatically pulls customers, products, taxes, and other information from your WooCommerce store, to synchronize your POS and online store. Any updates from your online store are automatically pushed to your POS. You can also adjust inventory in the POS register.
The WooCommerce POS plugin works with your existing devices – PC, iPad, or Mac. It supports barcode scanners for speedy checkouts. You can process payments using multiple methods, including debit, credit, cash, mobile payments, Stripe, Apple Pay, Google Pay, gift cards, and store credit from your WooCommerce POS. A points and rewards feature is a nice touch to promote customer loyalty.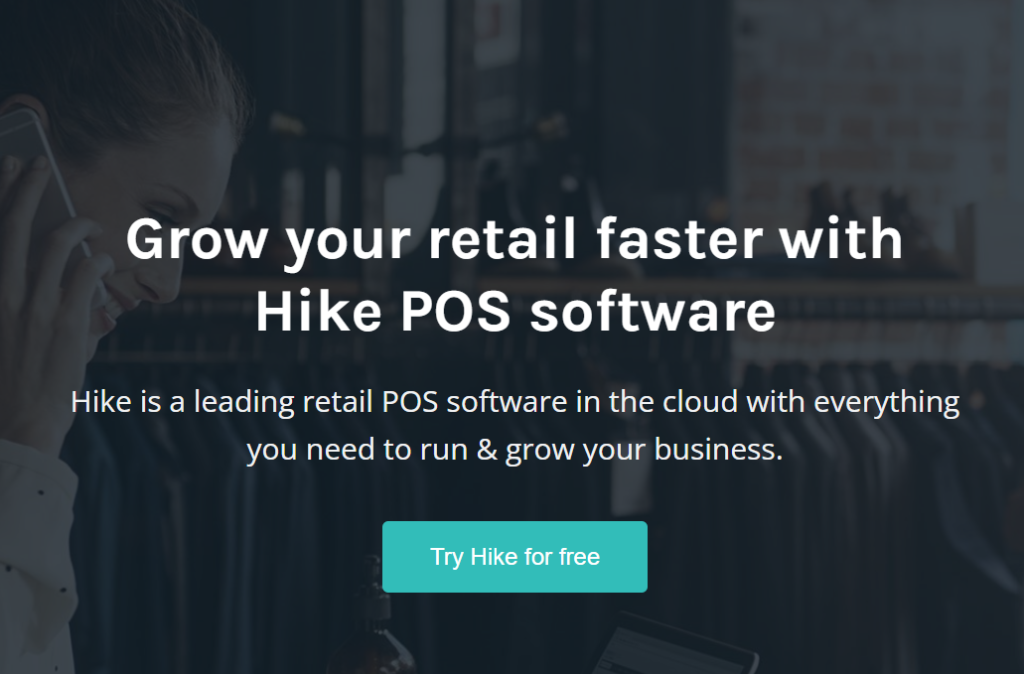 Hike not a WooCommerce plugin: rather, it's a standalone POS service with WooCommerce integration. It integrates with hardware like a scanner, printer, and payment processor. E-commerce integration makes the management of online orders easy.
Your inventory gets automatically updated when you enter a transaction online, at your physical store or on-the-go. Simply touch, search or scan product barcodes to add the items to the shopping baskets.
You can customize the time zone, tax rate settings, currency, and time zone for accurate tax calculations, currency conversions, and time stamps. Hike POS also allows you to apply discounts to a sale or alter the dollar value for product line items.
The software works on your existing devices, including iPad, PC, and Mac. It allows you to accept multiple payment options, including PayPal, Tyro, TD Bank, Verifone, Afterpay, and Square.
A drawback of Hike POS is that where options are specific to certain items, you have to perform additional clicks to apply those options to all purchase orders. Some reviews have also pointed to glitches that required users to refresh and resync continually.
Taking it further: Integrate Jovvie with auto-printing using BizPrint
Jovvie is the best option if you want an all-in-one solution that offers everything you need for your real-life stores as well as online sales through your website's front-end. Installation is simple – add a new station and launch your POS register in a few clicks. It has a clean interface that's a pleasure to use. Customizable product tabs allow easy organization while customizing discounts and fees is equally simple.
Jovvie is a feature-rich WooCommerce POS plugin. Add-ons supplement the POS and extend its functionality. The good news is that products in the BizSwoop catalog can work together to equip your WooCommerce store, restaurant, or physical POS system with more capabilities.
For example, would you like to give customers the option to receive hard copies of receipts or invoices? WooCommerce doesn't offer printing out-of-the-box. Rather than searching for a third-party solution, you can integrate Jovvie with BizPrint, a native WooCommerce application that prints your orders, receipts, or invoices to any printer in your store, restaurant, warehouse or mobile POS system.
BizPrint saves you time and effort by automatically printing orders instantly after they're generated. You also have the option to configure the settings to print invoices and receipts manually. It takes care of your various printing requirements, and you can set up automatic printing at an unlimited number of printing stations.
Power your sales with the best WooCommerce POS plugin
Selling online products in a brick-and-mortar store is an effective way to capture more customers. The best WooCommerce POS plugin allows you to manage your online and real-life stores smoothly and has features that make it easy to provide a great customer experience.
Jovvie is a strong contender for this title – full of rich features, customizable, super easy to work with, stable, versatile, and able to handle complex inventories. Integrating the plugin with BizPrint makes it an even more powerful beast, giving you an edge over your competitors.
Businesses in various industries are leveraging Jovvie to transform store management and meet ambitious sales goals. Try Jovvie risk-free to determine whether it's the best fit for your business! Setup only takes 5 minutes, and there's a 30-day money-back guarantee too.