Invoices are an essential part of eCommerce because they record all transactions made in your store. If you're operating B2B, the success of your WooCommerce store depends on a reliable invoicing system.
Want to know how to generate invoices in WooCommerce? In this article, we show you how to create and send invoices to customers. We also take you through the steps of creating and printing professional-looking WooCommerce invoices for physical use, whether to give to customers in-person or for your business records.
How invoices work in WooCommerce
WooCommerce is able to generate invoices but has limited options for customization. So, creating an invoice that's unique to your business is harder.
The built-in invoicing features are good for smaller businesses with a low sales volume but can be insufficient if you need to create different types or a large volume of invoices.
With default WooCommerce, invoices have to be manually generated. This adds to your administrative burden. Research shows that small and medium-sized businesses spend an average of 120 working days per year on administrative tasks. Cutting this down will allow more time for strategic projects.
Moreover, manually generating each invoice can affect the speed with which you issue them and get paid. This can leave your cash flow hanging in the balance. Timely and effective invoice generation is a strategy Deloitte suggests for optimizing your accounts receivable. It's another reason to learn how to generate invoices in WooCommerce:
Some [businesses] make consistent invoice errors regarding units of measure, price, customer accounts or other inaccurately reflected master data. Some fail to generate invoices in a timely fashion – or at all.

– Deloitte report
With good cash flow management, you can grow your business, purchase materials to fulfill orders, capture opportunities as soon as they arise, and enjoy peace of mind. Late payments can cripple your cash flow and affect other areas of business – it's alarming to note that 82% of all businesses fail due to weak cash flow management.
Fortunately, you can make all these problems go away when you generate invoices in WooCommerce automatically with BizPrint. Not only does the WooCommerce plugin allow invoices to be generated on-demand (and in bulk), but it also automatically prints them for you (either to a physical printer or to a PDF).
Here's a look at how to generate invoices in WooCommerce for email and print, using the magic of BizPrint.
How to generate a simple WooCommerce invoice for email
Email invoicing is a common way to simplify customer billing. WooCommerce offers built-in functionality for simple invoices, which allows you to send customers invoices via email. Use these steps to generate invoices in WooCommerce manually, which can then be attached to the email you send to customers requesting payment for services rendered.
1. The first step in generating an invoice is to create a corresponding order in WooCommerce. To do this, create a new order by going to the 'Orders' page – WooCommerce > Orders > Add Order.

2. Enter the order information relevant to the sale, including the email address of the customer.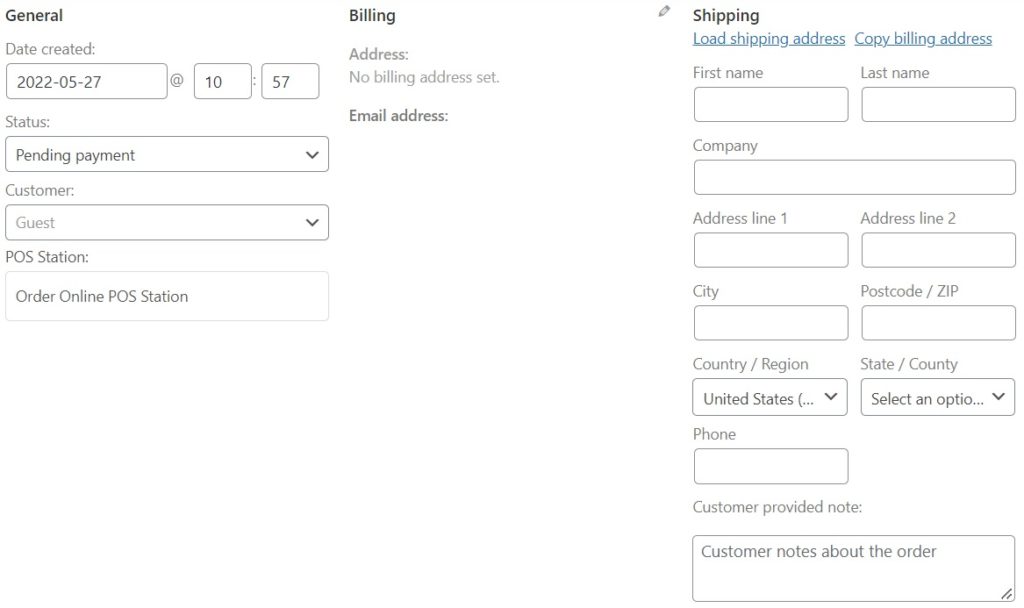 3. Click 'Add line items' and input the fee or products to be shown on your invoice. Add a description for each line, then click 'calculate total'.

4. Go to the 'Order actions' drop-down menu and select 'Email invoice/order details to customer'.
5. Now, save your new order. At this point, your invoice will be generated with its unique invoice number, and it will automatically be sent to the customer.
How to generate a custom WooCommerce invoice for print
The invoice features built into WooCommerce can be useful for small stores that deal with simple transactions. However, for larger stores or stores with a physical outlet, we recommend BizPrint to extend the functionality of WooCommerce.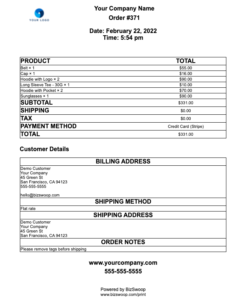 BizPrint is a native WooCommerce plugin that reduces the manual effort to create and print invoices. It is a huge time-saver for large businesses and fast-growing SMBs that receive several orders a day.
Here's how the plugin achieves it:
Allows you to automatically generate invoices in bulk, which is perfect if you run a larger store.
Provides a custom invoice template that can be modified to suit the needs of your store.
Allows you to print invoices as soon as a sale is made.
Is able to automatically print to multiple printer locations. Or you can simply download invoices or print them manually, as you see fit.
How to generate invoices in WooCommerce using BizPrint
The template in BizPrint allows for a lot of customization. You can add the details that the typical invoice contains, such as order, customer, and your business information. In addition, you get header and footer fields where you can include any other information you want customers to read. You can easily tailor the template to your needs from your WordPress dashboard.
Steps to create a custom invoice
1. Create a BizSwoop account first to start using the WordPress plugin (ZIP download here).
2. Install and set up the plugin. You can have the plugin up and running in just a few simple steps. We have a handy BizPrint quick start guide for reference on how to generate invoices in WooCommerce.
3. Go to 'WooCommerce > Print Settings > Locations' and click 'Add New'.

4. Add your location title, for example, 'invoice print'.

5. Select the printer you want that you connected at the time of setting up the plugin.
6. Choose the 'customer order receipt' template, which contains all the fields required for customer invoices such as invoice number, an itemized list of products, invoice totals, customer billing address, and shipping address.

You can customize the invoice further using the custom fields on the right-hand pane. You can edit the line items as needed.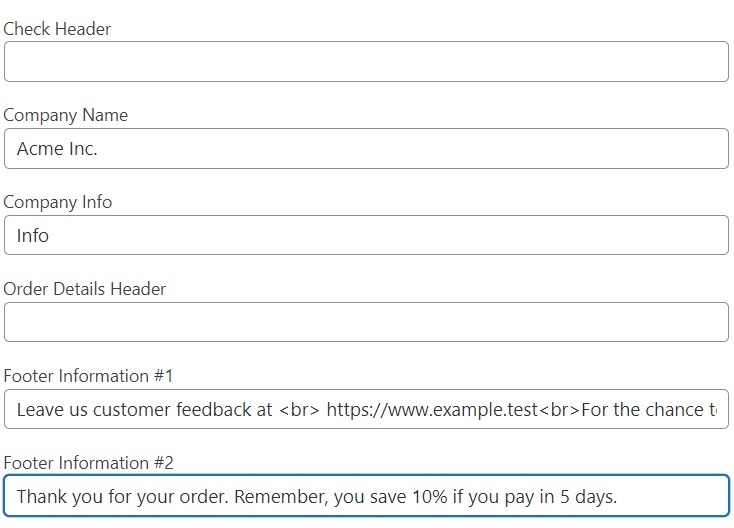 By default, WooCommerce generates invoices based on a single template. If you need to add more details to your invoice or align it more closely to your brand visuals, you'll need more customizable templates that are editable to your specific needs. BizPrint addresses this need and lets you stay on-brand when billing your clients.
With BizPrint, you can add your company logo, tax rates, and personalized notes, and have a consistent date format and font across all invoices. The custom invoices you create will serve as an effective marketing tool for your brand.
7. That's it! Just head over to the WooCommerce > Orders section of the Print Manager plugin to see a list of WooCommerce orders, with corresponding invoices for each one!
Now that you've generated a custom invoice with BizPrint, we'll show you how to use the print function to really tap into the power of the plugin.
1. In the Print Manager plugin window, go to WooCommerce > Print Settings > General and find the 'enable automatic order printing'.
If you check this box, BizPrint will automatically print invoices to your desired printer location whenever a new order is made – an incredibly useful feature for brick-and-mortar stores.

If you leave the box unchecked, you can print orders manually in the WooCommerce > Orders section of the plugin, where you'll see a list of your orders and invoice numbers.

If you want to print to PDF automatically, use this quick start guide to install and activate BizPrint. You can then set up your PDF auto printer.
For this, you'll first need to install the BizPrint cloud app. Then click on 'Set Up PDF Printer', and select the PDF directory. It will show the PDF invoices in your local computer directory or a connected Google Drive or Dropbox folder, which you can then open and print.
It's as easy as that! If you have automatic order printing enabled, BizPrint will print custom invoices the moment an order is placed in WooCommerce. It's truly a user-friendly PDF invoice plugin.
You can get notified when your new WooCommerce invoices are created by combination of an email for the new order, and your physical printer giving you a new invoice. Your customers may want additional notifications too. Fortunately, you can keep them updated: the creators of BizPrint just launched a notification plugin called Flow Notify.
FlowNotify will allow you to send out automated SMS Text, Email, or WhatsApp alerts to your customers triggered by order status. This can be used to alert customers of an order shipment, tell them to submit a review after the order was received, or any other type of marketing! Flow Notify works great with BizPrint.
Start creating professional-looking invoices in WooCommerce
When you're wondering how to generate invoices in WooCommerce, you have two options. Use what WooCommerce offers as default, which is a single template that works fine if you need a simple invoice but not when you need a custom PDF file. The other option is to use a WooCommerce invoice plugin that allows you to create invoices tailored to your needs.
BizPrint ticks all the boxes! While there are plugins that create custom invoices for free, you'll need to buy their premium version for printing and other advanced functionalities. BizPrint is a self-sufficient plugin that integrates these features and functionalities.
Invoice customization and printing using BizPrint do not require you to purchase add-ons or new equipment. These capabilities are yours to leverage out-of-the-box and within your existing hardware.
Have a high sales volume and want to understand how to generate invoices in WooCommerce in bulk? BizPrint enables bulk generation of WooCommerce PDF invoices, saving you considerable time and effort for other administrative or strategic tasks.
BizPrint's invoice printing automation supports both e-commerce and in-store Point of Sale (POS) receipt printing. You can save on the costs of purchasing separate solutions for your online store and physical operations.
You don't need PHP/HTML/CSS coding knowledge to use BizPrint like a pro. We have a step-by-step tutorial to walk you through installation and set-up printing automation. Configuring the plugin to generate invoices tailored to your needs is also easy.
BizPrint's functionality isn't limited to just invoices: you can easily customize the inbuilt invoice templates to print packing slips, receipts, delivery notes, and other documents.
BizPrint is both an invoice generator and a printer for WooCommerce. With the plugin, you can print invoices as needed to cater to customers that want both physical and digital copies of invoices. You can also create and print other types of business documents, including receipts, delivery notes, picking lists, packing slips, shipping labels, and credit notes.
When looking for an answer to how to generate invoices in WooCommerce, you'll no doubt also have pricing on your mind. BizPrint is not a free plugin, but it's priced to be affordable for all business types and sizes with different requirements. Try BizPrint out for yourself to see how it can help take your eCommerce store to the next level!