Want to print custom invoices for your business?
A professional invoice makes the details your customers should know clear before they approve payment, which helps you get paid faster.
Given how cash is the lifeblood of a business, creating effective invoices is just as important as sending them quickly to clients. While there is no rule around the file format in which an invoice must be created, businesses find WooCommerce PDF invoices to be attractive and easy to read and tend to choose this format when mailing invoices to their customers. 
In this article, we help you understand the benefits of creating WooCommerce custom invoice PDFs, and how to set up a simple system to generate and print personalized invoices on demand.
Arguments in Favor of Creating a Custom Invoice in WooCommerce
As a retailer or restaurant owner, you probably need to create and send hundreds of invoices every month. You may have to generate a specific type of invoice or different types of invoices. Perhaps you have something different to say to each customer, need to add a credit note to an invoice or send an interim invoice. Creating WooCommerce custom invoices can work to your advantage.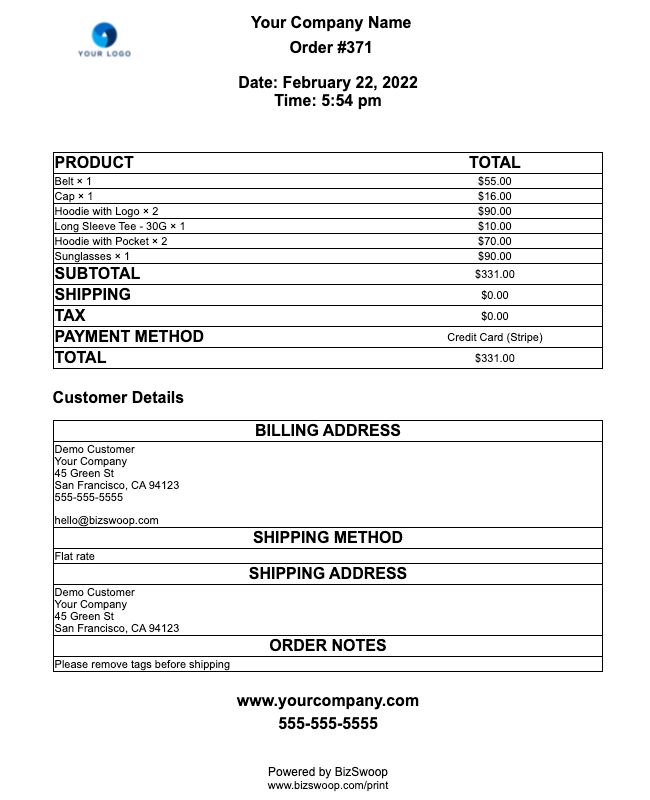 Show information clearly to avoid unnecessary disputes
A good invoice gives customers a complete and accurate picture of what they've paid for. The line items on the invoice break down products/services provided, along with additional charges and taxes. If you need to itemize things that don't usually go on a standard invoice, you should be able to create a custom invoice that doesn't leave anything unsaid to the customer.
Reinforce company policy and/or promotions
Invoices are a free marketing tool. Your customers may not meet you face to face, but they'll get a glimpse of you through the invoices for recurring services. Why not make the most of this branding medium to clarify your company policy or show off your sales promotions?
Create different types of invoices
There are many types of invoices. If you provide catering services to businesses, you may want to create proforma invoices to issue to customers after the delivery of services. For the products you sell internationally, you'll need to send a commercial invoice. If your customer has missed the payment date, you may want to create a past-due invoice that includes all the prior invoice information with any late fees. You'll no doubt want to use an invoice design that's the best fit for your business.
Help your customers maintain organized and reliable bookkeeping accounts
Invoices are the primary evidence of a sale transaction. Your customers need them to track expenses, manage inventory, and as supporting documents during yearly tax filing. Procurement invoices are also a part of periodic accounting audits to verify that financial records are in order.
Your own bookkeepers need invoices to make a record of all the sales made. As invoices serve as legal proof of goods sold, they protect you against false lawsuits. Accurate and visually pleasing invoices streamline bookkeeping, accounting, expense management and are helpful as supporting documents in the event of disputes or lawsuits. 
How to create WooCommerce custom invoices
WooCommerce, by default, doesn't have the ability to create custom invoices. You can customize invoices to your specific requirements by using a WooCommerce plugin. And while there are a few PDF invoice plugins, we recommend using BizPrint. The plugin allows you to create professional-looking customizable invoices, and automatically print them on your existing printer(s). It's quick, convenient, and requires no PHP/CSS/HTML coding knowledge. 
Top WooCommerce custom invoice plugins
BizPrint more than adequately serves the needs of WooCommerce store owners looking for advanced functionality when it comes to generating invoices. It creates professional-looking WooCommerce PDF invoices and packing slips, receipts, and shipping labels for retailers, restaurants, and warehouses. Offering native WooCommerce compatibility, the plugin eliminates the need for third-party solutions.
The plugin allows you to create personalized invoices that reflect your visual identity. Its auto-print function (including auto-print to PDF) is just what you need when you create hundreds of invoices each month. You can meet your customers' requests for paper invoices as they are easier to review and readily accessible for accounting and cash management purposes.
BizPrint can also automatically print paper copies of your invoices, perfect for customers that prefer hard copies of transaction documents.
Restaurants, warehouses, retail stores, and businesses that print invoices regularly use BizPrint to control how they want their invoices to look and to delight customers by providing them hard copy invoices immediately upon request.
Alternatives to BizPrint
There are other plugins that enable you to create WooCommerce custom invoices and print them. Here are the features and capabilities of the other top plugins for the job.
With this plugin, you can generate invoices, packing lists, and picklists. It can be used to print a single order or the full order list at a time.
The packing slips plugin allows you to customize the information that appears on your invoices. You can include information about your company, specific policies, and other order details. To do this, go to the invoice settings and select the information you want to show or exclude to customers. You can add sequential invoice numbers, with custom formatting. A live preview is available to adjust colors, font sizes, and other appearance settings.
Depending on your workflow, you can choose 'Bulk Actions' to run printing for as many order numbers as you've selected. Click on the 'Print' link to open and preview them prior to printing.
With this plugin, you can manually create an invoice/receipt using third-party plugins for templates and trigger printing. Then you can integrate with PrintNode for the actual printing. PrintNode provides the server to send the print job and the local app to receive it for the printer. The plugin supports DYMO, Zebra, HP, OKI, Epson, and various other printer brands and types.
To white-label the PrintNode client software, you need to sign up for an Integrator Account. This will allow you to replace PrintNode's logos and branding with your own.
For a number of reasons, BizPrint is the superior solution for creating WooCommerce custom invoices. It is an end-to-end solution for WooCommerce store owners looking to generate personalized invoices and print them automatically on their existing printers. You can run it on Mac, PC, Linux, or even Raspberry Pi. BizPrint is easy to set up, taking under five minutes, even if you have no technical background.
A Quick Look at Creating WooCommerce Custom Invoices Using BizPrint
A custom PDF invoice helps your larger marketing efforts to differentiate your brand and make it more recognizable. BizPrint's templates are a good base to customize the appearance of your invoices and include the information you want on them. The plugin gives you multiple options for customization and personalization.
Use this quick start guide to install and activate BizPrint. You can then set up your PDF auto printer. You'll first need to install the BizPrint cloud app. Then click on 'Set Up PDF Printer', and select the PDF directory. It will show the PDF invoices in your local computer directory or a connected Google Drive or Dropbox folder, which you can then open and print. 
With your PDF printer setup, within WordPress go to WooCommerce > Print Settings > Location. Click the 'Add New Button', and you'll see the number of fields you can customize.
For the purpose of quickly tailoring your invoice, start with the Templates section- simply use the drop-down to select from a number of built-in templates. BizPrint includes free pre-made templates:
All of these are available in different sizes (A4, letter, or thermal printer), and you can auto-print or auto-save to PDF as your orders come in. Below are three order templates included free with BizPrint: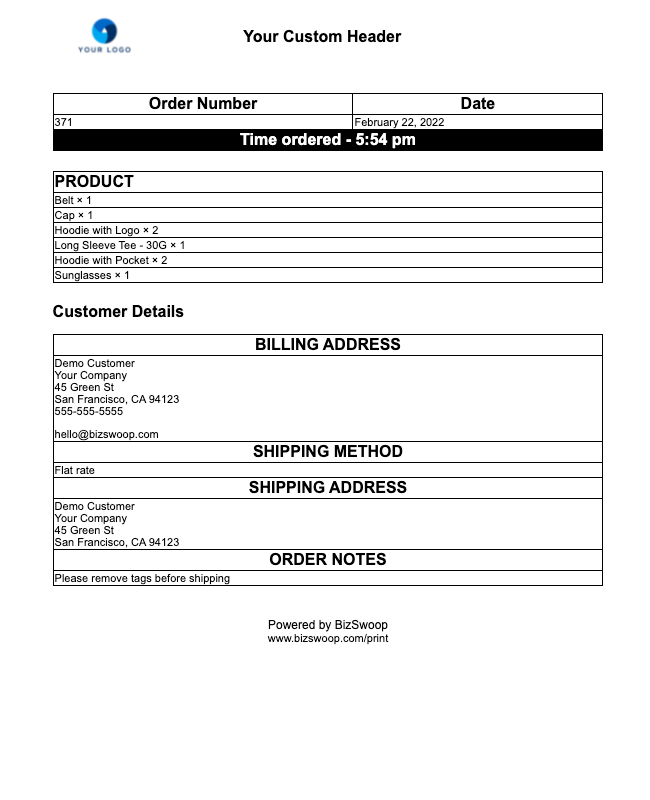 If you select an invoice template, you'll see a number of options to include the elements that are normally included in a standard invoice. Tick the ones you need. You can edit the line items when such a need arises or for certain clients.
Next, you can adjust the branding elements of the invoice. You can add your logo, company name, company information, purchase details, custom fields, and any footer information you wish to include, such as a policy or terms.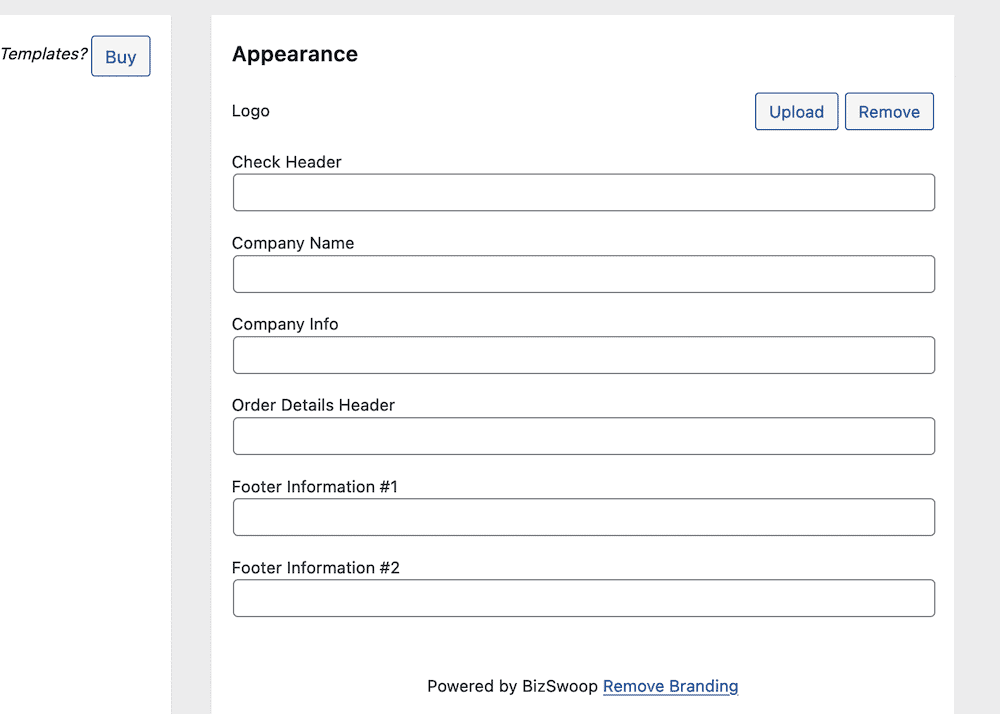 That's not all. You can also set the typography to your requirements. Adjust font sizes, weights, and choose between HTML or plain text printouts, along with layout orientations and page margins.
BizPrint offers unprecedented levels of WooCommerce invoice customization!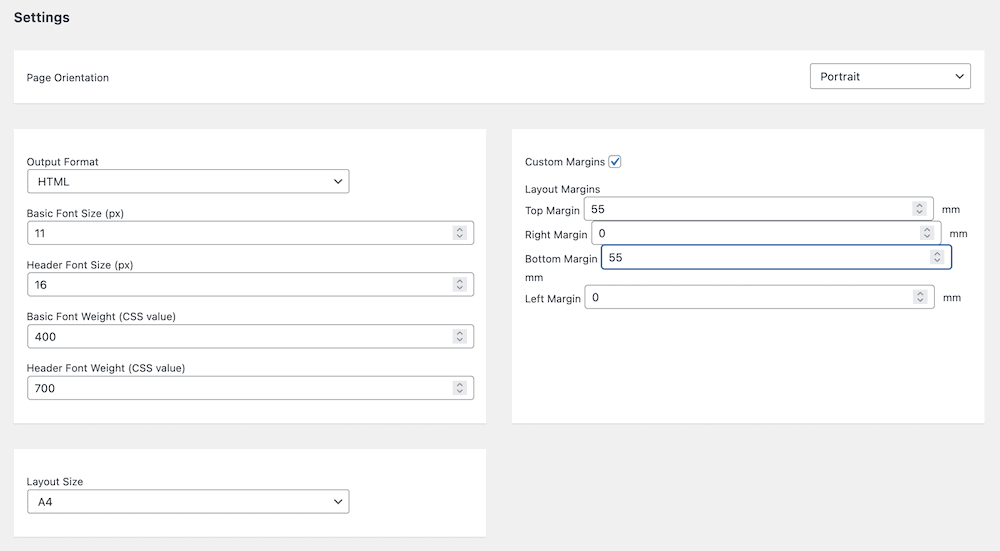 Set up different templates to auto-print at different locations using Jovvie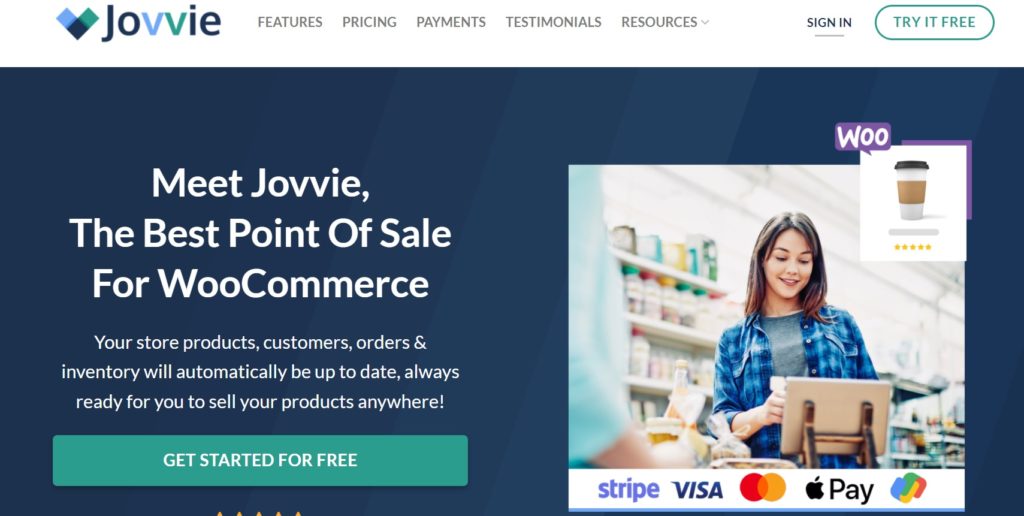 The sister product of BizPrint, Jovvie is a point of sale system for your WooCommerce store. It has everything you want in a WooCommerce POS and works with your current payment processor. Using Jovvie with BizPrint is a good idea if you need to auto-print invoices at multiple locations. 
You can quickly add new customer orders and products to Jovvie. Based on the type of invoice you're creating, you can set up different invoice templates for printing at different locations.
Print custom invoices on demand and add any notes relevant to the order
You can enable automatic order printing with one click to ready hard copies of WooCommerce custom invoice PDFs as and when required. Go to WooCommerce > Print Settings > General tab within WordPress, and save your invoice settings. They are then ready to print automatically or you can choose to print them manually at a later time. You also have the option to add any notes relevant to the order, such as explaining an additional charge.

Use the Product Mapping add-on
The Product Mapping add-on plugin from BizSwoop allows you to select products and categories to print only for specific locations. It's easy to configure. Once you install and activate the add-on, select the location from the 'Product Mapping' drop-down menu on the Locations screen.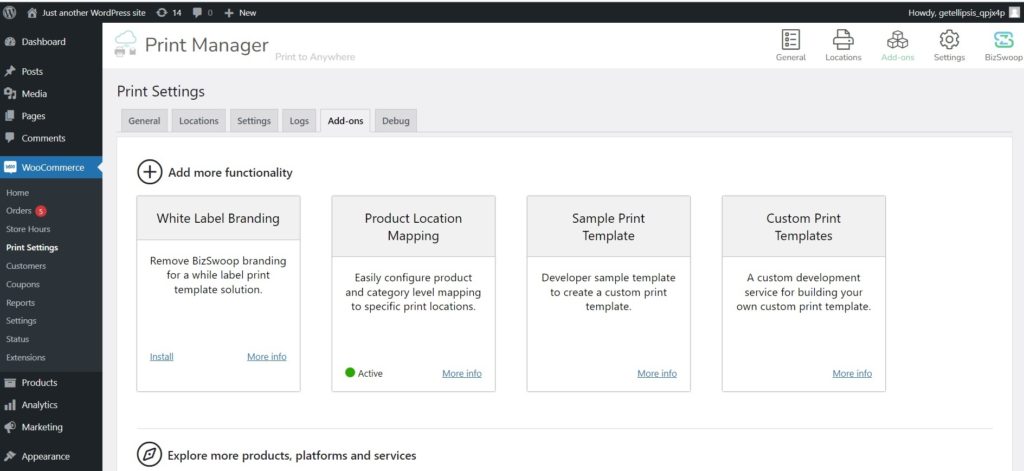 Make a lasting impression on your customers
"Without your service our processing time would be 5x greater. Amazing!"

– Owner of Gyptech, SRL
This is one among many glowing testimonials that BizPrint has received. As a native WooCommerce solution, it has the features you'd expect to be able to create a WooCommerce custom invoice with minimal effort, and also print it using your existing infrastructure for added cost-efficiency. Add-ons and other plugins from BizSwoop allow even more printing customization for your online store and offline operations. It is straightforward to use, requiring no technical knowledge, which makes it accessible to just about every retailer and restaurant.
Get started with BizPrint using one of the flexible pricing plans available and discover how easy it is to set up, create WooCommerce custom invoice PDFs, and print them automatically.