Struggling to find a printing solution for your WooCommerce store? While WooCommerce does not come with a native order printing solution, there are many plugins available to add printing functionality. The trouble is finding a great plugin that has all the features you need for your eCommerce store. In this post, we explain how to find the best WooCommerce print order plugin, and take you through the top five paid and free plugins.
Why use a WooCommerce print order plugin?
Printing is a useful capability for WooCommerce-powered businesses that reside entirely online, sell in-person, or do both. Enabling it with a plugin can help you:
Improve efficiency
A printing plugin helps make order fulfillment faster and smoother. Here are some use cases to consider:
If you run a restaurant, you can send orders directly to the kitchen from your point of sale (POS) or website (for orders placed online), saving time in manual processing. Some plugins even allow you to auto-print orders to your kitchen when your customer checks out.
If you're an online store owner, you can process orders in bulk with ease by generating combined pick lists for your warehouse staff, supporting efficient packing and order delivery.
If you have a physical store, you can instantly print receipts at your point of sale, reducing queue times and improving the customer experience.
Reduce human error
Manually processing orders can easily lead to mistakes, costing you time and money. By printing orders directly from your WooCommerce dashboard, you can remove the chances of human error and ensure that you never miss an order.
Create customized printed documents
Receipts and packing slips with your logo, slogan, and brand imprint act as marketing tools for your business. They allow customers to instantly identify you when they receive their order. Other practical applications of printed documents include:
Satisfying customers who request printed receipts for tax purposes in order to meet their burden of proof.
Producing shipping labels in-house to affix to packages and doing your bit to ensure successful shipment logistics.
Customizing receipts and invoices with information on warranties, returns, or other company policies to simplify refunds and improve the customer experience.
How do you choose the best WooCommerce print order plugin?
There are a number of free and paid print order plugins available for WooCommerce stores. The free solutions are great if you need to print certain types of documents only, such as invoices or receipts. They often won't let you customize documents for other uses, say for warehouse picking or delivery notes.
Premium plugins offer advanced functionality such as document customization and POS integration. If you're an online store, you can create receipts, packing slips, and pick lists from a single plugin. And if you have a physical store, the plugin can integrate with your POS to print purchase orders or receipts. Sell on the move? A paid plugin that connects to your warehouse can set order fulfillment in motion from the instant someone places an order at your pop-up store or the trade show you're at!
Ready to see the best WooCommerce print plugins? We've picked five free and paid solutions that are versatile enough to meet the applications of multiple industries.
Top 5 paid and free WooCommerce print order plugins
Have a look at our picks of versatile printing plugs in the WooCommerce marketplace.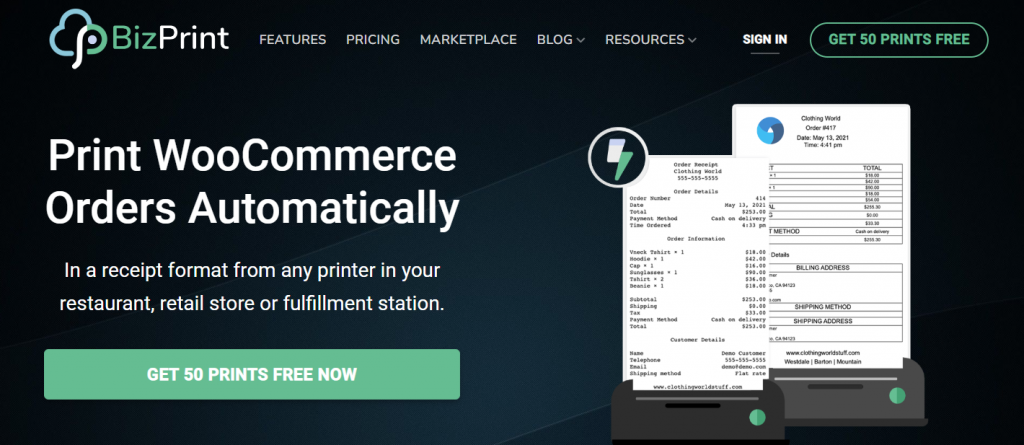 BizPrint is a highly recommended, reliable, and versatile printing solution. Its scalable pricing model is designed to make it a perfect fit for any size of WooCommerce business. Below are just a few of the features that make BizPrint a top contender for the title of best WooCommerce print order plugin. 
Automatic order printing
Auto-printing of orders in real-time ensures that your customers are never kept waiting. You can configure BizPrint to automatically print orders or other documents at a pre-determined order status, depending on the needs of your business. Whether you want to print receipts at the POS in your retail store, food orders directly to your restaurant kitchen, or pick lists and packing slips to your fulfillment center, BizPrint has you covered.
Compatible with all printer models
BizPrint is designed to be compatible with all printer models out of the box. You don't need to invest in expensive hardware to make the plugin work – you can just use your existing printer. BizPrint is also compatible with all major brands of thermal printers, including Epson, Star, and Zebra, which makes it the perfect solution for businesses such as restaurants, where thermal printing is the industry standard for both back and front-of-house order printing.
Templates to create different types of business documents
BizPrint is ideal if you need to print out physical copies of various business documents. The default templates are highly customizable – you can add branding elements as well as change the fonts, colors, and layouts of your printed and electronic documents, and your exchange/refund policy in the footer box. Select the type of information that the document must contain in the checkboxes and save your preferences. With the configuration in place, BizPrint will seamlessly produce highly tailored documents, which you can email as PDFs to customers or print automatically or manually as needed.
This is better understood with an example. Picture receiving a new order at your online store. BizPrint will generate a receipt for emailing to the customer, and the receipt will contain order details such as the order cost, shipping details, and shipping method.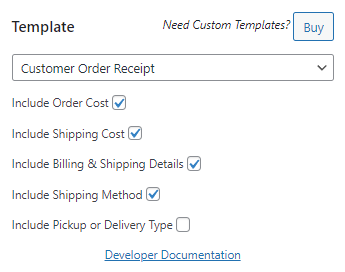 Using BizPrint's product mapping add-on unlocks even greater functionality. At the same time as generating a receipt for your customer, you can trigger the creation and auto-printing of a packing slip at your fulfillment center. The packing slip can include just the WooCommerce products ordered and the price, with no customer information. On top of that, you could also have a pick list printed, with only the product names and SKU codes to make it easier for your warehouse staff to locate the required items. All of this is triggered automatically when your customer confirms their order.

Native WooCommerce compatibility
BizPrint is a native WordPress and WooCommerce plugin. It works with your other plugins – you can set it up within minutes and configure it to integrate seamlessly with your POS system. BizPrint has particularly tight integration with Jovvie, a WooCommerce POS plugin from BizSwoop, the same developer as BizPrint.
Pricing
BizPrint is designed to work for businesses of any size and shape. Its scalable pricing plans start at $3/month for up to 100 prints.

This WooCommerce print plugin allows you to download and print invoices and packing slips directly from your WooCommerce orders page. Options for generating packing slips and invoices in bulk are available, along with the functionality to automatically attach PDF invoices to order confirmation emails. The plugin has support for 18 languages and ships with some customizable order templates. You get all of this with the free version of the plugin.
If you upgrade to the premium version, you'll be able to create pro forma invoices and credit notes. However, to add auto-print functionality, you'll need to make use of a separate plugin, for example, WooCommerce Automatic Order Printing.
Pricing
Available as a free invoice and packing slip plugin
Paid version starts from $59/year
Print node add-on is priced at $74.08/year plus a monthly print node starting at $9 and up for automatic printing.

This plugin prints invoices and delivery notes directly from your WooCommerce orders page. The notes and orders are completely customizable using custom CSS, and you can generate them either individually or in bulk. If you're looking to print these specific types of documents for your business and don't anticipate the need for auto-printing them, this simple WooCommerce print solution could be a good fit.
Pricing
Print Invoices & Delivery Notes for WooCommerce is available for free.

A more versatile free plugin, WooCommerce PDF Invoices, Packing Slips, Delivery Notes and Shipping Labels allows you to automatically generate a wider range of the documents needed for order fulfillment directly from your WooCommerce orders screen. Invoices and shipping labels come with customization options out of the box, including the facility to add barcodes and tracking numbers, and you can upgrade to the premium version to add additional document templates and types, including pick lists, pro forma invoices, credit notes, and address labels. You can also use an add-on plugin to add auto-printing functionality.
Pricing
Free version available
Premium version starts at $69/year

This WooCommerce print plugin allows you to easily print invoices, single-order packing lists, and multi-order pick lists from within your WooCommerce order page. Generating combined pick lists, organized by category, helps to speed up the order fulfillment process. A flexible, customizable invoice format with no coding requirements makes it easy to produce attractive, professional-looking invoices for your customers.
Pricing
Starts at $79/year.
Bring printing functionality to your business with a WooCommerce print order plugin
There are many benefits to installing a WooCommerce print plugin and creating physical copies of the different documents your business needs. Providing printed copies of orders and other order fulfillment documents can help to improve order fulfillment efficiency and reduce the human errors prevalent in manual processing, while also providing an opportunity to market your business through customizable, branded documents.
A good WooCommerce print plugin will allow you to create all of the different types of documents required in the order fulfillment process, and tailor the information and appearance of these documents to your needs. And, of course, in order for a WooCommerce print order plugin to be worth having, it needs to be compatible with your POS system and your printer.
BizPrint meets these criteria and suits the needs of all businesses that run on WooCommerce, regardless of industry. Here's why it's worth trying out:
Auto-printing of orders, receipts, packing slips, and other documents immediately at checkout
Compatible with all printer models
Easy POS integration
Highly customizable
Flexible pricing options for any size of business and a trial of 50 free prints, with full access to the helpful support team at BizPrint
"If you need to use WooCommerce in person, want to save money by emailing your receipts, or just need great-looking receipts (I receive compliments about our receipts), I'd highly recommend BizPrint. The team and software are excellent and easy to work with."

Tiffany W, Owner of Swatty Creek Mill
BizPrint packs more features than other WooCommerce print plugins at an affordable price. More than 25,000 businesses use it to boost order fulfillment efficiency, checkout speed, and customer satisfaction. Get started with BizPrint and follow the steps in the quick-start guide to start printing any order fulfillment documents your business needs.