Are you looking for a way to print receipts on a thermal printer with WooCommerce?
Being able to automatically print receipts and invoices is important for running a successful business. This way, you can give customers a copy of their order details. It also makes it easier for you to track all orders on your WooCommerce site.
In addition to this, if your WooCommerce store receives a high volume of orders, it's best to use a thermal printer for auto-printing receipts. This is because thermal printers cost less than inkjet printers over a longer period of time and also produce higher-quality receipts without smudges. This is essential if you're printing lots of receipts every day and want to automate the receipt-creating process for your store.
In this tutorial, we'll show you how to auto-print receipts on a thermal printer with WooCommerce using BizPrint. This plugin lets you create customized order receipts in-person and also offers a way to instantly print any receipt format from any printer in your restaurant, retail store, or fulfillment station.
How to automatically print receipts with a thermal printer in WooCommerce
As a WordPress site owner, you probably already know that WooCommerce offers limited functionality for customizing order receipts. This is why we recommend using a robust receipt system such as BizPrint.
BizPrint is an all-in-one solution that lets you create professional-quality print orders that fit directly into your existing infrastructure. It also lets you print to multiple printers, which is useful for multi-vendor stores.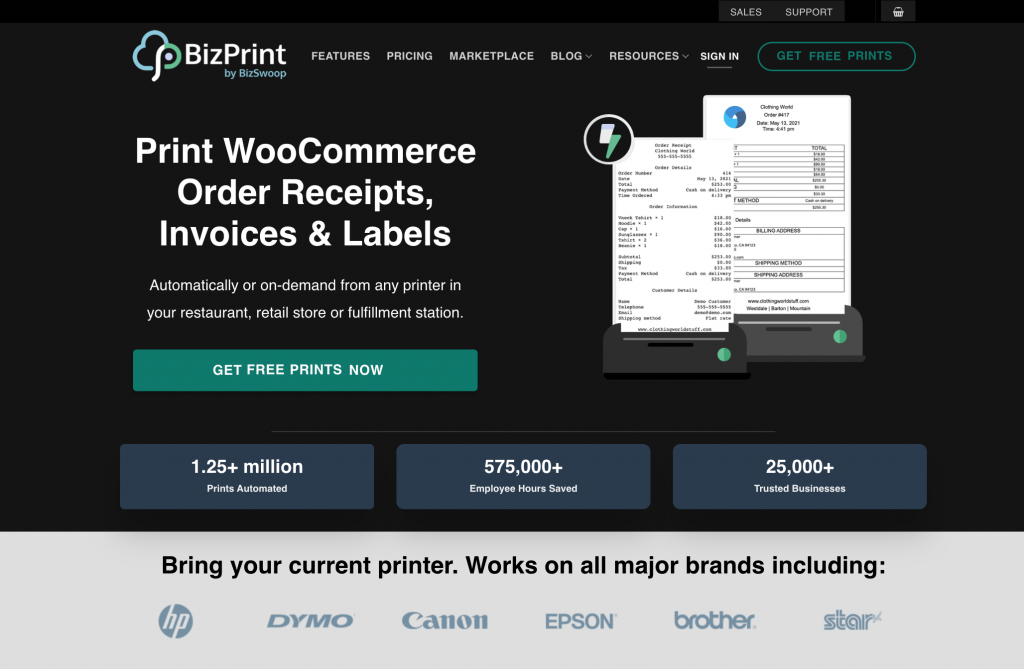 This plugin makes it easy to create customized new order receipts that can be auto-printed to multiple printers at multiple locations. This way, you can automate the order receipt printing process for your business. This is perfect for businesses such as restaurants, retail stores, warehouses, and fulfillment stations.
Using BizPrints' powerful Product Mapping add-on and the Jovvie Point of Sale plugin, you can set up a complete order printing system for your business. The add-on lets you print receipts or invoices at POS systems and print invoices, order forms, or packing lists at your fulfillment stations.
In addition to this, you can also use smart scheduling and set up time slots, enable backorders on your online store, and showcase your store hours on the front-end using BizPrint with the Pickup Delivery plugin and the Store Hours plugin.
We did say that cost-efficiency is one of the advantages of using thermal printers, and if that's important for you then you'll also be delighted to find out that BizPrint is also a cost-effective solution for WooCommerce store owners. It offers a range of flexible pricing plans, suitable for all shapes and sizes of business. There are four plans ranging from the Basic plan, which is just $3 a month and includes up to 100 prints per month, up to the Growth plan, which is $50 a month but included unlimited printing jobs!
Let's take a closer look at how BizPrint lets you set up automatic receipt printing on your online store:
Step #1: Set up BizPrint and configure the plugin according to your needs
To get started, create a new BizPrint account and log in to the BizPrint Cloud Dashboard.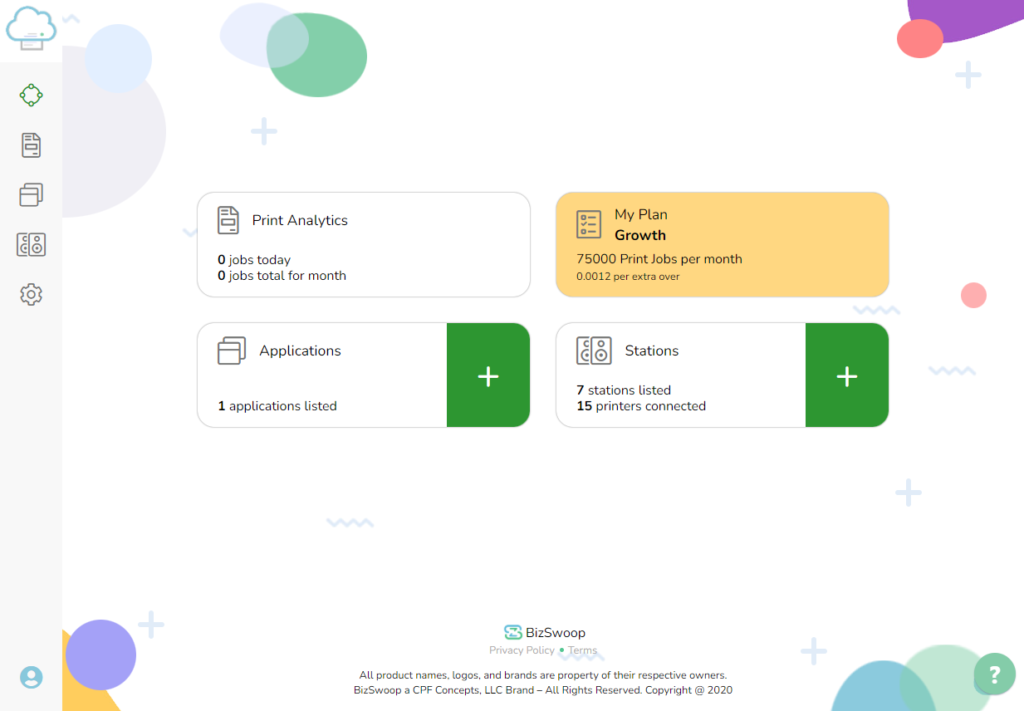 Click on the "+" icon to create a new station and give it a name. Next, click on the Create button. Note down the Public Key and the Private Key or copy it to your clipboard –we'll need these keys later for establishing a connection to our thermal receipt printer.
Step #2: Select your thermal printer
Navigate to your WooCommerce dashboard and click Print Manager. Then, select Printers and Add new. You'll be able to select your printer(s) via the pop-out menu.
Step #3: Connect your thermal printer
Now with the BizPrints' keys created, set up the BizPrint Cloud App on your local device that has the thermal printer connected to it.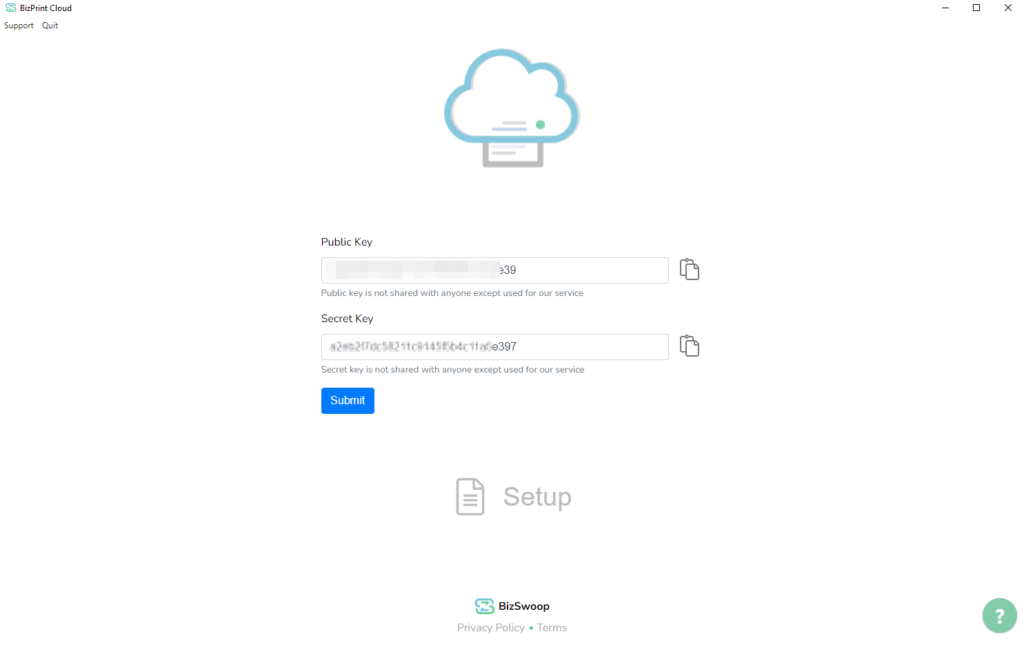 Enter your Public Key and the Private Key and click on the Submit button to connect your thermal printer to the BizPrint cloud print service.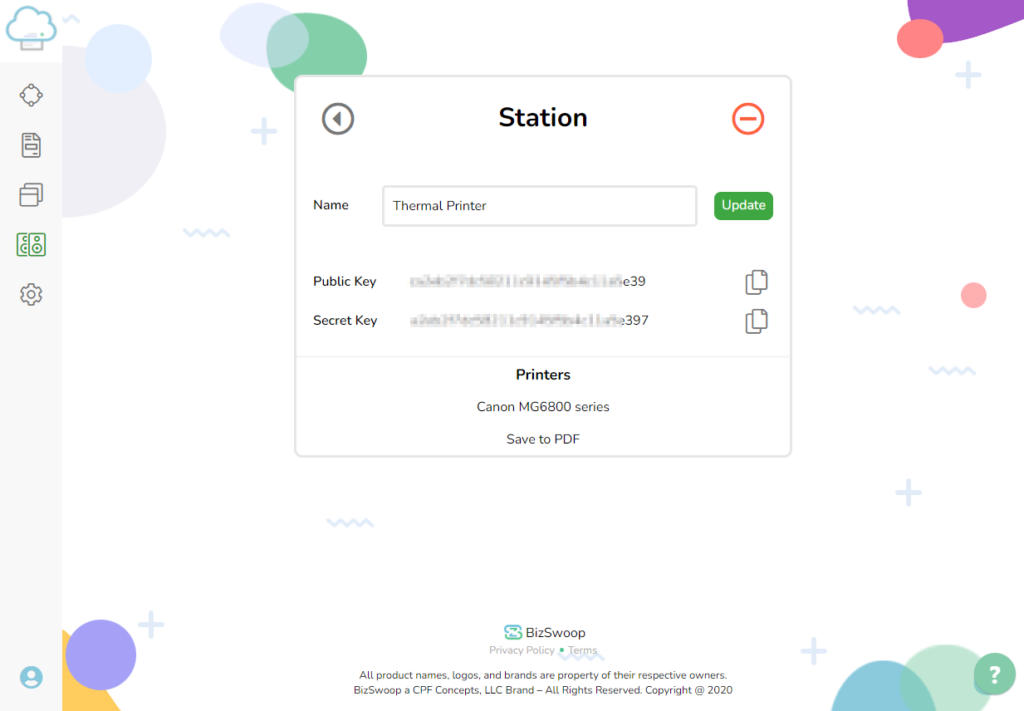 Now your thermal printer will be displayed in the newly created station, under the Printers text.
Step #4: Create a customized receipt using BizPrint's in-built templates
With BizPrint and your thermal printer successfully connected, you can start using it on a WooCommerce website. To do this, download the BizPrint Print Manager for WooCommerce plugin and install it on your WordPress.org site.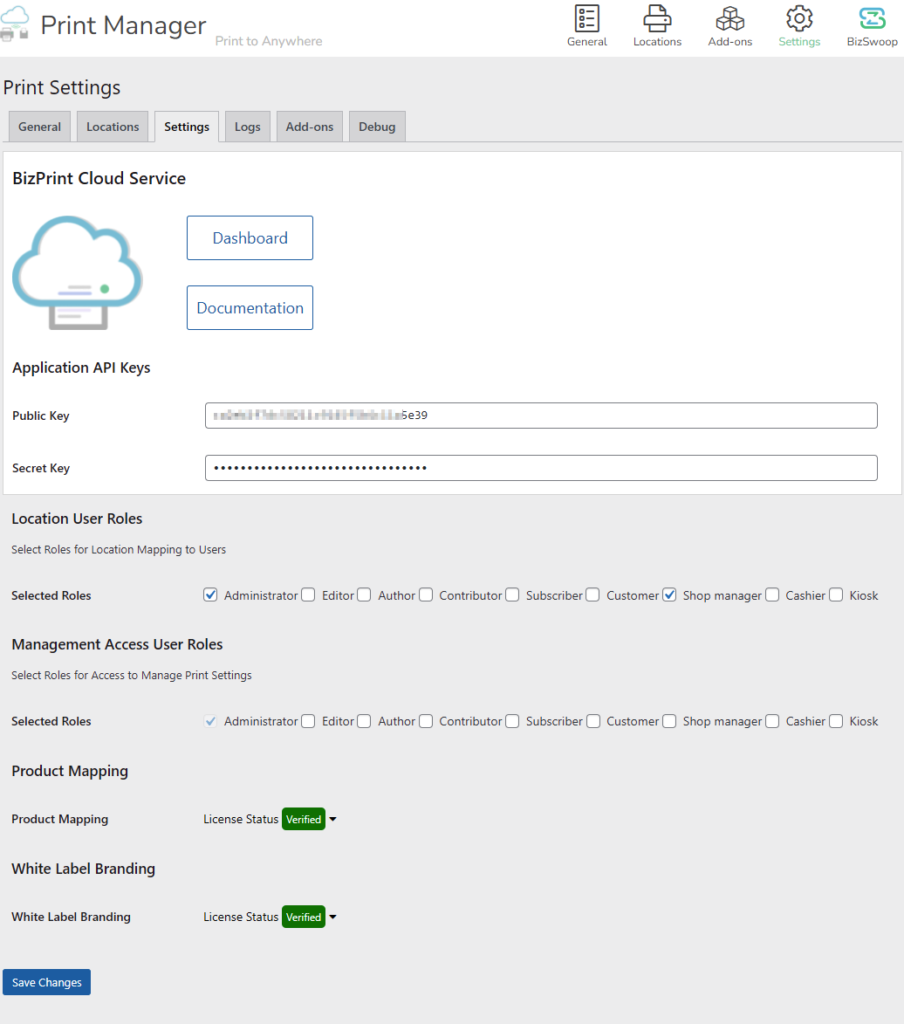 With the plugin installed, navigate to WooCommerce → Print Settings and click on the Settings tab. Paste your Private and Public key here and click on the Save changes button to continue.
BizPrint also lets you customize the way your WooCommerce order receipts or packing slips are displayed on the front-end. Click on the Location tab and click on the Add new button.
Give your location template a new title, select a template using the Template section and select the fields you want to include by selecting or disabling the checkboxes below. You can also upload your own logo, add information at the bottom of receipts or add your company name and details using the Appearance section. You can also set the Page Orientation and the Layout Size dropdown menus to customize how your receipt will look once it's printed. Once you're done, click on the Save changes button to continue.
Step #5: Set up automatic printing of receipts
With everything in place, navigate to WooCommerce → Settings and click on the General tab.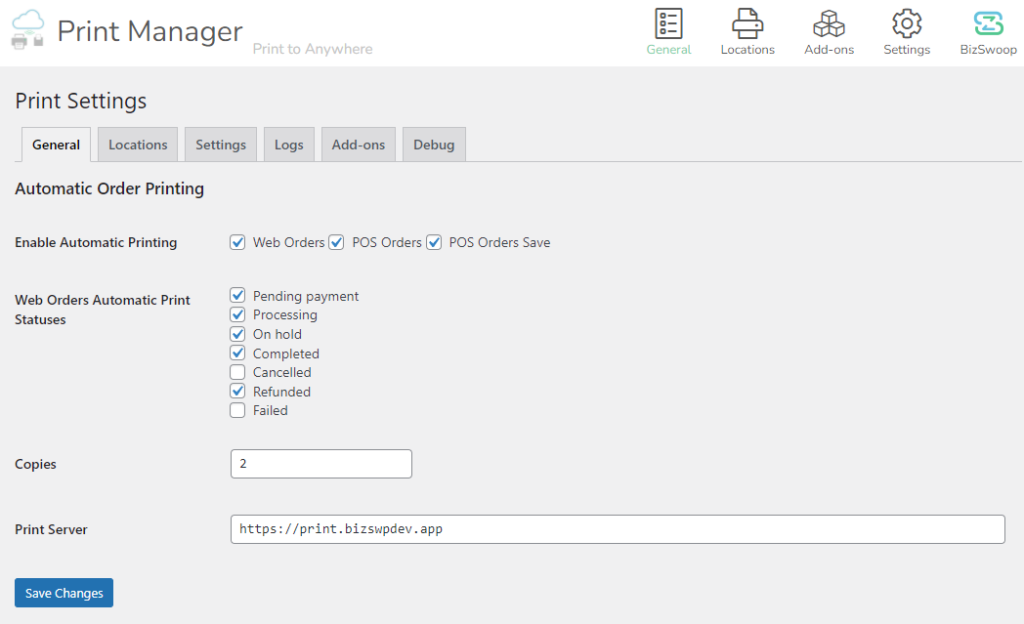 Make sure the Enable Automatic Printing checkboxes are selected and set the number of copies you want to create for each WooCommerce order using the Copies text field. Once you're done, click on the Save Changes button to continue. This will automatically print receipts using the thermal printer you just connected whenever a customer orders from your WordPress site and completes the checkout process.
What are thermal printers, and why do you need them?
Compared to inkjet printers, thermal printers (like label printers) do not spray liquid ink to produce images. Instead, they use heating elements that produce sharper, high-quality images while being cost-effective to use over the long run.
Let's dive deeper into some of the benefits of using a thermal printer:
Faster printing
Thermal printers outpace traditional printers in speed, an asset for WooCommerce stores that process high volumes of orders (and print thousands of order receipts) each day. Examples of these types of businesses include wholesale stores, online grocery stores, and bulk apparel stores. From printing packing slips to receipts, thermal printers can significantly speed up your order fulfillment cycle, allowing you to handle peak sales periods effectively.
Reliability
Thermal printers are designed for resilience, capable of withstanding challenging environments, such as warehouses, without sacrificing print quality. They also work well for POS systems and kitchen orders as they're sturdy enough to withstand heat while still allowing users easy access. In fact, thermal printers are the industry standard for restaurants and kitchens all over the world.
Furthermore, they can seamlessly integrate with your WooCommerce platform with the help of plugins. These plugins can set your printer to automatically print invoices, labels, or receipts when an order is placed, simplifying your order processing system.
Cost-efficiency
Although thermal printers have a higher initial investment, they ultimately prove cost-efficient by eliminating the need for costly ink cartridges (as well as paper feed mechanisms and ribbons).
The best part is thermal printers are also much more energy-efficient and consume less power than traditional inkjet printers. This not only reduces your operational costs but also aligns with sustainable business practices.
Easier maintenance
As a store owner overlooking essential business operations, maintaining your printer is the last thing you want to be sidetracked by. Fortunately, thermal printers are engineered with fewer moving parts, reducing the likelihood of mechanical breakdowns.
This means there's less downtime for maintenance and repairs, freeing up time you can spend growing your WooCommerce business.
Enhanced customer experience
Receipts provide customers with a tangible record of their transactions and documented evidence they can refer back to if they need to contact customer service. Thermal printers also instantly provide a high-quality, professional receipt, ensuring a speedy and smooth shopping experience. 
Moreover, with heat-generated prints, there are no smudging or ink-related issues, ensuring clear legibility.
You can combine a thermal printer with automatic printing of orders and receipts. This way, you will create a system that lets you process orders faster, take more orders, and reduce labor costs and effort for your business. As a result, you'll likely end up increasing sales and generating more revenue for your business.
What are the disadvantages of a thermal printer?
As their name suggests, thermal printers use heat to print on special thermal paper. While this method is fast and quiet, there are a few drawbacks.
The paper is more expensive and can be sensitive to light, heat, and moisture, potentially causing it to fade over time. This can make thermal printing unsuitable for documents that need to be preserved long-term. And, as there's no ink involved, you'll be limited to printing in black and white. It's also possible for the print head, which generates the heat, to wear out over time and require replacement – which adds to maintenance costs.
What is the advantage of using a thermal printer to print a receipt?
Thermal printers are a popular choice when it comes to printing receipts for a number of reasons. For a start, the speed of thermal printing can lead to shorter waiting times – which is especially important in fast-paced environments like supermarkets and restaurants. And, because thermal printers operate quietly, they provide a more pleasant atmosphere in these customer-facing environments.
Thermal printers are typically smaller and lighter than other types of printers, making them an excellent choice for businesses with limited space or those that require portable printing solutions – like mobile point-of-sale systems. They're capable of creating high-density prints, too, and can print barcodes or QR codes on receipts. This comes in handy for businesses that need to track products.
The quality of printouts is also generally high, with clear, sharp text that's easy to read, ensuring customers can check their purchase details effortlessly.
What is the difference between thermal and paper receipts?
The main differences between thermal and paper receipts lie in the printing technology and the type of paper used. When we refer to 'thermal receipts', we're talking about receipts printed using a thermal printer on thermal paper. The printer heats specific areas of the paper to create text or images, producing the receipt.
On the other hand, 'paper receipts' is a more general term that can refer to any receipt printed on paper (and using regular ink or toner). These receipts can be produced using various types of printers, like inkjet, laser, or dot matrix printers.
Do you need special paper for a thermal printer?
Thermal printers do require special paper, yes! Known as thermal paper, it's coated with a heat-sensitive chemical that causes the paper to change color when the thermal printer applies heat to it.
Thermal receipts are typically smoother and shinier than regular paper receipts due to the special heat-sensitive coating. It's important to use the right kind of paper with a thermal printer – standard paper won't respond to the heat in the same way, and the printer won't be able to produce any visible text or images. Bear in mind that thermal receipts can fade over time – especially if exposed to heat or sunlight. For instance, if you leave a thermal receipt on your car dashboard on a sunny day, you may find the text unreadable when you return.
How long do thermal receipts last?
The lifespan of thermal receipts can vary significantly based on a variety of factors, including the quality of the thermal paper used, how the receipt is stored, and the environmental conditions it's exposed to. Under optimal conditions and with high-quality thermal paper, a thermal receipt can remain legible for up to ten years.
If a thermal receipt is left in direct sunlight or stored in a humid environment, however, the text could begin fading in a matter of weeks or months. Moreover, contact with certain substances, like plastics, can affect the longevity of thermal receipts.
Connect Your Thermal Printer with BizPrint Today!
Automatically printing receipts using a thermal printer is a must, especially if your WooCommerce store receives higher volumes of orders every month. It not only helps you keep track of orders easily but is also physical proof for the customer that they purchased something from an online store.
Using an all-in-one robust system such as BizPrint, you can effectively increase sales and improve the receipt creation process for your business. It makes order management easier and helps you set up advanced order receipts and packing stations for your e-commerce store.