Looking to set up a restaurant system in WooCommerce but don't know where to start? WooCommerce is a popular choice for restaurants, but to create a successful online restaurant ordering system, you'll need to look beyond the default WooCommerce functionality.
In this article, we'll see what goes into putting together an effective restaurant system using WooCommerce, and the top plugins for it.
Is WooCommerce good for restaurants?
WooCommerce is a popular eCommerce platform for building customizable and scalable online stores. More than 6.5 million live sites are built on WooCommerce. This is not surprising – as WooCommerce is entirely free and almost infinitely customizable, with access to thousands of extensions to add to its functionality, it is a great choice for all shapes and sizes of eCommerce businesses.
If you're looking to build a website for your restaurant, WooCommerce is a reliable solution. It's easy to use, flexible, and gives you access to a number of payment platforms as well as thousands of templates and plugins.
A successful WooCommerce restaurant system is a sum of different parts. Think time slots for more streamlined food delivery operations, options for a range of delivery and takeout operations, and automatic order printing, among other functionalities. You can bring various functionalities together through a WooCommerce point of sale (POS) system, a front-end interface connecting your physical restaurant to your restaurant website for seamless in-person and online sales.
Top tips for setting up a successful WooCommerce restaurant system
When it comes to providing an enjoyable restaurant experience and satisfying your customers, flexibility is key. Multiple ordering options, the ability to make variations to your menu items online, and providing all popular payment methods are some examples of making food ordering easier for customers and earning their loyalty. They're discussed in detail below.
The efficiency of your restaurant system will also factor into the customer experience. This includes managing orders, controlling inventory, organizing different delivery and takeout options, and of course, ensuring on-time deliveries. Thanks to WooCommerce plugins and extensions, if you build your online restaurant system on your existing WooCommerce website, you'll have plenty of options for supporting and improving your restaurant operations.
Offer flexible ordering options
It's no secret that online food orders are becoming more and more popular, with the market size of the global online food delivery sector estimated at 130.2 billion U.S. dollars in 2022. Offering multiple online ordering options for your restaurant is, therefore, an excellent way to optimize your restaurant revenue.
For food delivery, you have two main options: you can use a hosted food ordering system such as DoorDash, Deliveroo, Uber Eats, or Grubhub, or you can handle your own orders. There are various advantages to handling online ordering yourself:
No commission fees: Hosted ordering platforms charge a commission on all online orders. For example, Uber Eats charges between 15% and 30% commission on all delivery orders.
Retain customer information: If you handle orders yourself, you can retain all leads gathered through online orders to drive repeat orders. You'll be able to create a WooCommerce restaurant system that engages customers and improves their experience ordering from you.
Manage refunds and complaints: Managing your own online orders gives you full control over handling complaints and refunds fairly and promptly, helping build trust and loyalty.
Control the branding and customer experience: When your online orders are handled through a hosted platform, you lose the opportunity to add your own branding and personalization. Your restaurant effectively just becomes one option out of a long list, and you have a harder time standing out from the crowd.
Managing your own online orders comes with its own challenges, but they're easy to handle using the right plugins for your WooCommerce restaurant. For example, you'll want to ensure that you use a robust WooCommerce POS system like Jovvie from BizSwoop, which allows you to seamlessly manage both online and in-person orders.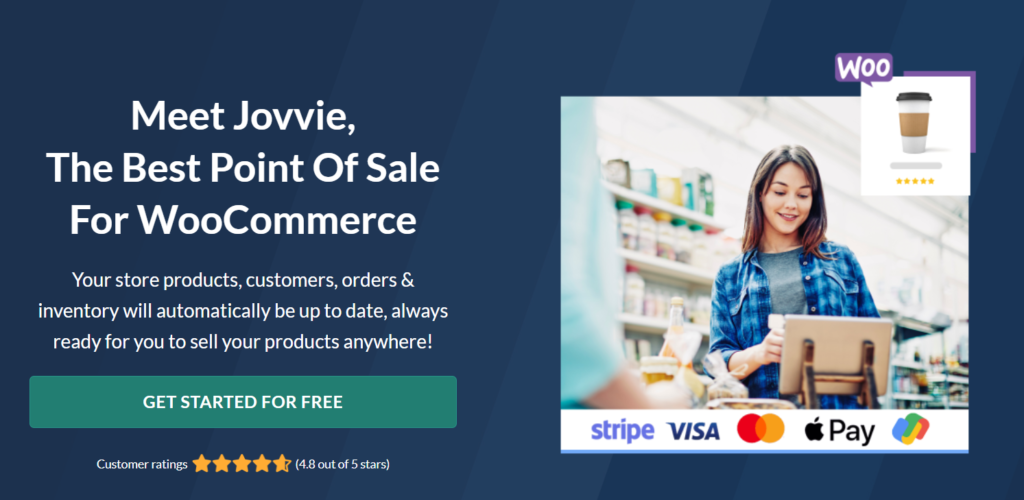 Jovvie enables you to manage orders across multiple channels through seamless inventory synchronization between online and in-person orders. You always have an accurate picture of stock levels, and can avoid missing out on sales or canceling orders due to stockouts.
You can further enhance your restaurant's ordering experience by offering additional delivery options using Pickup Delivery Scheduler, also from BizSwoop. Using this WordPress plugin, you can organize fulfillment by pre-assigned time slots, and show or hide options for collection or delivery based on predetermined delivery zones.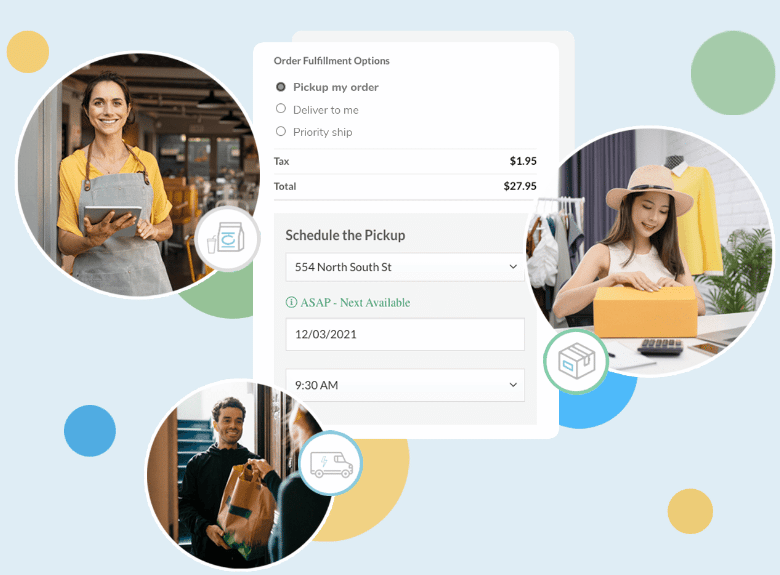 You can also specify the order volumes allowed in each time slot. This feature is helpful in optimizing food preparation and delivery times without overburdening your staff, while setting clear expectations on minimum wait times and providing consistent service.
Another great option when it comes to setting up an online ordering system for your WooCommerce restaurant is Orderable. This powerful plugin offers a range of features to make building your restaurant ordering platform as straightforward as possible – you can get started with taking online orders in a matter of minutes. Here are just a few of the benefits of using Orderable for your WooCommerce restaurant:
You'll keep 100% of your revenue, as the plugin doesn't charge any transaction fees.
You can build great-looking menus fast with the plugin's flexible built-in layouts.
You can offer product add-ons and increase your average order value by offering upsell or cross-sell items in the cart.
You can handle orders in your physical restaurant easily by using QR codes to assign table numbers to orders.
Streamline your order fulfillment with automatic order printing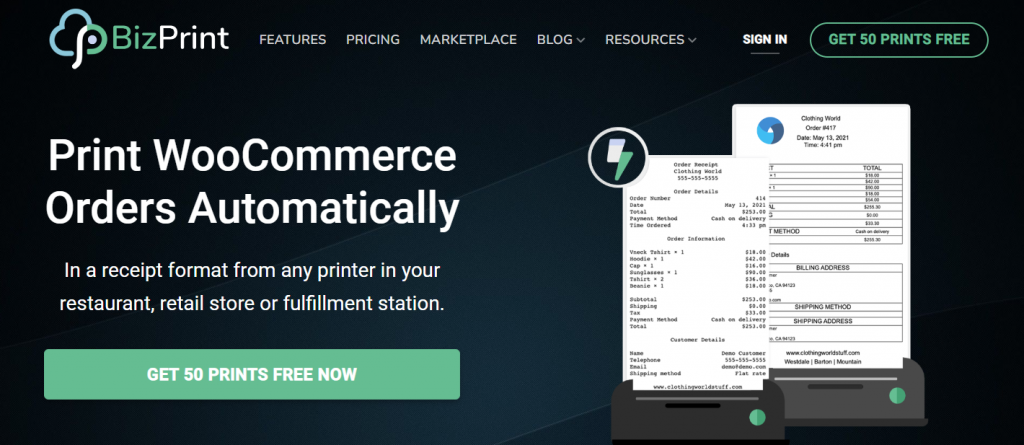 A major challenge of restaurant management, particularly for omnichannel restaurants, is ensuring that all orders are fulfilled in a timely manner and none are missed. By automating your restaurant order printing using an automatic printing solution like BizPrint, you avoid the need to manually process orders and benefit in the following ways:
Improve efficiency: You can configure BizPrint to automatically print orders in real-time the moment a new order is placed. This cuts down on manual order processing times and allows your kitchen staff to get to work on orders immediately after an order comes in. Businesses report a 30% increase in the efficiency of their kitchen operations after using BizPrint.
Reduce the chance of human error: Orders will be automatically printed directly to your restaurant kitchen with no human intervention needed. By removing the manual processing of orders, you also minimize the chance of details getting missed, copied down incorrectly, or misinterpreted.
Support scalability: One of the main benefits of adding an automation feature to your WooCommerce restaurant system is the hours it can save your business for more important tasks. By reducing your order processing times, you can free up your staff's time for high-value activities that boost your growth and bottom line.
BizPrint can transform your order management and delivery operations in other ways as well. The user-friendly plugin comes with product and location mapping features that can take your restaurant order processing to the next level. These addons allow restaurant owners to automatically map orders for specific products or product categories, or orders being delivered to certain locations or using specific shipping methods, to predetermined print stations. Some practical applications include:
Multi-location restaurants: If you're managing restaurants in multiple locations, you can use the shipping zones and methods add-on to automatically print order receipts to printers at a specific branch of your restaurant based on the delivery or collection address for the online order. This way, you can always ensure the quickest and most convenient delivery/pickup experience for your customers.
Food/drink preparation stations: Many restaurants will split their food preparation into distinct zones/stations with dedicated members of staff for each part of the order (e.g. drinks, hot food items, salads, and so on). Using BizPrint's product and category mapping add-on, you can print orders to each station for only the items that will be prepared there.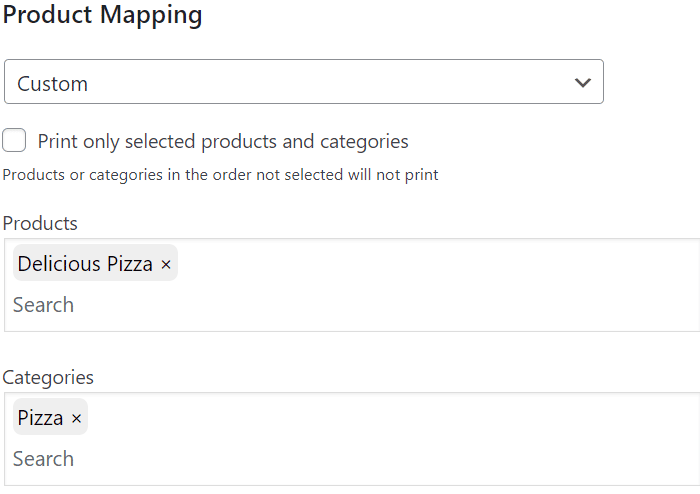 Provide flexible payment options
Up to 16% of customers admit to abandoning their carts if their preferred payment method is unavailable. For this reason, it is very important for the success of your WooCommerce restaurant that you support as many payment types as possible.
Fortunately, if you choose to use a flexible WooCommerce POS system like Jovvie, accepting multiple payment methods is very easy. Jovvie has straightforward integration with Stripe Terminal, the in-person sales component of the popular payment gateway, Stripe. By linking Jovvie and Stripe Terminal, you can easily accept in-person payments via credit card, debit card, and digital wallets like Apple Pay and Google Pay. If you don't want to use Stripe as your payment gateway, Jovvie still has you covered – any payment gateway plugin that is supported by WooCommerce, such as WooCommerce Payments and PayPal, works with Jovvie.
Jovvie also supports less conventional payment types, including checks and gift cards. This further reduces the possibility that customers will not complete checkout after finding that they cannot pay using their preferred payment method.
Aside from offering flexible options for payment, you'll also want to ensure that your WooCommerce restaurant system is set up to support tips. Tipping is not only considered a social norm in restaurants in many countries and cultures, but is also a means to ensure that your restaurant staff receive a good wage, and that your customers are able to show their gratitude for your service.
Jovvie offers built-in support for tips on in-person transactions. Adding tipping functionality to your online orders is straightforward through integration with Jovvie's sister plugin Product Manager Add-Ons, which we'll look at it in more detail next.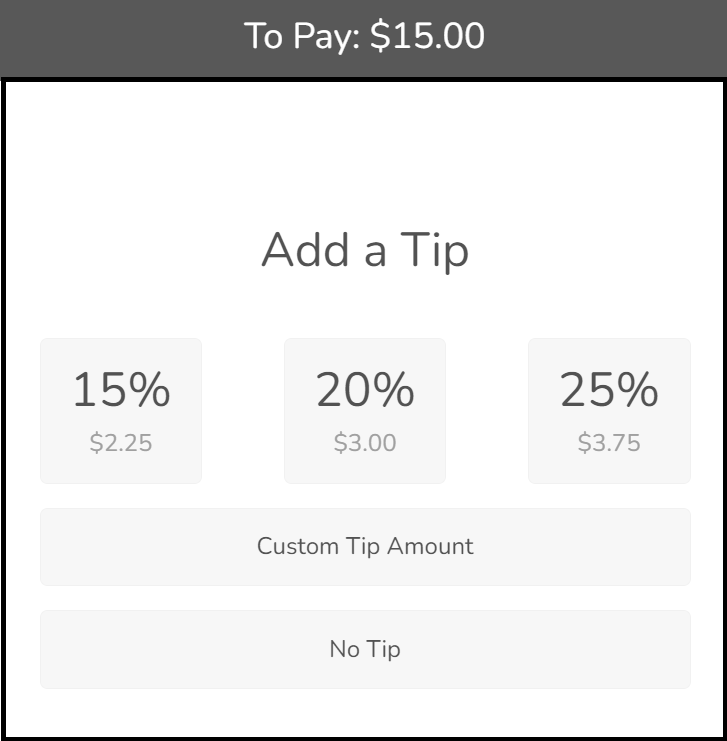 Keep track of customer patronage over time and offer rewards programs
Understanding your customers' preferences is vital to ensuring that your restaurant can offer them the best experience possible, which in turn is key to customer retention. By keeping track of your customers' patronage over time, you can also analyze trends in customer behavior, which is helpful in making smart stocking decisions, creating highly targeted marketing campaigns, and offering loyalty programs or special coupons to loyal customers.
Jovvie provides detailed analytics reports within your WooCommerce dashboard. You can keep track of everything from product sales to the patronage of specific customers over time. As Jovvie also offers a complete customer management system, you can easily add new customers on the fly, and provide guest checkout to reduce the barrier to order completion. Support for coupons of all types and custom discounts at the POS checkout also means that Jovvie is a great choice of POS system if you want to offer loyalty programs at your restaurant.
Offer flexible menu options
A flexible restaurant menu allows customers to customize their orders based on their personal tastes and dietary requirements, and easily add extra items to their orders. For example, if you run a pizzeria, multiple customization options are an integral part of the ordering process. Offering a flexible food menu is a great way to improve the restaurant experience for your customers, whether they're ordering in person or on your WooCommerce website. Enabling quick selection or removal of ingredients, toppings, add-ons, and other options will often be necessary to create orders to customers' requirements.
Jovvie supports products and variations of all types for both online and in-person sales. Whenever you add a new variation, it loads instantly in the POS. Working together with Product Manager Add-Ons, you can easily set up customizable products within your WooCommerce store. For example, you could offer options to change the toppings on your pizza, remove salad from your burger, or upgrade your fries to a gourmet option!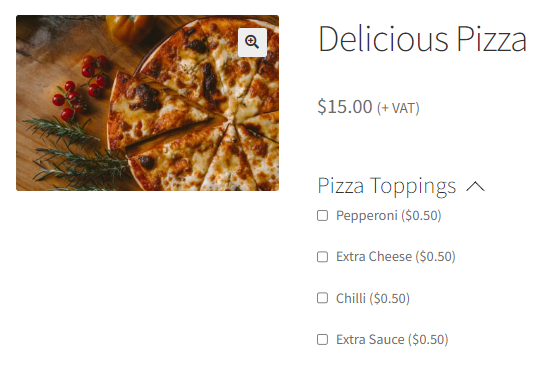 How to set up food categories as part of a menu
Setting up food categories as part of a menu is an essential aspect of a successful restaurant system for several reasons, including ease of navigation, improved user experience, better inventory management, and increased sales.
To set up food categories, take the following steps:
From your WordPress dashboard, navigate to Products > Categories.
Create a new category by filling out the fields on the screen's left side, including the name (e.g., vegetarian), slug, parent category (if it's a subcategory), display type, description, and image.
Then, click "Add new category" to save it.
When adding a new dish to your menu by clicking Products > Add new, simply fill in the details of the item and select the category the item falls under from the "Product categories" box on the right of your screen.
Then, click "publish" to create the new menu item along with its relevant category.
Once you've set up your categories, you can then use BizPrint to automatically map orders for your product categories and print orders to the relevant station. For example, if someone orders a drink, the order can be sent directly to the bar instead of the kitchen printer.
Set up a successful WooCommerce restaurant system
A complete restaurant system using WooCommerce provides:
A flexible menu, payment options, and dining options (dine-in, takeout, delivery, and click and collect).
An efficient ordering system that notifies customers about available delivery/pick-up time slots and optimizes food preparation and delivery time.
Good customer management, using customer analytics to create targeted marketing and loyalty programs, and coupons and discounts to please customers and encourage repeat orders.
BizSwoop's suite of products can help you put together an effective WooCommerce restaurant system. To simplify order taking on-site and online, you first and foremost need a powerful WooCommerce-based POS. Jovvie comes with all the features your restaurant might require, allowing you to manage in-person and online food ordering and track orders and stock levels with a high level of accuracy and efficiency.
Pickup Delivery Scheduler creates custom checkout options, allowing customers to select their preferred way of receiving their order and choosing an available time slot to plan pick-ups or expect deliveries with certainty. It also helps you manage order volumes and define minimum wait times to set clear expectations and ensure consistency in operational efficiency and customer service.
Using Product Manager Add-ons, you can provide flexible WooCommerce product add-ons, allowing you to offer customizable products for your customers on both your online and in-person ordering systems. This improved customer experience is sure to encourage your patrons to keep coming back!
Finally, your WooCommerce restaurant system will benefit tremendously from BizPrint, the all-in-one printing plugin. You can print orders straight to your kitchen printers, and create receipts or delivery notes automatically to add to order packages. Product and category mapping add-ons are perfect for printing orders to kitchen stations so that chefs can view orders relevant to them. It's also a more efficient way to organize the communication of a large order involving multiple stations. So why not get started with Bizprint today and bring the efficiency of your WooCommerce restaurant system to the next level?