The e-commerce world is moving to a completely online format a little more every day. However, there's still the need for offline elements – receipts or delivery notes, for example. Customers will need a copy of the transaction, as will the store owner. The good news is you can add functionality to WooCommerce to print receipts whenever you need, with a lot of flexibility.
If you work in a brick-and-mortar establishment, but have an online WooCommerce store, you'll need a solution to bridge the gap. BizPrint is a stellar way to print off a physical receipt at checkout. If you combine it with other BizSwoop premium plugins such as Point of Sale for WooCommerce and Pickup Delivery Scheduler, you'll have a full-featured WooCommerce site ready for any and every customer.
In this post, we're going to show you how to add WooCommerce print receipt functionality to your site using BizPrint. First, let's help you understand why this functionality is so vital.
The Benefits of Printing Receipts on WooCommerce
Receipts and invoices are essential pieces of commercial accounting documentation. This is true whether you run a brick-and-mortar or a fully online business. But while providing receipts is a necessity for any eCommerce store owner, producing printed ones has considerable added benefits.
Some of the main advantages of adding the option to print receipts directly from your WooCommerce store include:
They ensure order accuracy
They provide proof of purchase
They make your business appear more professional
They increase efficiency (with automatic printing)
Which Businesses Should Print WooCommerce Order Receipts?
Despite online business being in a boom period, there's still the need for physical receipts. This is especially true for stores that sell both physical and digital items. Warehouses and logistic companies will (of course) need delivery notes and shipping labels for customers. It's even somewhat true for businesses that deal in physical goods, but also relies on its online presence.
For example, a restaurant may use WordPress to promote its business online and show off the menu.
However, in order to offer online take-out or delivery services, that restaurant may need to turn to third-party solutions. For a WordPress website, WooCommerce could help you deliver these services, but it suffers when it comes to in-person transactions. What's more, there is no native functionality for WooCommerce to print receipts (although you might be able to set up email notifications).
A good print plugin can help to plug this gap and provide a restaurant with the ability to offer extra services without the need for third parties, among other use cases.
The 7 Best Plugins for Printing Order Receipts in WooCommerce
1. BizPrint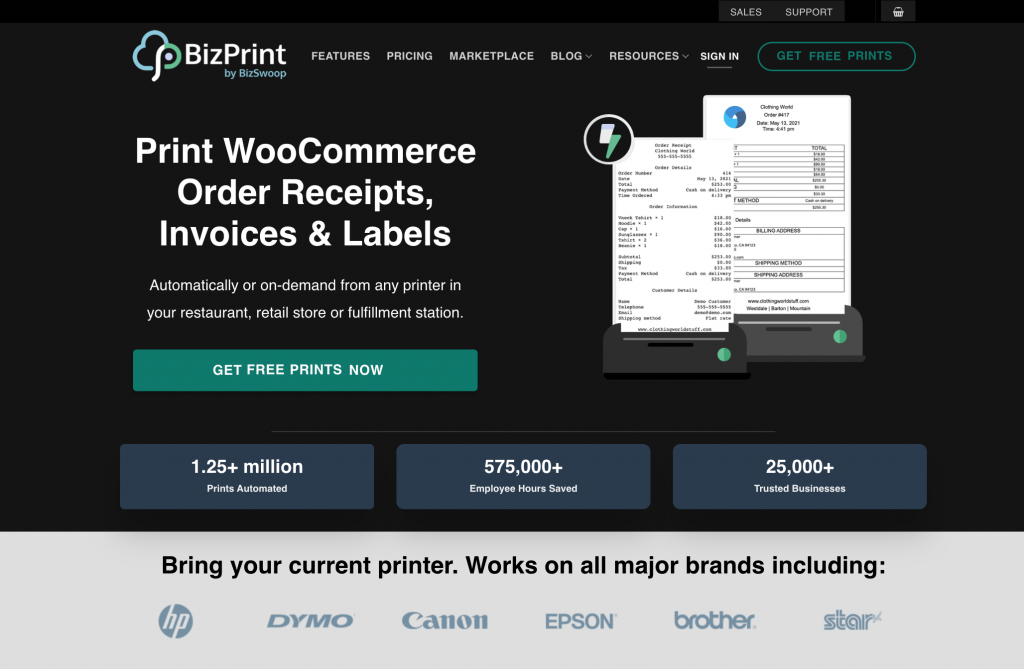 The BizPrint plugin for WooCommerce is an all-in-one solution that allows you to automate the printing of receipts and other essential order fulfillment documents. With it, you can automatically print picklists, packing slips, shipping labels, credit notes, delivery notes, and much more. This tool is a must-have if you are running a restaurant or online store and want to simplify your order fulfillment process. Here is a detailed analysis of some of BizPrint's best features.
Automatic Order Printing: BizPrint's auto-printing feature is the main one that sets this plugin apart from other receipt-printing competitors because it means you won't have to manually print each order yourself. Instead, the solution automates the receipt printing process to help you avoid mistakes, free up staff time, and increase productivity. BizPrint's automatic printing is triggered by a pre-defined order status, which gives you control over exactly when documents are printed during the order fulfillment process. 
Customizable Templates: The plugin includes a range of customizable templates to choose from that you can edit to match your own business and branding needs. Additionally, you can customize the bottom of your receipts to add order details like VAT information, barcodes, future promotions, or even a QR code that directs clients to a customer feedback survey.
Works With All Printer Models: With BizPrint, you can start printing receipts immediately and using almost any printer model, including the most popular thermal printer brands (like Epson, Star, and Zebra). This means that, by using the solution, you can actually eliminate the need for any additional expensive hardware. And, since BizPrint works with most thermal printers, it is an excellent choice for a restaurant environment, where thermal printers are the industry standard.
Unlimited Locations: BizPrint has different flexible pricing plans based on the number of prints you want to produce and not the number of locations or stations you will have to use. Depending on your company's demands, you can configure an unlimited number of printing locations. Using BizPrint's dedicated mapping add-ons, you can also limit the printing of orders for certain goods to a specific printer location. Not only is this useful for businesses with several locations or fulfillment centers, but it's also perfect for restaurants with separate food preparation stations.
Seamless Integration with Jovvie POS: BizPrint is compatible with any WooCommerce POS (Point of Sale) you select. In particular, it integrates well with Jovvie, a streamlined, all-inclusive POS developed by BizSwoop for WooCommerce users worldwide. Jovvie is an excellent choice because it doesn't need bulky POS hardware. The plugin also includes many advanced features and can synchronize inventory between online and in-person sales. By connecting Jovvie to BizPrint, you will be able to print receipts as soon as an order arrives at the point of sale or your fulfillment center.
Sign up for BizPrint today by choosing the right flexible plan for your business. Paid plans include Basic, Plus, Pro, Growth, and Enterprise. Choosing a plan largely depends on how many prints you'll need to make per month. If you need to print around 100 receipts or invoices per month, the Basic plan will be enough. If you need 50,000+ prints per month, then you'll likely need the Pro or Growth plans. Find out more about BizPrint's pricing plans to pick the right one for your store. 
2. WooCommerce Print Invoices and Packing Lists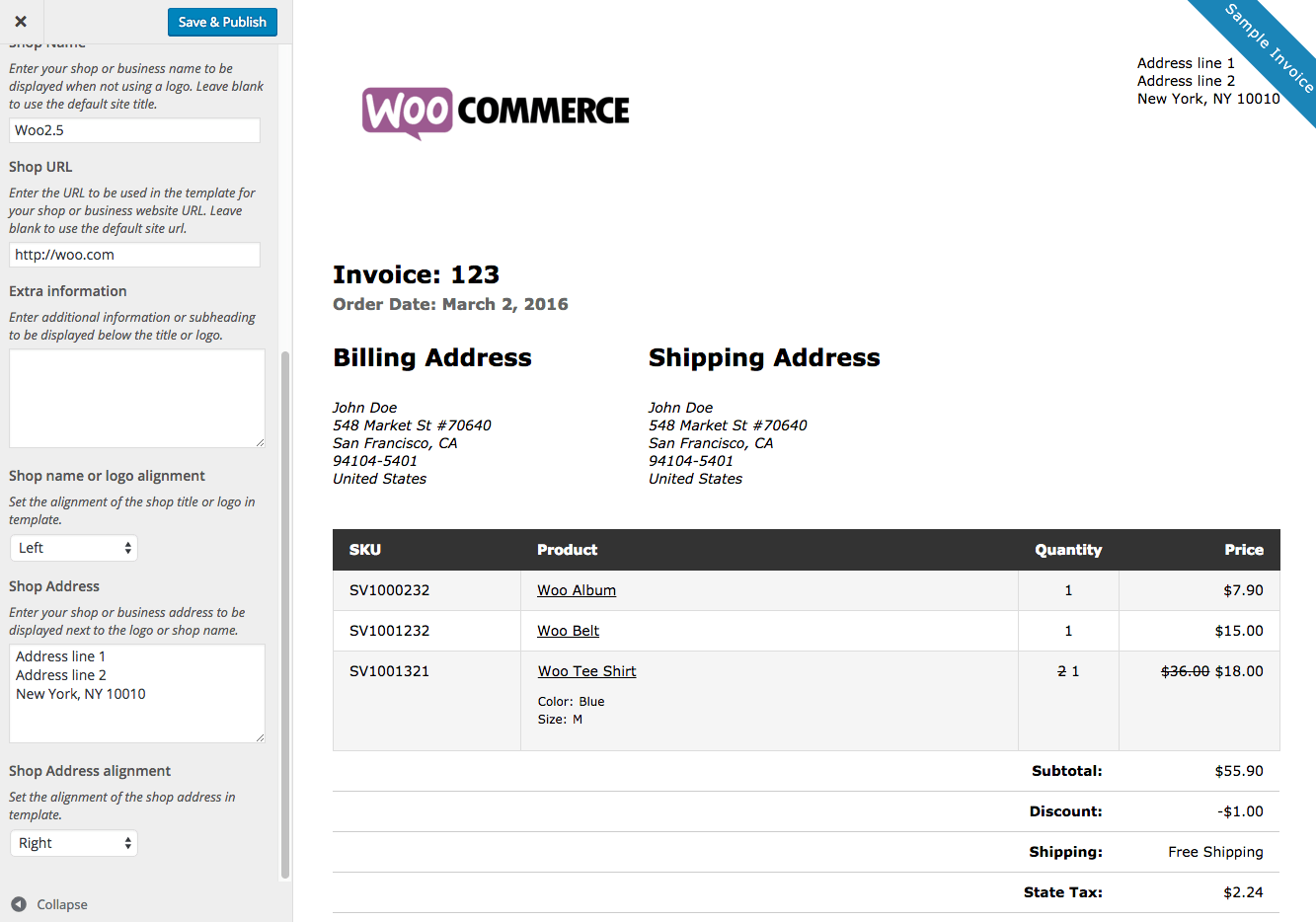 The WooCommerce Print Invoices and Packing Lists plugin allows you to print WooCommerce invoices manually to be used as order receipts, pick lists, and packing lists. Customers can also view their invoices from their "My Account" page. The plugin also comes with a range of customization options with no custom CSS requirements.
On the downside, reviews describe the customizations as basic, and there are no regular updates to the plugin (the last one was released in September 2021, and WordPress itself has been updated many times since then!). However, the biggest disadvantage when comparing this plugin to BizPrint is the fact that there is no support for automatic printing.
The cost of the WooCommerce Print Invoices and Packing Lists plugin is $79/year.
3. WooCommerce PDF Invoices, Packing Slips, Delivery Notes and Shipping Labels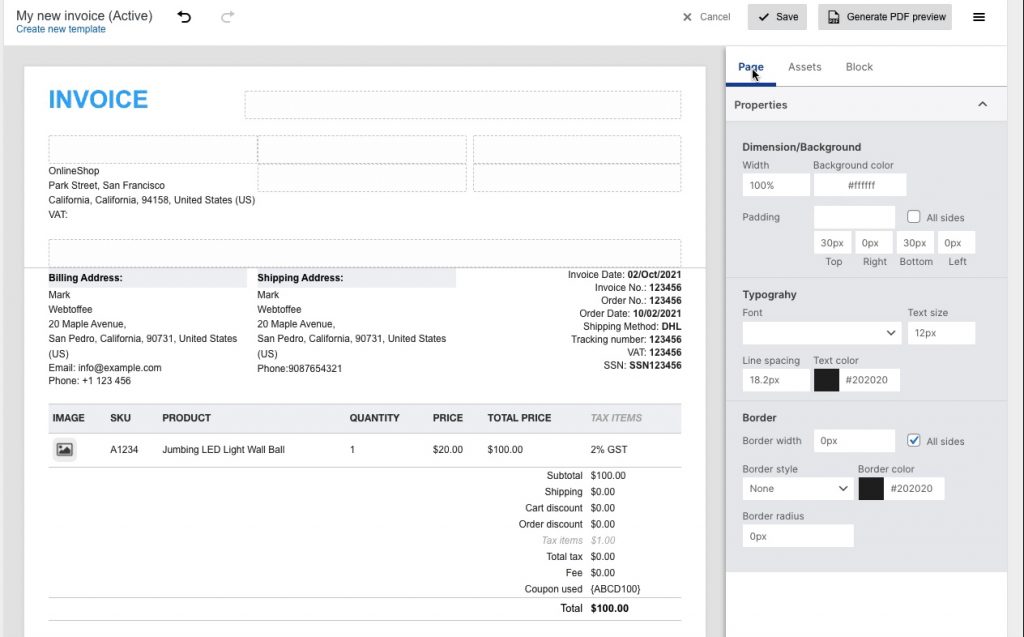 The WooCommerce Print Invoices and Packing Lists plugin allows you to print WooCommerce Proforma invoices, pick lists, credit notes, delivery notes, and packing lists. However, unlike BizPrint, this tool can only do so manually.
The solution includes multiple built-in templates you can customize using a built-in code editor and supports some custom fields such as VAT number, tax details, tracking information, and some limited branding. 
One important thing to keep in mind is that this plugin doesn't integrate with any shipping or courier services, so you won't be able to generate shipping labels for specific services automatically. All barcodes will have to be produced manually before you can add them to your labels. 
WooCommerce PDF Invoices, Packing Slips, Delivery Notes, and Shipping Labels subscriptions start at $69 per year.
4. WooCommerce PDF Invoices & Packing Slips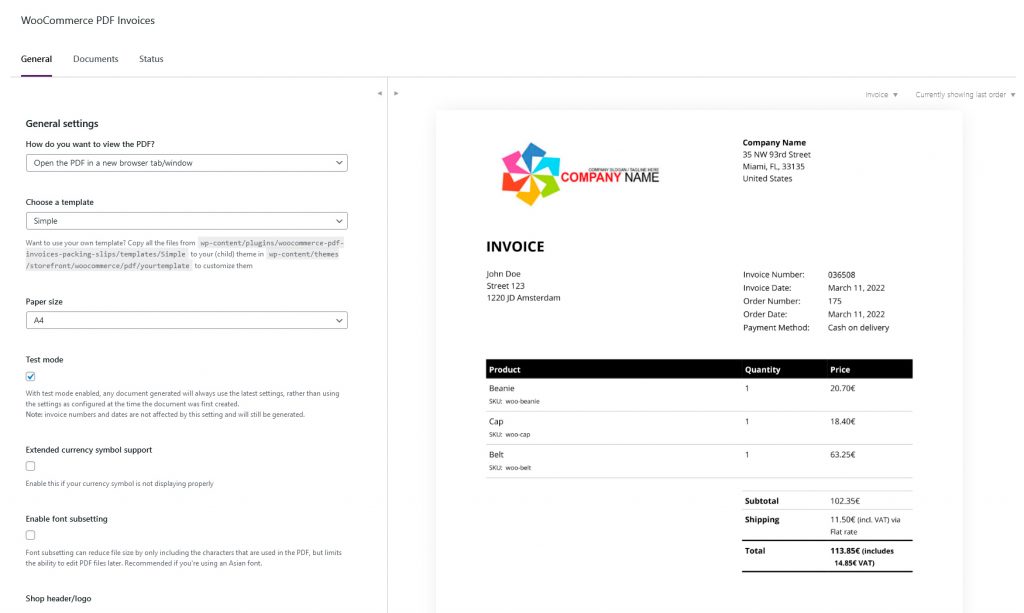 WooCommerce PDF Invoices & Packing Slips allows you to create PDF invoices directly from the WooCommerce order page and automatically attach them to your order confirmation emails. The plugin also allows you to manually print packing slips and invoices from your WooCommerce order page and includes a basic invoice template with some customization options available.
One downside to the WooCommerce PDF Invoices & Packing Slips plugin is that you will need to update to the Pro version if you want to unlock some of the tool's more advanced features, such as automatic uploading to Dropbox and automatic printing. 
The base version of this plugin is free. If you want to add any premium add-ons, these start at $59.
5. Print Invoices & Delivery Notes for WooCommerce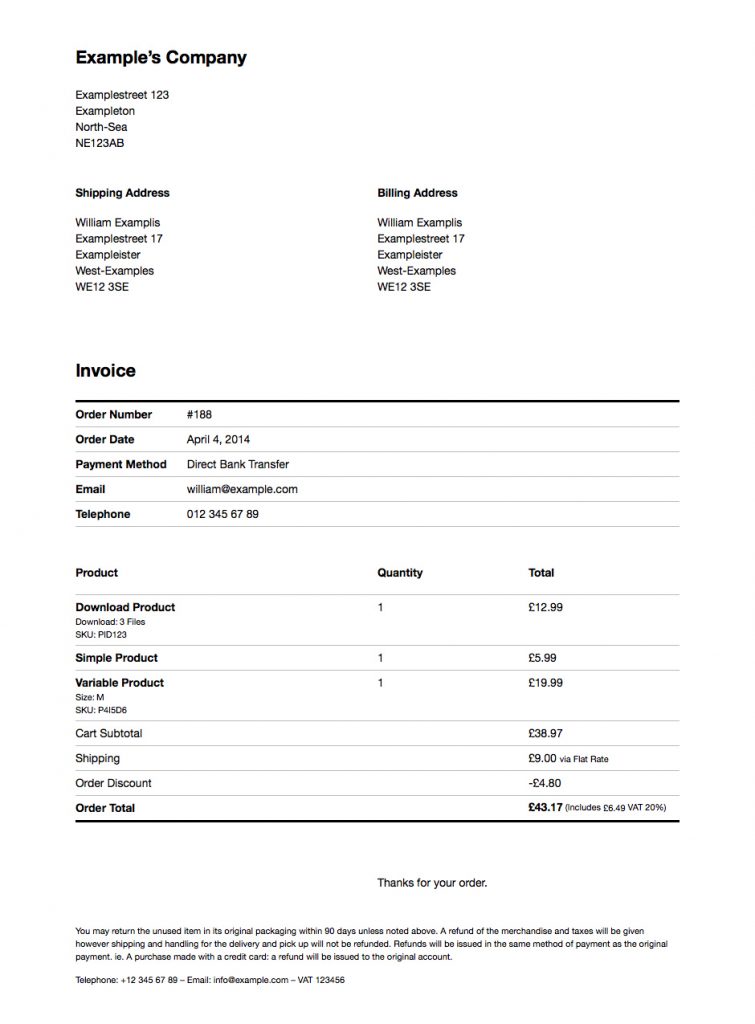 With the Print Invoices & Delivery Notes for WooCommerce plugin, you can manually print invoices and delivery notes directly from your WooCommerce orders page. Customers can also print their own invoices from their "My Account" page. 
This plugin offers customization of the invoice and delivery note templates, although because this is done through using hooks and custom CSS, you will require some know-how. Print Invoices & Delivery Notes for WooCommerce also supports simple invoice numbering and sequential order numbers, as well as refunds through the default WooCommerce refund system.
The main downside to this plugin is that customer support is only available via the public WordPress forums.
Print Invoices & Delivery Notes for WooCommerce is available for free.
6. Challan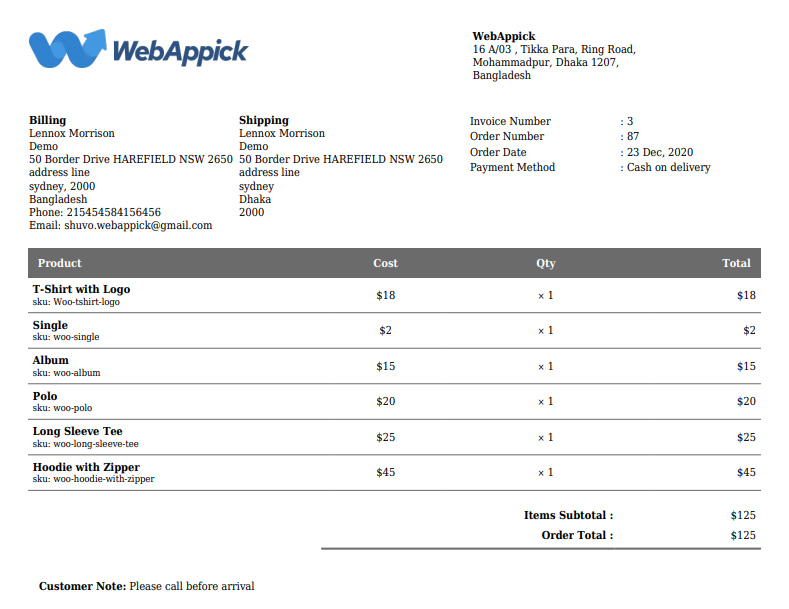 Challan is another free plugin that enables you to automatically generate PDF invoices, attach them to order confirmation emails, and send them out to customers when order status changes occur. 
The free version of Challan lacks many of the features available from other plugins on this list. To unlock additional features, such as printing on custom paper sizes besides A3, A4, A5, and Letter, you'll have to upgrade to the premium version, which starts at $29 per year.
7. YITH WooCommerce PDF Invoices & Packing Slips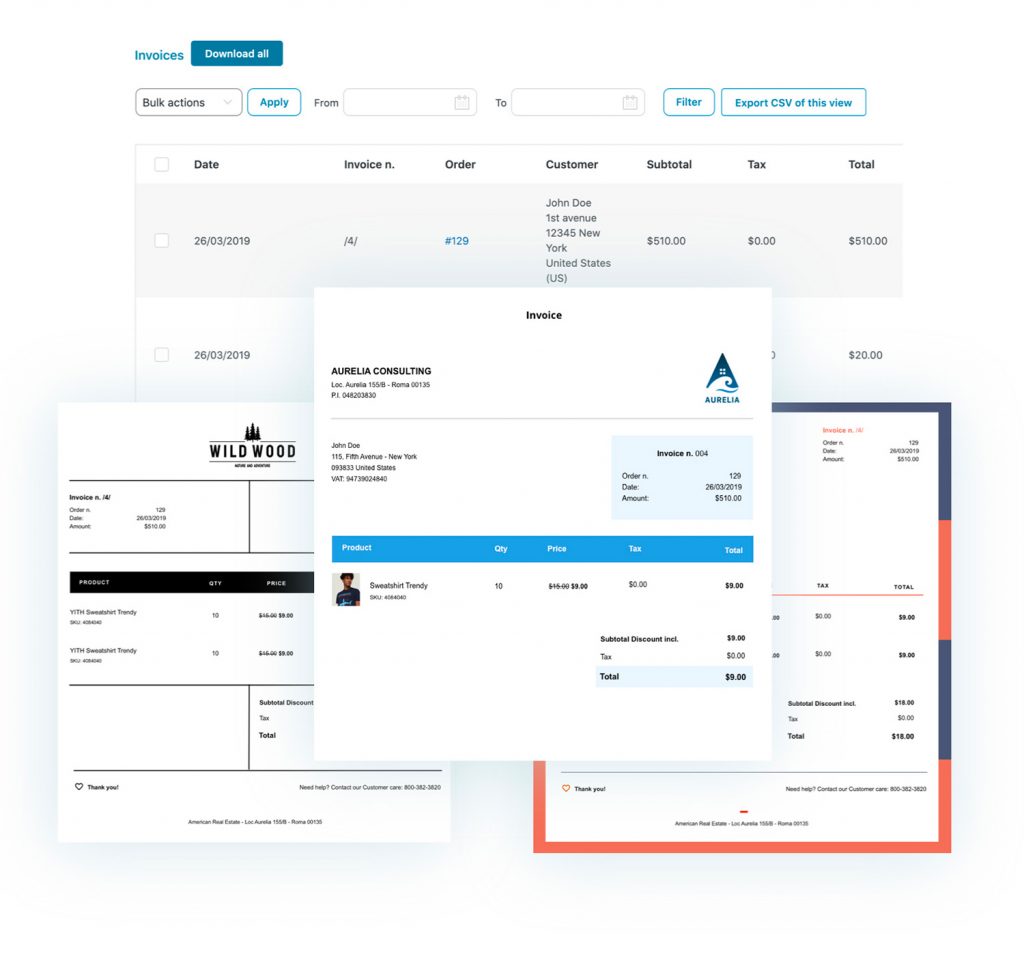 The YITH WooCommerce PDF Invoices & Packing Slips plugin lets you generate invoices, packing slips, proforma invoices, and credit notes automatically. The plugin also offers a few different templates for invoices and packing slips, which can be customized to fit your needs. 
Although YITH WooCommerce PDF Invoices & Packing Slips offers good support for your store's invoicing needs, the same cannot be said for other types of documents like shipping labels. If your business requires them, you will need a supplementary plugin. Unfortunately, some users have also reported bugs with the plugin.
The price for the YITH WooCommerce PDF Invoices & Packing Slips plugin starts at $79.99 per year.
Which Printing Plugin Should You Choose?
The danger of a solution that takes on some of the heavy lifting for your fulfillment strategy is a lack of flexibility. However, BizPrint has a lot of scope to tailor the experience to your business. For example:
You can have full control over the ordering experience, especially for online transactions, from the WordPress dashboard.
You're able to customize the fulfillment side of the purchasing process. This can happen through customizable and branded receipts, the ability to send fulfillment orders to customers' email accounts, and more.
The solution can mean faster turnaround times on orders, with less manual work involved. This is thanks to the automation that BizPrint provides.
If you work in a service industry, within logistics, or a niche that requires you to use payment methods and fulfill an order that involves a delivery or in-person transaction, BizPrint will be a vital cog in the wheel.
How to Enable WooCommerce Print Receipt Functionality for Your Website
Over the next few sections, we're going to show you how to set up WooCommerce print receipt functionality on your WordPress website. We'll tell you everything you need to start, along with the necessary links to find out more.
1. Install and Set Up the BizPrint Plugin
To install, activate, and set up BizPrint, you'll first need to sign up for a BizSwoop account. We cover the full steps in our Print Setup article. You'll need to click the "Applications" tab within the BizPrint Cloud Dashboard.

This will ask you to add a name for your site, and enter a URL for your WooCommerce store.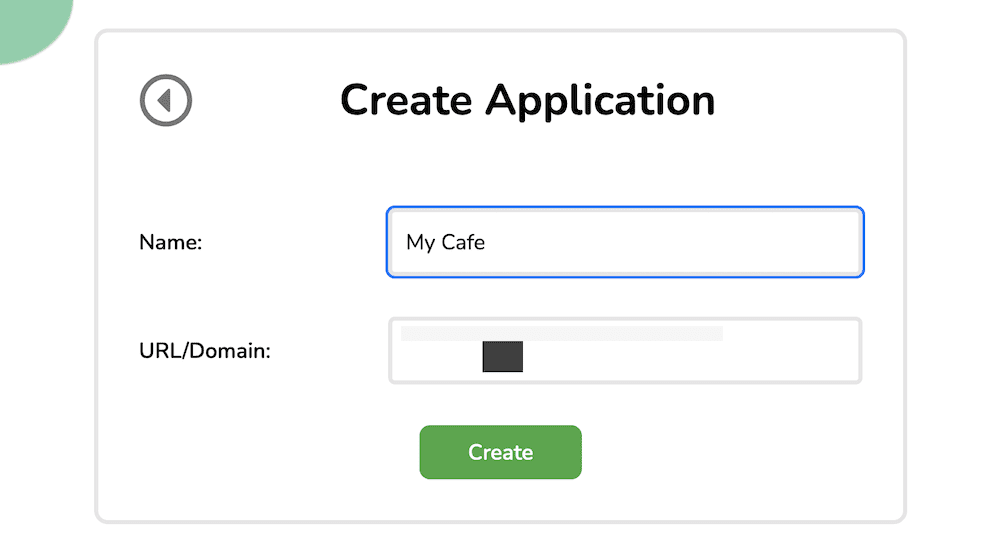 Once you do this, head into WordPress (to the "Plugins > Add New" screen), and search for the Print Manager for WooCommerce plugin: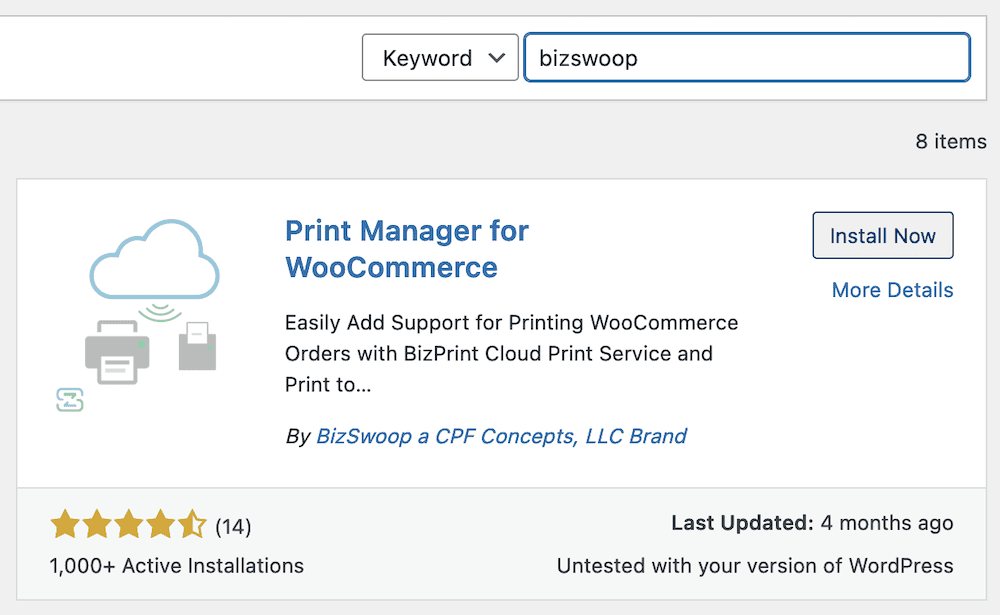 You'll install and activate this in the typical way for other plugins, at which point you can head to the "WooCommerce > Print Settings > Settings" screen.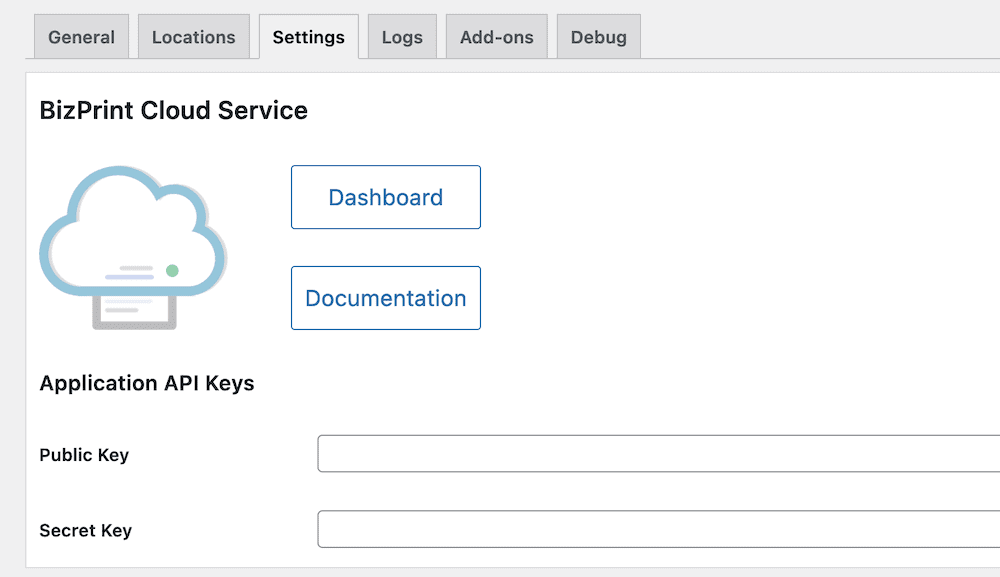 Here, add in your public and secret keys to connect your site to BizPrint Cloud service.
2. Set Up Custom Receipt Formats Using Templates
Using custom receipt or invoice templates is a core feature of BizPrint, so it's no surprise that it's a breeze to use.
Within WordPress, head to the "WooCommerce > Print Settings > Locations" screen, and click the "Add New" button in the top right-hand corner. This will open up a whole array of fields and options to help you set up your order slips for your different locations: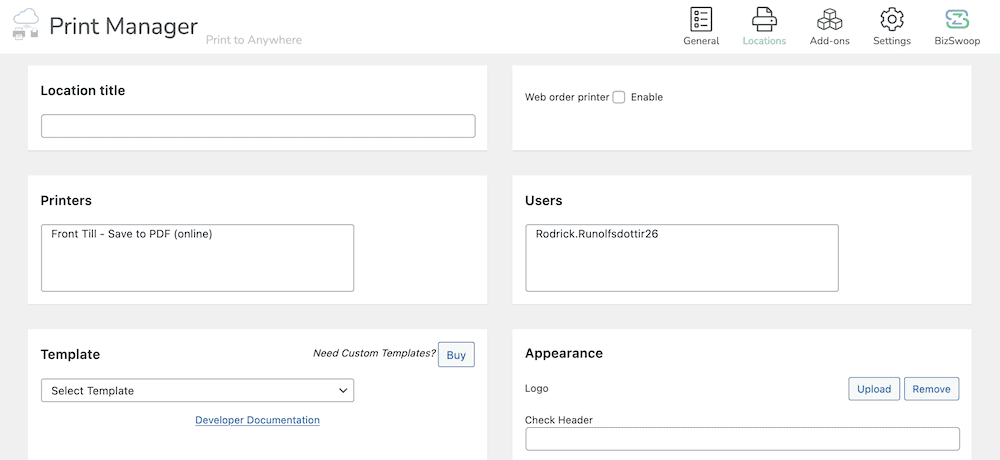 While there are a lot of options here, we can set up how your order receipts will look using the "Template" tab drop-down menu:

You're able to choose a number of different templates, along with a bunch of options based on what you can edit with each template (such as adding a sequential order number, invoice number, billing information, and more). To the right of this section, you can also add a logo, enter your shop name and information, include header and footer information, and remove the BizSwoop branding: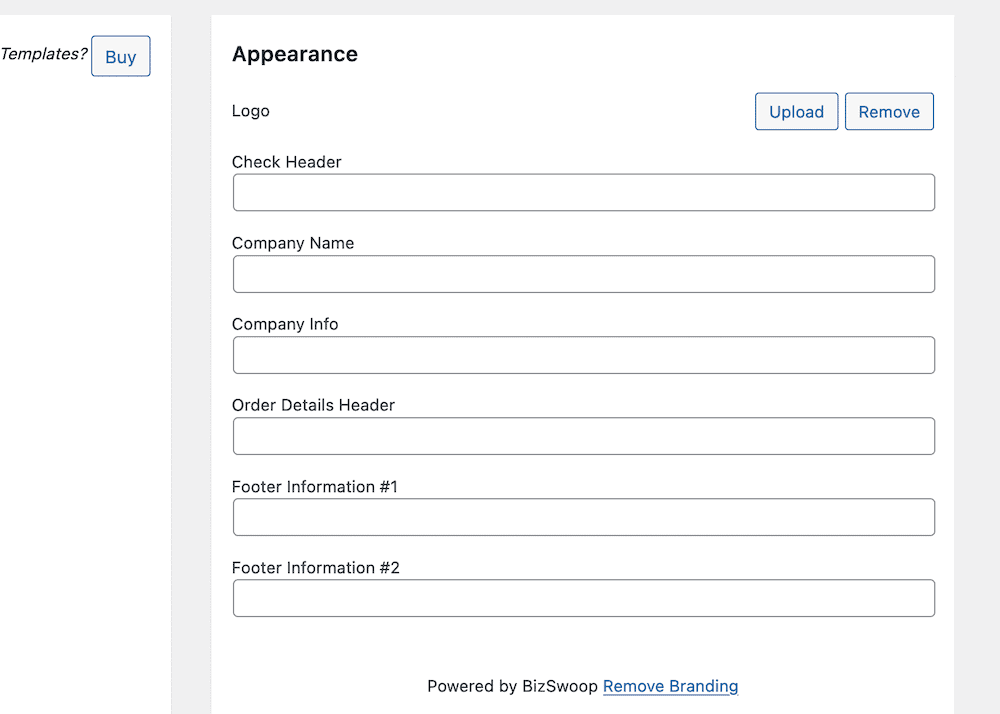 There are also some options under the "Settings" section: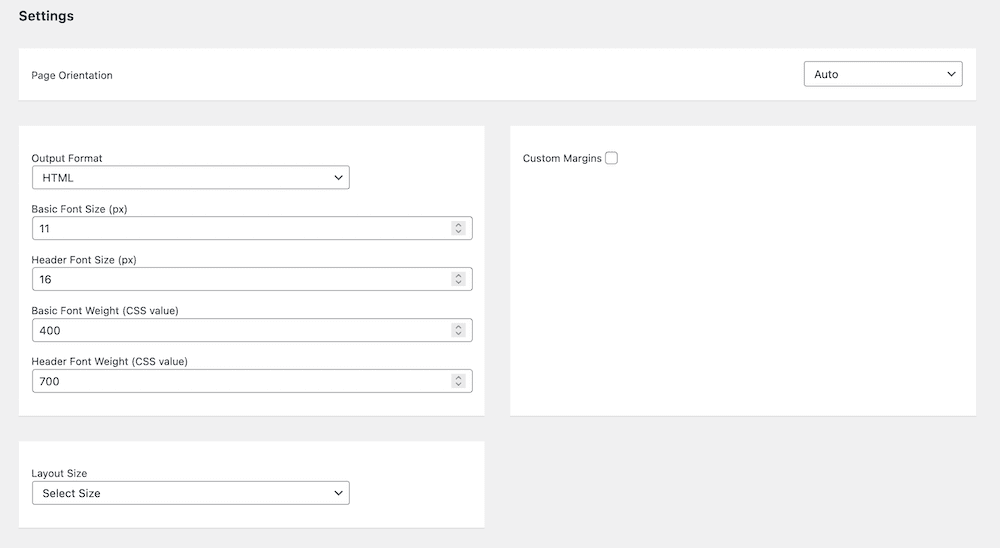 Here, you can set the page orientation and layout size, and customize the output format. For example, you can choose either HTML or plain text formats, and work with font sizes and weights to achieve your ideal layout. When you finish, save your changes, and look to some of the other features available in BizPrint.
3. Enable Automatic Order, Packing Slip Generation and Print Invoices
If you head to the "WooCommerce > Print Settings > General" tab, you can enable automatic order printing and packing slip generation with one click:

Here, you can choose which order statuses will trigger order printing. What's more, you can choose the number of copies you print. This is ideal for situations where both you and the customer need a version of the print receipt.
This is all you'll need to do at this point. Once a user finalizes a completed order, WooCommerce will print the receipt or order. If you have a physical printer, this will (of course) show up in that location.
However, you can also set up a PDF printer, which will save a digital copy to a specified location.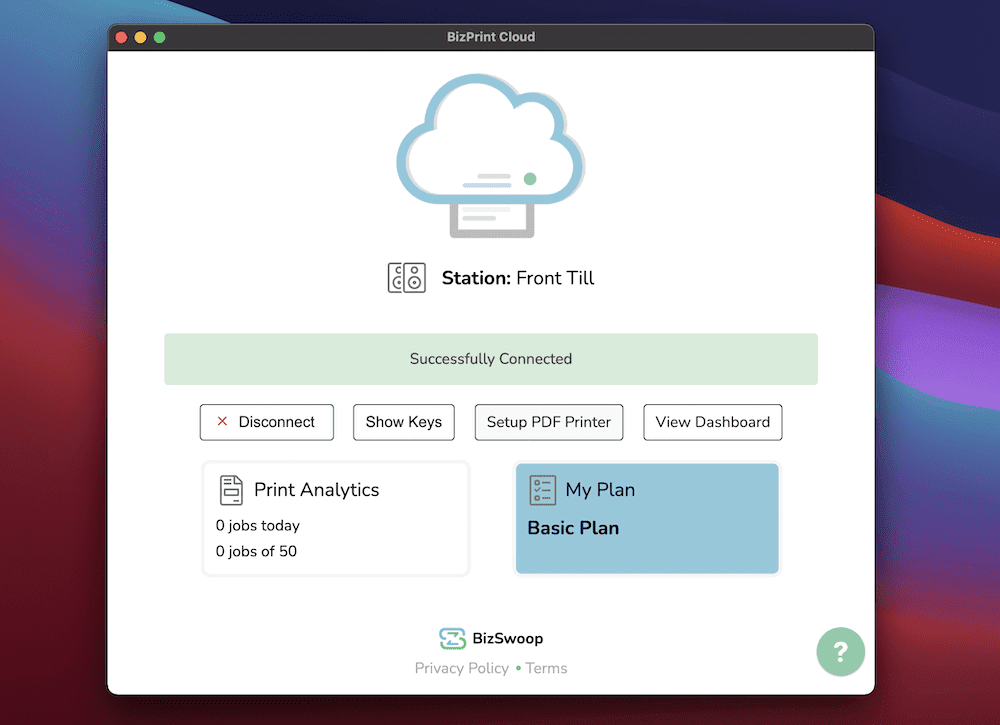 You'll do this through the BizPrint Cloud app on your computer, and takes a minimal number of clicks to implement.
Conclusion
Despite the ever-increasing online shift for commerce-based businesses, there is still lots of need for physical receipts, printed invoices, the ability to email invoices, and hard copies of fulfillment slips. Lots of websites use WordPress and WooCommerce, and while they are fantastic in some situations, you'll need third-party help to achieve a robust WooCommerce print receipt solution.
BizPrint is a leading way to provide automatic print fulfillment for brick-and-mortar stores, and POS locations. It integrates into WooCommerce stores, and with your existing printer, to let you and your customers keep a hard copy of a transaction. What's more, BizPrint is a breeze to set up and use – if you know your way around WordPress and WooCommerce, you'll be at home.
Get started with BizPrint by choosing the pricing plan that best suits your business's unique needs. As BizPrint's plans scale up, you'll get access to more print jobs per month, but all available plans offer incredible value.