Wondering how to make your WooCommerce order fulfillment more efficient?
eCommerce order fulfillment has numerous stages, from receiving and processing orders through to delivery, with the possibility of refunds or returns being an important consideration as well. Making sure that each of these stages runs efficiently is key to ensuring the success of your WooCommerce store.
WooCommerce makes selling online easy, but by default, it lacks the infrastructure to help you optimize your order fulfillment process. In this post, we show you how you can streamline each step of your WooCommerce store's order fulfillment process, helping you to improve the efficiency of your store and offer a better experience for your customers.
What are the benefits of streamlining WooCommerce order fulfillment?
Streamlining your WooCommerce order fulfillment process to make it more efficient is critical for any eCommerce store, where order accuracy and speed are both key indicators of success.
There are different ways to make end-to-end order fulfillment simpler and less time-consuming. Automation is a popular tactic; by reducing human intervention in the order fulfillment process, you can minimize the possibility of errors occurring when order management tasks are done manually.
4 main benefits of streamlining your fulfillment process:
Free up staff time by removing the need for manual order processing – As your business picks up pace or hits peak season, it becomes more difficult to get orders out quickly and accurately. By automating the processing of orders, you can take the responsibility out of your staff's hands and free them up for other, more important tasks.
Make your order processing more accurate – Successful eCommerce businesses have an order accuracy rate of between 96-98%. Physical stores have a tougher time with inventory and order accuracy, and will need the right solutions to ensure accurate picks. Processing orders manually not only uses up valuable staff time but also comes with an inherent risk of inaccuracy. By automating this part of the order fulfillment process, you can help to avoid the types of errors that can lead to refunds or missed orders.
Improve customer satisfaction and build brand loyalty – In a survey, 45% of online buyers admitted that they may not purchase from an online store again if they receive their orders late. And 62% of online shoppers said that fast shipping speed was one of the key contributors to a positive customer experience. It pays to ensure that customers receive their orders within the time you promise.
Scale your business without burnout – Not streamlining WooCommerce order fulfillment can lead to missed or incorrect orders when sales pick up pace. You may find yourself working harder, for longer hours, or having to take the help of third-party fulfillment services to manage your orders. On the other hand, enhancing the functionality of your WooCommerce store to make the fulfillment process manageable and efficient will allow you to take on more orders. You'll be better able to manage orders coming in from your online and physical stores.
6 tips for streamlining order fulfillment in WooCommerce
While there are many ways to optimize fulfillment, the ones discussed here are essential and carry the highest value for your business.
1. Ensure the fulfillment center has the correct order details
Communication of order details with your fulfillment center is one of the most crucial steps in the order fulfillment chain, and yet it is frequently one of the points where the most mistakes are made. Passing incorrect order information – be that order details, delivery information, or shipping details – to your fulfillment center can be a costly error, as if orders are incomplete, late, or delivered to an incorrect address, it is your responsibility as the store owner to resolve that, wasting both time and money. Worse yet, you can lose the chance at repeat business or recommendations.
Fortunately, there's a perfect solution for that – BizPrint, a popular WooCommerce order printing plugin that you can use to increase the efficiency of your fulfillment cycle. BizPrint includes the functionality to automatically print any of the documents you could need for your order fulfillment process. You can auto-print pick lists, packing slips, shipping labels, and more directly to your fulfillment center as soon as an order is made. You can do away with manually processing orders yourself, or having to recruit and train employees to act as the go-between passing orders from your store to the warehouse.
Many eCommerce store owners make use of pick lists to communicate order details to the fulfillment center. A pick list is a document that shows exactly what products are needed to compile an order, serving as a source of truth for the fulfillment center to be able to fulfill the order. It's also a handy reference document should a dispute on order accuracy arise – you'll know what was supposed to go out to customers and assign accountability fairly.
BizPrint allows you to create pick lists directly from your WooCommerce orders. Simply use one of the free BizPrint templates to configure your pick list. As you will have added your warehouse or other fulfillment center's printer to BizPrint when you download and set up the WordPress plugin, the pick lists it creates will be automatically printed on that printer. Warehouse packers can use the pick list to ensure that the correct items are part of that order. Introducing this simple step in your WooCommerce order fulfillment process will help keep your order accuracy rate consistently high.

Automatic order printing is especially useful if the order contains products stocked at different fulfillment centers. For example, say a customer orders a table and some home decor items to display on the table. The fulfillment center handling furniture would be responsible for the table, and the one handling home decor items for the other part of the order. For this functionality, you'll need BizPrint's Product Mapping add-on – with it, BizPrint can print pick lists, packing slips, or whatever document you require at both the fulfillment centers simultaneously, helping organize order picking and packing quickly, and bringing delivery times down.
2. Ensure shipping details are easily identifiable
The common problems that WooCommerce dropshippers face include parcels getting delayed, the fulfillment center sending an order to the wrong address, or the order getting lost in transit. These mistakes can happen if you don't have a proper system in place for clarifying shipping details, especially if a repeat customer changes their shipping address.
One way to reduce the likelihood of incorrect addresses is to supply a shipping label to the fulfillment center as soon as an order is made. Automatic order printing is a reliable way of making sure that the shipping address the customer supplies when placing their order is attached to the packages that go out to them.
With BizPrint, you can easily print a shipping label straight to the fulfillment center or warehouse at the moment an order is made. Once the fulfillment center has the shipping label, they can append it to the package and make sure that the final destination can be easily identified across every stage of the delivery.
WooCommerce shipping labels minimize the possibility of an order ending up in the wrong hands. However, sometimes, the fault may be on the customer's part, or an unforeseen event en route may result in a missing package. As a shipping label also contains the origin address, any undelivered or lost package is more likely to make it back to you, and all parties can resolve the matter amicably.
3. Add tracking details to orders
Adding tracking details to your orders is an easy way to offer your customer live updates on where their order is up to, helping to improve the customer experience and manage expectations. Shipment tracking is typically carried out via barcodes which are scanned at various stages along the delivery route. The customer will be given a tracking number when their package is dispatched, allowing them to keep track of the delivery's progress via real-time SMS or email notifications. You can use a plugin such as Shipment Tracking by WooCommerce to easily add tracking information to your orders, which will be accessible to the customer via a dedicated order tracking link.
All major shipping companies (e.g. USPS, FedEx, DHL, Canada Post) make use of some form of order tracking as part of their order fulfillment service, and most require tracking information such as the tracking number and barcode to be included on the shipping label. BizPrint provides customizable templates so you can print labels, receipts, packing slips, and more that include exactly the information you need to convey to the customer, the shipping carrier, or the team at your fulfillment center. It supports the addition of barcodes to your templates which makes it perfect for generating shipping labels that include tracking information.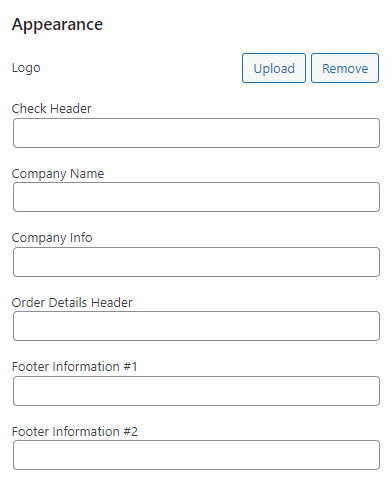 Another alternative, if you are using a shipping method that doesn't make use of order tracking, is to keep your customers updated using BizPrint's sister plugin, Flow Notify. Flow Notify allows you to trigger notifications to be sent to customers when their order reaches a pre-set status. You can use the existing WooCommerce order statuses, or add a custom status of your own, such as 'order prepared' or 'order packing'. This allows you to keep your customers informed of order progress regardless of the shipping method, and is also great for WooCommerce stores that want to offer order collection, as you can automatically notify customers when their order is ready to collect.
4. Practice good inventory management
Preparing, managing, and reporting on inventory is a critical activity for any online or brick-and-mortar store, and so an important consideration for any WooCommerce store looking to improve their order fulfillment process. A common issue that many stores have is tracking inventory accurately, compounded when inventory is spread between multiple warehouses or for stores that sell online as well as in person, at a physical store or on the go.
A clear picture of product availability is paramount. Your online store should reflect what's available in your physical location, and vice-versa. Without an accurate view of product volume on an ongoing basis, you risk ordering too much or too little. There's also the risk of miscounting products during order fulfillment, which can lead to confusion about stock levels, potentially leading to missed orders.
Using a dedicated WooCommerce Point of Sale system such as Jovvie POS allows you to keep your online and physical products in sync. Whenever a product is purchased online or offline, your stock levels are updated automatically. With a better inventory management system, you can do inventory forecasting, avoid stock-outs and ensure you have the items your business needs to operate successfully.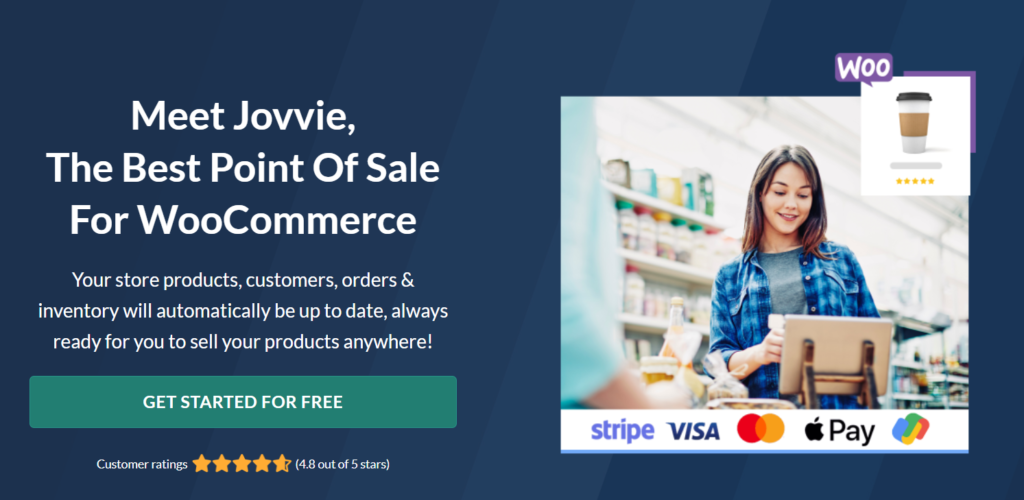 Jovvie POS offers smooth integration with BizPrint, which means you can also print invoices and customer receipts in-store when a purchase is made!
5. Include a packing slip in the shipment
A packing slip is a document printed with important information about the order, such as product details, weight, quantity, address, delivery options, and shipping method. It is included inside the package.
The purpose of a packing slip is two-fold. First, it allows the fulfillment center to double-check the details of an order before it's shipped. Second, the packing slip provides a reference point for the customer when they receive their order, allowing them to cross-check the contents of the actual order with the details of the shipment.
Packing slips help to streamline the WooCommerce order fulfillment process by providing a shared reference point between the customer and the fulfillment center. If the fulfillment center can easily refer to the packing slip as a final check before the product is sent, it reduces the possibility of an incorrect shipment. Likewise, the customer is able to use the packing slip to check for any errors or inconsistencies with the products delivered.
It's easy to generate and automatically print packing slips with BizPrint. Simply create a packing slip template and assign it to the printer location of your choice. Usually, this is the warehouse or fulfillment center. From there, the fulfillment center can include the packing slip inside the package.
The itemized list of everything in the package will help warehouse staff handle complex orders, and reduce customer inquiries about their orders once they've received them.
6. Offer quick and easy refunds and returns
In a 2021 consumer survey on returns in retail, 'item didn't fit' was the most common grounds for returns, followed by 'item was damaged or defective', and 'item not matching the description'. Barring receiving defective or damaged items, sometimes issues such as shoppers choosing the wrong size or buying the wrong items can result in requests for returns or refunds. And you've got to be prepared to manage those unhappy customers with an easy returns process and quick returns.
92% of customers say they will be happy to buy again if the product return process is easy. If your online business has at least 40% return customers, you're likely to make 50% higher sales than if repeat buyers accounted for only 10% of your sales. In other words, streamlining WooCommerce order fulfillment with a strong returns management policy can directly impact your revenue.
Online customers are not willing to wait around for refunds. 72% of eCommerce shoppers expect a refund credit within five days of returning items. Thankfully, WooCommerce has built-in features to help manage refunds resulting from product returns.
Say your customer wants a refund for a coffee table they bought from your store. Go to WooCommerce > Orders. Select the order you wish to refund, and click 'Refund'. Enter the details of the refund, such as quantity (1) or price ($240), and select 'Refund $240.00 manually' or 'Refund $240.00 via [payment gateway]', depending on the payment solution you use in your store (see screenshot below).
BizPrint also makes it easy to stay on top of WooCommerce product returns. With BizPrint's PDF print feature, you can auto-trigger to create a prepaid return slip. The return slip can be sent to the customer as soon as their status changes to "Returned" or if they request a refund. You can also set the plugin to print a return slip based on a custom status using Flow Notify. It will not only streamline the returns process but also significantly reduce the risk of human errors in initiating and managing it.
Streamlining WooCommerce order fulfillment is easy with the right solutions
An efficient and effective fulfillment process will help you keep customers, boost sales, scale your business, and manage your online and in-person businesses seamlessly. And you can go about it with BizPrint, which makes near real-time printing of orders a breeze. The plugin is designed specifically for WooCommerce, and using it, you can:
Automatically pull WooCommerce order details into your printing templates as soon as an order is made and send pick lists, packing slips, and more to your fulfillment center.
Generate and send shipping labels to the fulfillment center to support forward and reverse logistics, and build a self-sufficient fulfillment system.
Create prepaid return slips to send to customers that request a refund, and need to return products to your warehouse.
BizPrint is easy to set up, even for non-technical store owners. Once you have the plugin up and running, you can also generate and automatically print different kinds of business documents, including invoices, delivery notes, and receipts. As you scale your business, BizPrint can scale with you – with pricing plans based on the number of prints you need per month, you can grow your plan with your business, ensuring you always have the auto-printing solution you need to meet all of your order fulfillment needs.