Want to improve the customer experience for people placing orders at your restaurant? Consider using printed receipts.
Printed receipts can help make your restaurant more efficient, ensure order accuracy, and portray your restaurant as more professional, thus improving customer experience. This is especially true if you set up auto-printing functionality for your restaurant to further increase efficiency and accuracy.
This blog post will take you through why you should be printing receipts for orders at your restaurant and then show you how to set this up with BizPrint, an all-in-one auto-printing solution for every document you need during your order fulfillment process.
4 reasons to use a thermal order printer in your restaurant
While printing restaurant receipts for your online customers may seem like adding more work for yourself, it actually has numerous benefits for restaurant efficiency and customer experience.
Printing receipts for both online and in-person orders can help save staff time, increase order accuracy, and ensure your orders are delivered promptly, all of which add up to happier customers who are more likely to buy from you again.
Thermal order printers are the industry standard for both front-of-house and kitchen printing. They are much cheaper to run for higher print volumes as they don't require expensive ink cartridges and are significantly faster to operate than standard digital printers. Here are four benefits your restaurant can tap into if you use a thermal receipt printer.
Ensure order accuracy and a seamless experience for both you and your customers
Printed receipts provide a physical document you and your customers can use to check everything in the order is exactly as requested. By including a receipt in the delivery, or by providing one at the point of sale, customers can easily cross-check their receipt against what is delivered/what they have collected from your restaurant, ensuring they get what they want, thus contributing to a good customer experience.
By ensuring order accuracy, printing receipts also avoids the need for unnecessary refunds or sending out additional delivery drivers to replace incorrect items.
Help you run your business smoothly and efficiently
If you have a kitchen printer to print receipts as soon as an order is placed, your kitchen staff can work on the orders immediately, reducing wait times for your customers.
This avoids the need for manual handling of orders, for example, taking orders over the phone or manually transferring orders from your online ordering system to a format where your kitchen staff can start processing them.
Simply put, printing receipts can help smooth out your order fulfillment process and increase your staff's productivity which will, in turn, improve your services and increase your sales. 
See what this restaurant owner says about printing order receipts:
"We started taking orders online and printing them with BizPrint, and it has been game-changing. BizPrint improves the customer experience, reduces kitchen downtime, and frees up my time. My staff is 30% more productive … I can outperform our competitors (including on Uber Eats, Deliveroo, etc.) whilst having lower costs, better quality, and lower prices. If you own a restaurant, getting BizPrint is a no-brainer."

(Chris, Owner, Kyoto Restaurant)
Increase your brand awareness
A printed receipt offers one more time to brand your restaurant and influence customers to continue doing business with you. It allows you to remind your customers what your restaurant offers and why they should choose you. Branding makes your restaurant appear professional. It also makes it easy for customers to remember you and quickly recognize your restaurant, which can be a great way to establish yourself as a credible business.
You can easily brand your restaurant by printing order receipts with your logo and tagline and using your brand colors. You can also include personalized messages such as food suggestions, your new offerings, and discounts.
Personalized messages are effective in keeping your restaurant at the front of your customer's minds as well as helping drive repeat engagement and build a base of loyal customers. 71% of consumers expect to receive personalized messages from the companies they buy from, and 76% get frustrated when that doesn't happen.
Save time and ensure you never miss an order
You can ensure that no orders are missed by setting up your order receipts to automatically print as soon as an order is placed. You'll save your staff time they would normally use to print orders manually. You'll also boost customers' experience as they don't have to wait for proof of purchase. This will portray your restaurant as professional and efficient in its services. 
Which ordering system should you use for your online restaurant orders?
Selling food online can be a huge source of revenue for restaurants. It widens your reach to customers who are unwilling or unable to come to your restaurant in person.
It also allows you to accept far more orders as you are not limited by the physical size of your restaurant, among other benefits. Therefore, it's important to ensure that your restaurant printing solution works for both your online and physical ordering setup to continue reaping these benefits.
There are a few different options available for setting up online orders for your restaurant. These include hosted ordering platforms like Uber Eats, Grubhub, Deliveroo, and Just Eat, which are popular since they place your restaurant in front of a wide audience, but they also come with significant downsides such as:
Commission fees
In order to use a hosted platform, you will need to pay a commission on all online orders. For example, Uber Eats charges between 15% and 30% commission on all delivery orders using their registered drivers or a flat rate of 15% commission if you use your own delivery staff.
Customer information
When your restaurant receives online orders through a hosted platform, the platform gets access to the customer's contact details, allowing them to target customers directly with promotions that may not necessarily be personalized to promote your restaurant.
However, if you handle orders yourself, you can retain all leads gathered through online orders, allowing you to reach out to customers with promotions, discounts, gift vouchers, and much more to help to increase your sales.
Refund and complaint management
When your online orders are handled through a third-party platform, you give up control over how refunds and customer complaints are handled.
This can lead to your restaurant receiving negative feedback that you cannot easily resolve. It can also mean that you are falsely charged for refunds if the hosted platform doesn't investigate failed delivery claims.
But, if you manage your own online orders, you can ensure that all complaints and refunds are handled fairly and promptly, thus improving your customers' experience.
For these reasons and more, it's advantageous to handle all orders for your restaurant without the need for a third-party hosted platform.
The best alternative is to set up online orders through your existing restaurant website. This gives you complete control over how you manage your orders. If your website is built in WordPress, the easiest way to do this would be through WooCommerce, the free, open-source plugin that lets you turn your WordPress site into an eCommerce store.
Setting up online orders through WooCommerce is very straightforward. To get started with WooCommerce, check out this guide to set up a WooCommerce store in 5 simple steps.
Aside from avoiding the issues outlined above, managing your orders through WooCommerce also makes it much easier to consolidate your online and in-person orders into one place through a WooCommerce POS (point of sale) system. 
This helps to avoid issues associated with having different systems for your online and in-person orders, such as difficulty keeping track of stock and the higher possibility that orders will be missed.
How do you print receipts for your online restaurant orders in WooCommerce?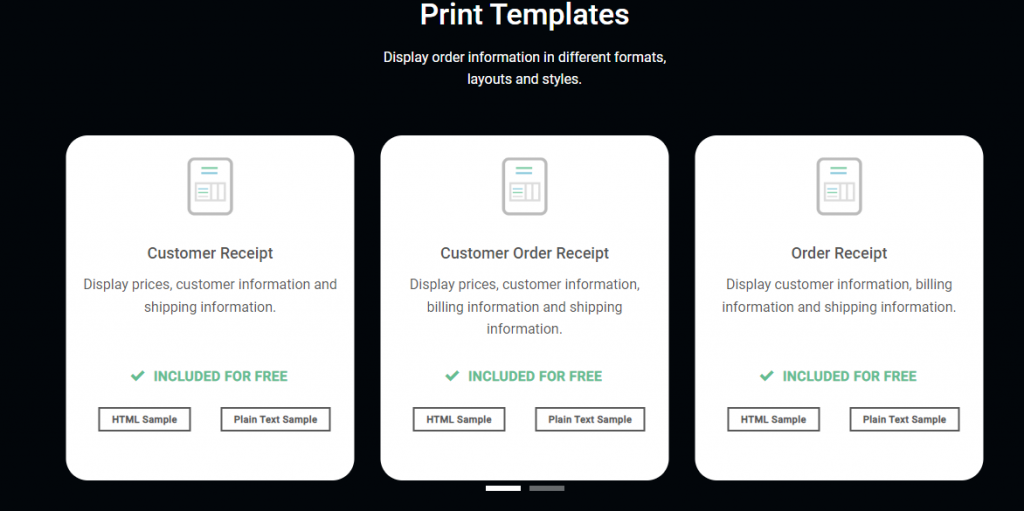 WooCommerce doesn't have the built-in functionality to print order receipts. To print high-quality receipts, you'll need a dedicated order printing plugin. We recommend BizPrint, an all-in-one automatic printing solution for all of your WooCommerce order fulfillment needs.
BizPrint is not just a receipt printing plugin – you can print a wide variety of different documents required throughout the order fulfillment process, from invoices to shipping labels and packing slips, depending on the needs of your business. 
That said, BizPrint comes loaded with features that make it the perfect solution for printing receipts for your online restaurant orders. Some of these features include:
Auto-print receipts in near real-time
BizPrint enables you to automatically print receipts the moment an order is placed, removing the need for your staff to process orders manually.
Unlimited print stations
BizPrint lets you set up unlimited print stations, which has two key applications when it comes to restaurant receipt printing:
Online orders: If your restaurant has multiple locations, using BizPrint's dedicated shipping zones and methods addon, you can configure the plugin to automatically print order receipts to specific printers based on the delivery or collection address for the online order. This means that you can always ensure the quickest and most convenient delivery/collection experience for your customers.
Food/drink preparation zones: If you have different staff responsible for preparing different items for each order (e.g., drinks, hot food, salad, etc.), you can set up a separate printer in each preparation zone. Using the product and category mapping addon, you can configure BizPrint to print orders to each zone for only the items that can be prepared in that zone, reducing the chance of errors when one member of the kitchen staff relays the order to the rest of the team and helping to ensure an efficient turnaround on each part of the order.
Works with all printer models
BizPrint works with all printer models. This includes high-speed label printers, impact printers (dot matrix), and Bluetooth printers, meaning you don't need to invest in new hardware to start printing order receipts right away – any printer that can connect to a Mac, PC, or Linux device, whether via WiFi, Bluetooth or a direct connection, will work.
It also works with all of the major brands of thermal printers (Epson, Star, Zebra), which is ideal for a restaurant printing environment as direct thermal printing is the unanimous industry standard for both kitchen and front-of-house order printing in restaurants.
Customize receipts with your business branding
BizPrint comes with various customizable templates that allow you to include any extra information about your business on your order receipts. You can add your restaurant's logo and details of any upcoming promotions or simply include a message to your customers wishing them an enjoyable meal! You could even include a barcode or a QR code that your customers can scan with their Android or iOS phones for a chance to win free food vouchers.
Integrates seamlessly with your restaurant POS system
BizPrint will work well with whichever WooCommerce POS system you choose to use but has particularly tight integration with its sister plugin, Jovvie.
Jovvie sets your restaurant or stores up for a smooth sales experience whether you are selling online, in your brick-and-mortar establishment, or on the go. 
With features such as inventory synchronization between online and in-person sales and the ability to work with your existing devices rather than clunky POS hardware, Jovvie is the ideal POS solution to help your restaurant run smoothly. And whenever an order is placed through Jovvie, you can trigger BizPrint to automatically print a receipt or order confirmation on your POS receipt printer, making the two a perfect pairing.
How to automatically print restaurant receipts for online orders using BizPrint
There are five main steps to set up a WooCommerce store to automatically print restaurant receipts for online orders using BizPrint:
1. Install and set up the plugin
On your WordPress dashboard, go to plugins and click add new. On the plugin search bar, search BizPrint, install it, and activate it.
2. Add printers to your network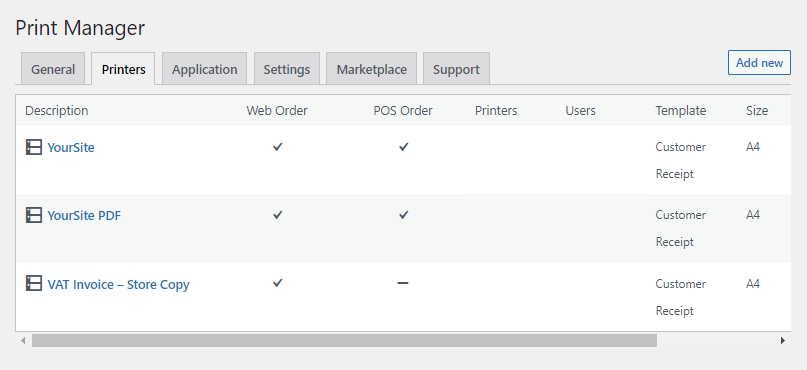 Under WooCommerce, go to Print Manager, then Printers, and add a new printer. This feature allows you to work with all printer models, including thermal printers. You can add more than one receipt printer and also choose their unique actions from the dashboard.
3. Customize your receipt template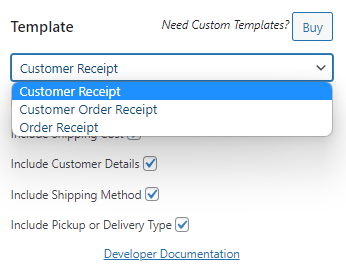 Next, select a print template and customize it by adding your logo, information about promotions, etc.
This customization feature allows you to personalize your receipt content and bring customers closer to your business by personalizing how you interact with them via the receipt. It also allows you to have full autonomy of how your receipt looks and the kind of messaging you want to put across to your customers.
You can use customization of the template to create a standard branding that matches your other marketing content to strengthen people's perception of your restaurant.
4. Set up product and location mapping
Next, you'll want to set up BizPrint's product and location mapping addons. You can set up the product and category mapping addon to set specific printers to only print orders for set products or categories, which is great when your restaurant has multiple food preparation stations that prepare different types of food. Simply navigate to WooCommerce > Print Manager > Printers, select your chosen printer, then set the drop-down menu under Product Mapping to 'custom'. You can then choose which products or categories orders should be printed for to that specific printer.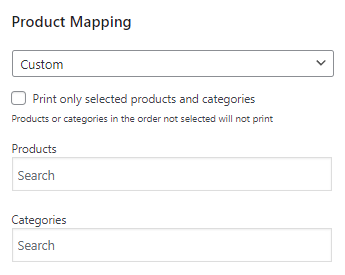 You can customize your location mapping in the same way: you can configure your orders to print at a chosen printer only if the delivery address is in a certain shipping zone, for example.
5. Set up auto-printing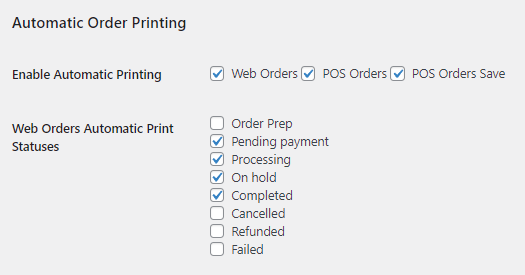 This last step is straightforward – simply navigate to WooCommerce > Print Manager, and tick the relevant boxes next to 'Enable Automatic Printing'. You can set up auto-printing to trigger at a specific stage of the order fulfillment process. For example, you could print an order confirmation to the kitchen the moment the order is placed, then print a receipt to the front-of-house when the order has finished cooking and is ready to be sent out.
You can also set up custom order statuses using BizPrint's sister plugin, Flow Notify. Flow Notify will also allow you to choose a status to trigger SMS text messages, emails, and other forms of notifications to keep your customers informed.
Looking for a restaurant receipt printing solution? BizPrint is a great option
Printing physical receipts for your restaurant orders provides a point of reference for your staff and customers to check that orders are correct. It allows you to include branding on your receipts to boost the image of your restaurant. It ensures a seamless experience for you and your customer, thus improving customer experience.
When you decide to auto-print receipts, you move your restaurant to the next level. Auto-printing ensures you don't miss orders and saves staff time, increasing efficiency.
So, what's the takeaway?
BizPrint is the best solution for auto-printing receipts for your restaurant orders. It boasts the following features, all of which offer great benefits:
Auto-printing functionality and location mapping
Works with all major printer models, including thermal printers
Customizable templates
Works well with your POS, especially Jovvie
Functionality to print all kinds of other documents required for order fulfillment
To make it even better, BizPrint offers scalable pricing plans suitable for restaurants of all sizes, starting from $3/month. Register for BizPrint today and start printing your restaurant receipts for both online and in-person orders.