Are you new to WordPress and unsure where to start? Or maybe you have been running your own site for a while, but you are still interested in exploring whether you're missing some tricks that can help make your website stand out? The best way to power up your WordPress installation is to use plugins. There's just one problem. The WordPress.org repository has over 59,800 of them available!
Naturally, it can feel a little overwhelming to know exactly where the best place to start is. Which tools do you really need, and why should you use them? And are there other specific things you could do to improve your website? This article will outline the top tools each WordPress site must have, including a few which are optional but could be a great addition to your website. 
We will review some popular plugins, explain what the main ones do, and suggest a couple of advanced ones that can help you make the best of your WordPress site. 
Defining Your Goals
When you first install and set up a WordPress website, the most crucial step is to define its goals clearly. For example, do you want to sell products directly to customers, or do you want to work on a site that just delivers great content? 
This may sound like an obvious question, but understanding the purpose of your website can make a massive difference to your project's success, as it will help you sharpen your approach and select the right tools for your project. 
For instance, if you want to sell products, a popular plugin used by thousands of sites worldwide is WooCommerce. WooCommerce is a customizable eCommerce platform you can set up in minutes. It allows you to showcase products, get payments, and configure shopping options out of the box. 
Another widely used type of plugin (and one that can help you manage and optimize your content) is one that can connect to Google Analytics and give you detailed insights about your site. These plugins help you integrate into your Analytics dashboard and monitor stats directly from the WordPress admin area. The ultimate goal of understanding your website's goals is to make sure you don't install too many tools and plugins. Every plugin you add is a chance to introduce new issues with your site. Poorly developed ones can actually harm your site, too, affecting your performance and having the opposite effect you intended. To be sure, always check how frequently your plugins get updated (more updates means a more active development team) and replace any that are dormant for too long.
Considering Your Source of Income
Another great way to help you focus on areas you need to improve is to consider your most important source of income. This can aid you in prioritizing the best tools for the job. 
For example, if you are using WooCommerce, one of the most important things to keep in mind is the quality of your checkout process. A recent study found that 96% of eCommerce businesses in North America had at least five errors in their checkout, resulting in purchases being made more difficult for customers. It's always best if you simplify this page to make it more user-friendly and ensure people don't leave your website before they make a purchase. Luckily, WooCommerce offers a lot of tools to help you optimize your checkout, so this is a potential issue that is easily solved. 
Getting people to your site and making sure they check out products is critical, but so is what comes after. After a user makes a purchase, it's essential to be able to fulfill it easily and quickly. Some of the more advanced tools available in the WordPress repository can, for example, help you print your order confirmations automatically. This can help keep your offline processes running smoothly and ensure you never send a customer the wrong product. 

Tools You Will Definitely Need
No matter the site you run, there are some essential plugins that every WordPress installation should have to be more user-friendly and perform better. Let's go through them in a little more detail. 
Contact Form Plugins
Unfortunately, WordPress does not include an easy way of building a contact form out of the box. What this means is that people won't be able to get in touch with you unless you leave your email address available somewhere on the site (which can be a bad idea if you want to keep your inbox free of spam). 
A better alternative is to get yourself a good form tool that you can configure to suit your needs better. There are plenty to choose from in WordPress, and their components can usually be easily customized to help people connect with you more easily. If you are looking for something a little more complex, there are even some advanced form plugins that use conditional logic to help you achieve automated goals on your website. How far you take this is up to you, but make sure you always have a way for your users to contact you.
SEO
If you don't use Search Engine Optimisation, no one will be able to find your website unless you share a link with them directly. This is because search engines make your site available for people searching for terms connected to your type of content. 
There are plenty of excellent tools available for SEO optimization in WordPress. Some of them, like Yoast, tackle your keyword density and distribution by helping you improve the overall SEO score of your pages and articles. Others allow you to fix your links to make them more SEO-friendly. For example, permalink managers for WooCommerce can turn your default WordPress URL structure into an easy-to-read and share address.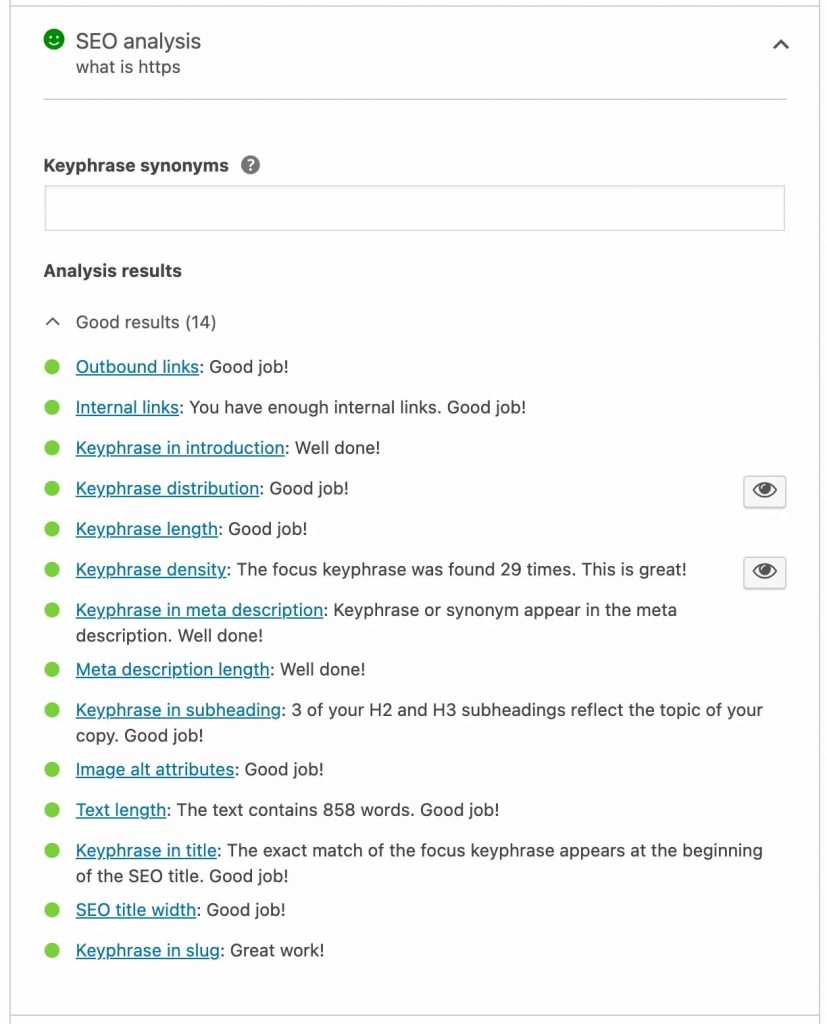 Security
Some of the most popular WordPress plugins are all about security. For example, Jetpack is a multipurpose tool that can help you filter spam, monitor your site's downtime, scan for malware, and guarantee any unauthorized person trying to log in to your site gets blocked. 
Another popular security plugin is Akismet Spam Protection. This tool automatically filters out spam comments, such as promotional links, malicious content, or mistaken messages. It can also check your contact form submissions against a database of spam, so you only get the relevant information in your inbox.
Keeping your site regularly in check is a great idea, so security plugins can give you a little more peace of mind knowing many of these potential issues are being automatically monitored and handled.
Other Ideas
Aside from the essential tools we have covered in this article, there are also some great ideas that could transform your website for the better. For example, you can use RSS aggregators to feed content to your site and increase its reach and appeal. 
Incorporating customer feedback tools is another transformative idea. These tools can help garner valuable insights from your customers, allowing you to make informed improvements to your site and services and ultimately enhancing the user experience.
Other things you should consider are tools that can help you optimize your offline processes. For example, plugins that automatically print out WooCommerce orders so you can keep on top of your paperwork easily. Suppose you are a retailer or restaurateur or a store owner selling online. In that case, it can be beneficial to be able to print purchase receipts and orders so you can keep better track of your products and services and provide users with proof of purchase. 
Conclusion
WordPress is really easy to set up and use. However, with a repository offering thousands of plugins, tools, and customization options, it can be somewhat confusing to determine what you should install to power up your site. As we mentioned, you don't want to have too many plugins running simultaneously, especially if they are not regularly updated and can become a security risk. This is why it's essential to figure out which of them are important for your website. 
The best way to determine which plugins are best for your project is by first understanding your goals and where your income will come from. This will help you prioritize certain features and implement changes that can have a positive, immediate impact on your revenue. 
At the very least, you should have a forms plugin and an SEO plugin on your WordPress website. If you are running an eCommerce site, you will probably want to also install WooCommerce. Some security plugins are also a must-have, as they can protect your site from spam and unwanted login attempts. Lastly, consider adding specialized services to help your eCommerce site perform better online and offline. For example, using tools that can help you print WooCommerce orders automatically for eCommerce sites.