Are you looking for a way to print order confirmations in WooCommerce? A simple way to create hard-copy order confirmations can improve your order fulfillment process, create a better customer experience, and act as a useful point of reference for accounting purposes.
In this post, we discuss use cases for printing order confirmations in WooCommerce. We then show you how to print order confirmations in WooCommerce using BizPrint, a plugin that lets you create customized receipts, invoices, purchase orders, and more at the point of sale (POS) or from any printer in your restaurant, retail store, or fulfillment station.
Why print order confirmations?
Whether you accept orders at your online store or in person, enabling printed order confirmations in WooCommerce should be on your radar – here's why.
To provide proof of purchase: Although digital receipts have caught on, the humble paper receipt remains consumers' preferred option. A survey of global customers and businesses found that 55% of respondents believe paper receipts to be more practical than their digital counterparts for archiving and accounting purposes. It's a good idea to offer your customers the option to receive hard copies of transactional documents that can serve as proof of purchase and de facto invoices.
To maintain physical copies of invoices: While standard invoices are the common form of invoice issued by small businesses, credit notes, debit notes, and proforma invoices may also become necessary when you need to pass on a discount to a customer, increase the value of an original invoice, or sell to international customers. Keeping hard copies of all invoices raised will help you organize your accounting and maintain good relationships with customers and suppliers.
To use as packing slips: Customers use packing slips to confirm whether the contents described match what they've received in their shipments. You can use the order confirmations you generate using BizPrint as packing slips when orders are fulfilled by shipping carriers like FedEx and UPS. In fact, you can use a WooCommerce order confirmation printing solution to provide trust-building documents to customers. It can be a competitive advantage when you consider that 90% of consumers deem transparency by a brand important to their purchase decisions.
The Best Order Confirmation Print Plugins
WooCommerce doesn't have built-in functionality for printing order confirmations, so you'll have to find a print order plugin that's fit for purpose. To help you decide, we've rounded up some of the best available print plugins.
1. BizPrint
BizPrint is an order printing plugin for WooCommerce, used by eCommerce stores, restaurants, and different types of retail businesses. Over 25,000 businesses use BizPrint to create customized invoices, receipts, delivery notes, shipping labels, and packing lists. The team behind BizPrint has created a solution that extends the functionality of your WooCommerce store or physical POS and is easy to use for every business owner, regardless of their technical abilities.
Here are some reasons why BizPrint is popular among businesses looking to integrate WooCommerce printed order confirmations into their operations:
To print order confirmations automatically: Automatic printing of receipts, invoices, and packing slips saves you substantial time and keeps order fulfillment and transaction workflows speedy and smooth. You don't have to be physically present to oversee printing – simply enable auto printing on your chosen printers and keep churning out physical copies of the documents, forms, notes, and slips you need.
To create branded receipts and invoices: Apart from being important commercial documents, invoices and order confirmations can be used as marketing tools that display your company brand and make your business look more professional. Using BizPrint's customizable order and invoice templates, you can create brand-specific order confirmation forms that not only convey the essential information they need to contain but also your company logo and other company information.
To email or print professional-looking invoices and other documents: Auto-printing WooCommerce order confirmations and other documents is BizPrint's unique selling point. However, you can also confidently send the professional-looking custom WooCommerce PDF invoices and receipts the plugin generates via email to your customers! Customers can quickly check the receipts on their mobile devices and refer to them as required when they receive their order or need to query you or your support team.
To set up printing with multiple printers in multiple locations: You can connect BizPrint to your existing printer at your store, home office, restaurant POS or fulfillment station. For example, you can assign one printer to print physical order confirmations for in-store purchases and one at your fulfillment station to create packing slips for shipments. And using BizPrint's product mapping addon, you can even auto-print pick lists, packing slips, and more at different pre-determined locations, depending on the needs of your fulfillment team, the moment a customer completes the checkout process. BizPrint works with all major printer brands, including Epson, HP, Canon, Zebra, Brother, and Star.
Integrates seamlessly with Jovvie POS: If you run a physical store or restaurant or you want to sell on the go, you need to be confident that your POS system fulfills the needs of your business. This is where Jovvie comes in – an all-in-one POS solution for your WooCommerce store. It provides real-time synchronization of inventory between your physical and online WooCommerce stores, native integration with popular payment provider Stripe (Jovvie is an official Stripe partner), and it works with your existing devices, with dedicated apps for iOS and Android, and compatibility with all major web browsers. Jovvie and BizPrint work seamlessly together to allow you to print order confirmations, receipts, and more directly at your POS. Best of all, if you sign up for Jovvie, you get three months of any BizPrint plan for free.
2. WooCommerce PDF Invoices & Packing Slips
WooCommerce PDF Invoices & Packing Slips is a plugin developed by Ewout Fernhout that works well with WooCommerce.
Its primary purpose is to allow you to automatically attach a PDF invoice to the order confirmation emails you send to your customers, so they don't have to go through the extra step of finding and downloading the invoice themselves. You can also download or print invoices and packing slips from the WooCommerce Order page.
However, the plugin has one major downside, which is that it is currently not compatible with WPML, meaning there are some serious drawbacks if you're thinking of expanding your business into international markets that have a multilingual customer base.
Key features of this plugin include:
Attach invoice PDFs to WooCommerce emails
Downloadable PDF invoices and packing slips
Bulk-generation option for invoices and packings slips
HTML/CSS invoice templates are customizable
Available in 18 languages, including English, French, German, Italian, and Japanese
3. WooCommerce PDF Invoices, Packing Slips, Delivery Notes & Shipping Labels
The WooCommerce Print Invoice, Packing Slip, Delivery Note & Label plugin, created by WebToffee, offers a range of options for generating important documents related to orders. With this plugin, you can easily create professional-looking PDF invoices, packing slips, packing lists, delivery notes, and shipping labels.
The WooCommerce Print Invoice, Packing Slip, Delivery Note & Label plugin offers a convenient and user-friendly way to generate these documents, saving you time and effort while ensuring that your orders are properly documented and fulfilled.
Key features of this plugin include:
Supported documents, including invoices, packing lists, and shipping labels
Easy to download PDF invoices and packing slips
Customizable invoices (add your store logo, store name, and VAT)
Customizable shipping labels (add barcodes, tracking numbers, and more)
Bulk-printing options
Classic and standard invoice templates
4. YITH WooCommerce PDF Invoice & Packing Slips
YITH WooCommerce PDF Invoice & Packing Slips is a plugin that provides ample features for generating and managing PDF invoices and packing slips.
Once installed on WooCommerce, you can create and customize invoices for orders both automatically or manually. The plugin also includes a dashboard that allows you to manage all your invoices easily. You can generate them in bulk, download them as PDFs, and delete them as per your requirements.
Key features of this plugin include:
Automatically backup documents in your Dropbox account
Customers can decide if they need an invoice or a receipt at checkout
Customize packing slip document template
Create credit notes for refunded orders
Allow customers to request the SSN and VAT number during checkout
Option to overwrite the document template with code
Why use BizPrint for printing your WooCommerce order confirmations?
While there are other plugins to choose from, we recommend BizPrint, as its native WooCommerce integration means that you can be confident that it will work seamlessly with your WooCommerce business, with a straightforward setup process you can complete in minutes. And, as a scalable solution, with flexible pricing plans based on the number of prints per month, BizPrint can grow with your changing requirements.
How do I customize my WooCommerce order confirmation email?
BizPrint is a user-friendly WordPress plugin. You can set it up in a few steps and configure the purchase order templates easily – no PHP/HTML/CSS coding knowledge is needed! Use the tutorial below to start printing order confirmations at your store.
First, choose a BizPrint plan.
Install and set up the BizPrint Print Manager plugin. You can download the zip file directly, or the plugin is available from the WordPress plugin repository. Then, follow the quick start guide to connect your chosen printers to BizPrint.
On your WordPress dashboard, go to WooCommerce > Print Settings > Locations and click 'Add New'.

Choose a title for your location. If you're printing to a fulfillment center, you could use a title like 'fulfillment center'. If you want to print an order confirmation to your store or office, name it accordingly for easy identification.

Select the printer in that location from the list of printers you set up during the quick start guide.
Choose the 'order receipt' template from the dropdown section. This template contains all the information that should be present on an order confirmation form, such as products, price, customer details, and store details.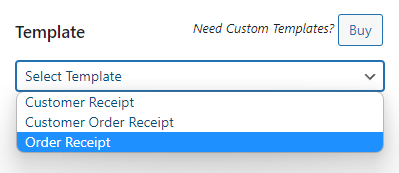 Choose the order details you'd like to include on your order confirmations using the checkboxes, such as shipping method or pickup/delivery type.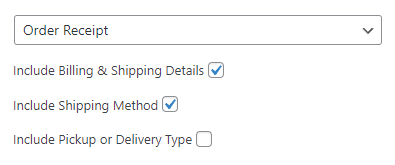 In the pane to the right of the page, you can choose other elements you wish to include, such as company name and information. The custom fields are an opportunity for adding extra brand or promotional information such as company policy, customer support number, a currently running promotion, or a new product launch.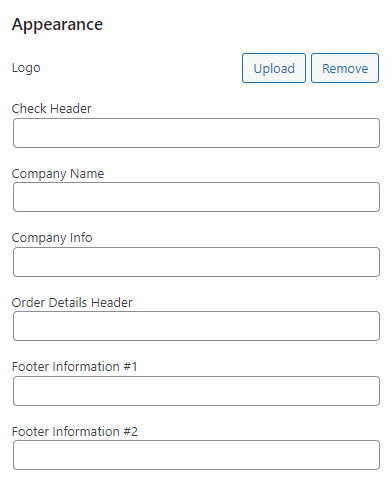 That's it! Your order confirmation template is ready, and you can start printing transactional documents from your device.
Want to automatically print WooCommerce order confirmations?
Now that you've configured the print settings, there's one last step to enable automatic order confirmations.
From your WooCommerce dashboard, go to Print Settings > General, and click the checkbox to enable automatic order printing. BizPrint gives full customization over when your order confirmation is printed during the order process; select a specific order status (e.g. processing or confirmed), and BizPrint will trigger an automatic print whenever an order reaches that stage.

Now order confirmations will be printed automatically whenever you create an order in your WooCommerce store!
Get started with WooCommerce printed order confirmations
Automatic printing of order confirmations is useful functionality for WooCommerce store owners. It saves you the time you may otherwise spend on creating and printing de facto invoices. BizPrint is the best solution for printing WooCommerce order confirmations – it's quick and easy to set up, works with your existing printers, and allows you to print a variety of different documents which are key to the order fulfillment process, from order confirmations to invoices, packing slips, shipping labels and more.
Installing BizPrint for printing WooCommerce order confirmations can make life for you as a WooCommerce store owner easier and more efficient in a number of ways:
Provide hard copies of purchase confirmations at your POS
Remove the chance of staff missing new order notifications by automatically printing them at your store, restaurant kitchen, or fulfillment center
Keep copies of purchase order invoices from suppliers and private individuals
Print multiple invoices, packing slips, or other documents direct from your order page using BizPrint's bulk actions
Attach professional-looking proof of purchase to order confirmation emails
Use built-in templates to produce documents for all of your order fulfillment needs
Supercharge your operations with BizPrint's automatic order confirmation printing functionality. BizPrint is affordable across business types and sizes. Remember that the plugin lets you scale up which plan you use in sync with your business.