Invoices are not only an essential tool for running an eCommerce business but can also help improve the efficiency of your order fulfillment workflow. But as WooCommerce offers limited built-in support for invoices, you'll need a third-party solution to put your invoices to the best possible use.
In this article, we'll discuss how advanced invoice management in WooCommerce can benefit your online store and the five best plugins for custom PDF invoice generation. We'll then take you through a brief tutorial explaining how to automate invoice creation using our recommended WooCommerce invoice plugin.
Why create PDF invoices in WooCommerce?
Whether you sell online only or also in person, you'll find yourself creating invoices daily to collect payment from customers for the products or services delivered. But that's not the only reason to create professional-looking invoices – they have various other applications:
Required for maintaining good records: PDF invoices make transactions in your business accounts clear. They serve as important supporting documents when filing tax returns. They're needed to claim a deduction for all or a part of the expenses for business use. Also, as the IRS can audit you for three years after a filing, keeping your supporting records for this duration will allow you to easily show proof of purchase or sale.
Helpful for improving the image of your business: Professional-looking PDF invoices help raise your business's profile. By adding branding elements to your invoices, you can nurture brand recognition and familiarity, which helps create the customer loyalty essential to continue thriving in the midst of growing competition.
A tool for improving fulfillment efficiency: PDF invoices can serve as useful documents in the order fulfillment process as they include all customer and order details. For example, you can use invoices as pick lists and have them printed at your warehouse or fulfillment station for staff. This way, you can cut down on any lag between orders being placed and them being packed for delivery, which will, in turn, help to get orders out on time.
Useful in reducing human error: Using PDF invoices for order fulfillment purposes, as described above, also helps to reduce human error, as all information for the order is kept centrally in one place. If your chosen WooCommerce invoice generator creates invoices automatically, this human error is reduced even further.
Provide customers with supporting documents to file their taxes: PDF invoices allow your customers to do their taxes easily and submit them as needed, which is a legal requirement in many countries. There's no sense in having an online store if you can't fulfill legal requirements!
Your customers can get through accounting audits painlessly: During the month-end closing process, auditors generally ask for invoices and all the important order details. Failing to provide these documents in a timely way can prevent a business from closing out the month quickly. It can also affect auditors' confidence in the company's internal controls. These are compelling reasons for businesses to ask for hard copies of invoices that they can immediately provide to auditors.
Process a few PDF invoices a month? You should still use a WooCommerce invoice plugin.
Even if your business only processes a small number of PDF invoices each month, a simple and efficient means of preparing professional-looking digital and physical invoices will save you time. Your custom invoices will also help increase your brand trust and value.
As your business grows and you start invoicing hundreds more, your need for automatically generating and printing invoices and fulfillment-related documents is bound to increase. You'll want to ensure that you can deliver a growing number of orders on or before time to continue winning more sales and build your competitive edge.
At this point, you'll want to actively search for a WooCommerce plugin that can create PDF and other invoices to streamline your invoicing process. When you get down to finding the best WooCommerce invoice generator, consider these parameters:
Ability to create customizable invoices
Automatic printing of invoices in set templates
Option to automatically add taxes deductions or fees to invoices.
Ability to generate different types of invoices (one-time, recurring, interim, standard, Proforma invoices, and others)
Ability to manage all invoices and taxes from ​​a single dashboard
Provide multi-printer support to print invoices
Support for popular payment gateways and credit cards
To make this easier for you, we've compiled our top six plugin solutions for generating PDF invoices in WooCommerce, considering their benefits, drawbacks, and pricing.
What are the best plugins to create PDF invoices in WooCommerce?
In our estimate, these are the top WooCommerce invoice generator plugins. They're all great plugins, differing only in terms of the value they pack for the price they charge, but there is one option that clearly stands out as an all-in-one solution for creating and printing invoices in WooCommerce.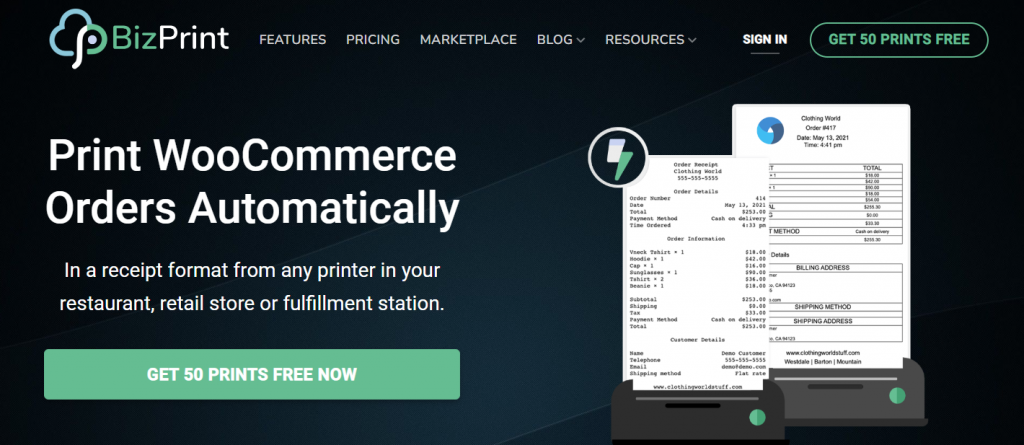 A major attraction of BizPrint is that it automatically generates and prints all of the documents your WooCommerce store might need throughout the order fulfillment process. Using BizPrint, you can generate and print everything from receipts, invoices, and shipping labels to credit notes, pick lists, packing slips, and more. Some of the features that make BizPrint stand out as one of the best WooCommerce plugins for generating invoices include:
Automatic generation and printing of invoices
Using BizPrint, you can generate and print invoices the moment an order is placed. The automatic element keeps your order fulfillment process running as efficiently as possible without the need for manual intervention, ensuring no human error in your order processing and allowing you to turn around orders for your customers much more quickly. Businesses have reported that their processing times are up to 5 times faster when using BizPrint.
Customizable templates
BizPrint comes with a range of built-in templates to create invoices and other order fulfillment documents. These templates are fully customizable – you can add invoice numbering, VAT information, a line on your returns policy, and a link to your customer survey. You could even add a loyalty coupon to the invoice to incentivize customers to come back and buy from your store again! Can't find a template that fits your exact requirements, and don't have a developer on board to make the necessary adjustments for you? Use the BizPrint team's template creation service to generate bespoke, professional-looking invoices that meet the needs of your business and help to create a lasting impression on your customers.
Tight POS integration
BizPrint offers strong integration with Jovvie, a WooCommerce POS plugin from BizSwoop. By pairing BizPrint and Jovvie, you can accept orders online, in-store, or on the go, automatically generating and/or printing invoices the moment an order is placed. You can provide either a physical or PDF copy of the sales invoice or receipt to your customers as soon as they complete their purchase. Automatically print a hard copy at the POS checkout or, using BizPrint's PDF print feature, generate a PDF copy of the invoice to email to the customer. This is just one example of how both WordPress plugins can work together to make your order fulfillment more seamless.
BizPrint offers scalable pricing plans based on the number of prints you need each month, allowing your chosen plan to grow as your business does and letting you scale up and down as you move in and out of busy seasons.
This WooCommerce invoice plugin from WP Overnight allows you to automatically attach a PDF invoice to order confirmation emails that you send out to customers. It also lets you print invoices and packing slips manually from your WooCommerce orders page. The basic invoice template included with the free version of the plugin is customizable using HTML/CSS. Support for sequential invoice numbering is also included with the free plugin, which is available in 18 languages.
For additional functionality, such as the ability to create proforma invoices and credit notes, or support for automatic printing (both of which are included in all BizPrint plans), there are paid extensions available, starting from $59/year.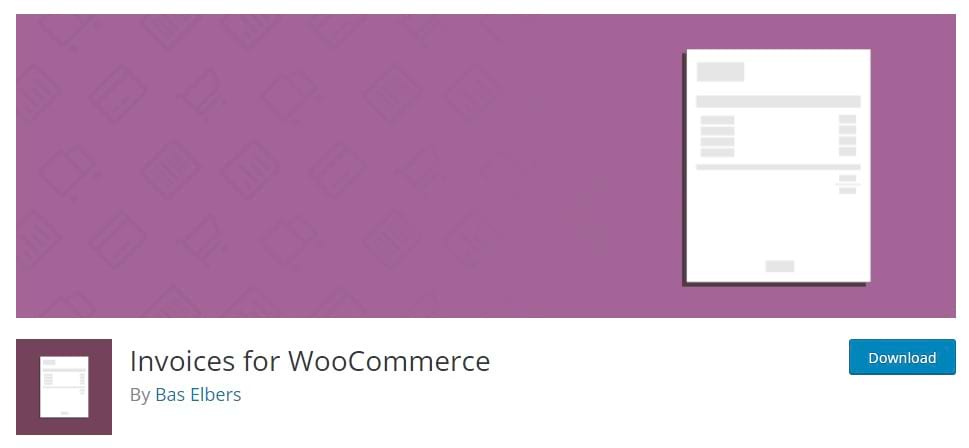 The free plugin offers automatic invoice and packing slip generation, along with the option to automatically attach these documents to emails or send them to your customers via Dropbox, Google Drive, OneDrive, or Egnyte. Customers can also download invoices from the WooCommerce 'My Account' page. This WooCommerce invoice plugin offers support for automatic order numbering or sequential order numbering, and comes with multiple customizable invoice templates.
To add further functionality, including bulk invoice generation, support for credit notes, and integrations with third-party plugins, you can upgrade to the premium version of the plugin, which starts at €59/year.
It is worth noting that this plugin hasn't been tested with the latest three major releases of WordPress, which means that it may no longer be maintained or supported and may have compatibility issues when used with more recent versions of WordPress.

As the name suggests, this WooCommerce invoice plugin offers support for generating a wider range of order fulfillment documents than some of the other options on this list (excluding BizPrint). Aside from generating PDF invoices, packing slips, and delivery notes, the plugin allows you to customize your templates either using a drag-and-drop builder or with code, add custom fields to your invoices (including tax information, tracking details, and more), and attach PDF invoices to order confirmation emails automatically.
The plugin costs $69/year for a single site license. To add printing support (including automatic printing functionality), you will need the PrintNode companion plugin, which starts at $49/year for a single site license.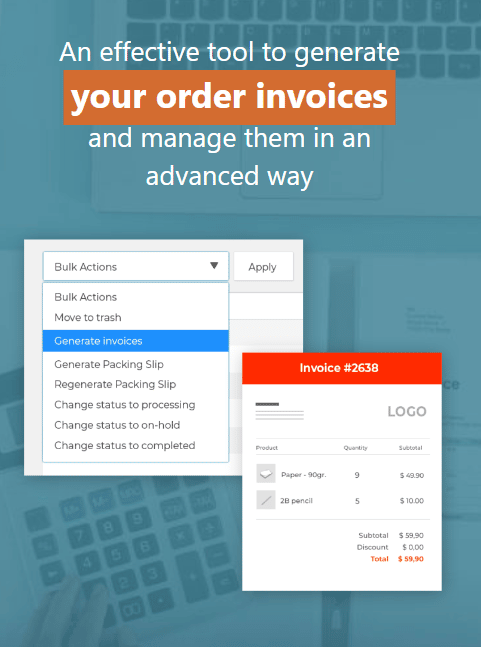 This plugin offers a solution to generate and manage your invoices and packing slips from within the WooCommerce dashboard. Credit notes and proforma invoices are also supported. The WooCommerce PDF invoice plugin allows your customers to easily download invoices from their account page. It automatically backs up all documents to Dropbox or Google Drive for safe online storage.
Multiple templates are available with customization options, such as showing certain fields, using your preferred invoice numbering system, and adding branding elements. YITH WooCommerce PDF Invoices & Packing Slips is available from $85/year for a single site license. Note that the plugin does not offer any built-in printing support, so if you are looking to supply printed invoices to your customers, you would need to manually download and print these individually.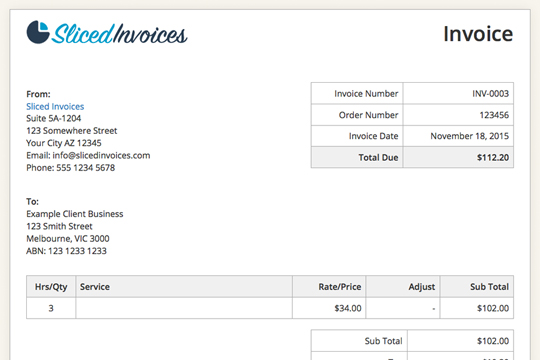 While the other invoice generators discussed here are native WooCommerce solutions, Sliced Invoices is a WordPress plugin with extensions (free and paid) and bundles (multiple extensions). They include the WooCommerce extension and PDF Invoice Extension, which generate and print invoices. Creating invoices with this PDF invoice plugin is easy and intuitive, and it also offers several customization options.
As far as printing the invoices is concerned, the plugin adds a PDF button to each invoice using which you or your client can print the document. The button is in the admin area and on the front end. The PDF files look similar to the online version of your invoices and quotes as they share the same template.
How do you create an invoice in WooCommerce using BizPrint?
Let's take a look at how easily you can generate custom invoices in WooCommerce using BizPrint.
1. Install and set up the plugin
Follow the steps of setting up BizPrint, as explained in the quick start guide. Briefly, the steps are as follows:
Create your free BizSwoop account
Set up your printer stations
Download and install the BizPrint app for Windows, macOS, Linux, or Raspberry Pi*
Connect your website with the WordPress Print Manager plugin
Add locations and select printers
*You can also connect your existing computer/mobile phone/tablet and printer(s) to BizPrint. If you'd rather not use a compatible computer, BizPrint's out-of-the-box, cloud-ready hub hardware enables you to connect your printers to the BizPrint cloud service.
2. Customize the invoice template
BizPrint comes with default templates to allow you to create different types of documents from your WooCommerce orders. Of these, the 'customer order receipt' template has the standard fields needed for customer invoices, such as invoice number, an itemized product list, invoice totals, and customer billing and shipping addresses. Select this template type from the drop-down list.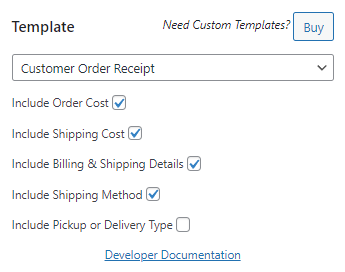 The invoices generated will be based on this template. You can add your company logo, tax rates, personalized notes, and ensure a consistent date format across all invoices. The fields are editable, so you can modify the information within them as required.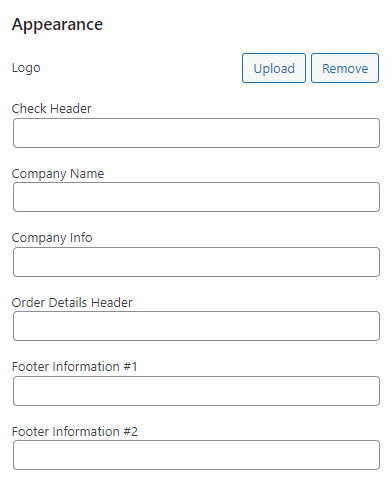 Want to add or remove fields from a template? Use BizPrint's custom print template, which is a shell of a template that you can customize through changes to the HTML and CSS files.
Enable automatic printing
Setting up automatic printing functionality – offered as standard within BizPrint's wide feature set – will make invoice generation for your WooCommerce store as seamless as possible. Select auto-printing of invoices from the orders at your POS, online store, or the POS orders you've saved on your computer or another device. Automatic printing is based on a pre-defined order status, which you can also manage from your WooCommerce admin area as seen below.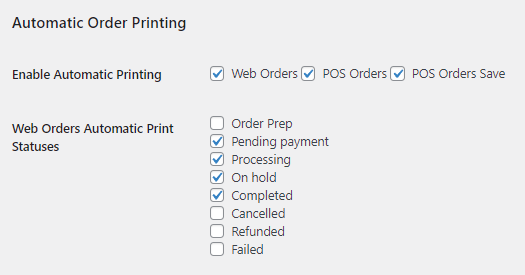 Using another of BizPrint's sister plugins, Flow Notify from BizSwoop, you can even set up custom order statuses for more granular control over when your invoices are generated. This enables you to get a clear overview of current orders and monitor the status of your eCommerce sales quickly and easily.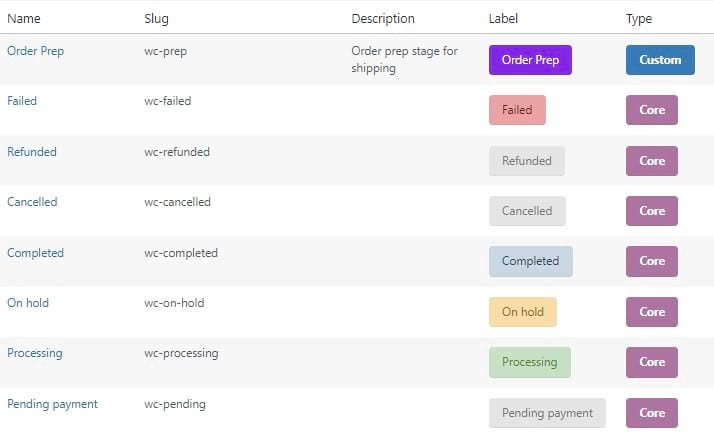 Streamline your WooCommerce invoice generation with BizPrint
Invoices are an essential part of running an eCommerce business. They're required for:
Good record-keeping
Substantiating business income and expenses during tax filing
Creating positive impressions about your business in customers' minds
Printed PDF invoices are easier to read compared to electronic documents. If your customers request physical invoices, you want to be able to provide them quickly. It's also a good idea to maintain physical copies of your invoices as a backup in case the IRS decides to audit your returns.
These needs are easily addressed by a WooCommerce invoice plugin that allows you to create custom invoices and prints them automatically after an order is placed. For maximum flexibility, you should use a plugin that lets you create different kinds of business documents, including receipts, packing lists, delivery slips, and others.
BizPrint is a great plugin for custom invoice generation and printing. Its many benefits for your business include:
Fully customizable templates for producing branded invoices with essential information and special messages that build brand trust and familiarity.
Automatic printing of invoices for maintaining your records or meeting customers' requests for printed invoices.
Integration with your POS to generate invoices smoothly for in-person and online transactions.
Support for printing many other types of documents crucial to order fulfillment, including shipping labels, credit notes, proforma invoices, and others.
With flexible pricing plans designed to work for businesses of any size, BizPrint is an ideal solution for eCommerce stores handling both small and large order volumes. Why not try BizPrint out to see if it is a good fit for your store?