Looking for a proforma invoice solution for your WooCommerce store? Proforma invoices are useful for formalizing a sale before payment is made, but WooCommerce only has native functionality for sales invoices.
In this article, we walk you through the steps of generating a WooCommerce proforma invoice. We also show you how to integrate your printer with your WooCommerce store, so that you can automatically print proforma invoices as and when they are generated.
What is a proforma invoice?
A proforma invoice, sometimes called a preliminary bill of sale, is an estimated invoice sent to the buyer in advance of shipping or delivering goods. It applies to a sale that hasn't been completed, and so its terms are negotiable. This is different from an invoice, whose terms are non-negotiable. A typical proforma invoice has an invoice number, dates of issue and expiry, a description of the goods being sold, and a cost breakdown, which could include any commissions or fees, such as taxes or shipping costs.
As the terms of sale in a proforma invoice are subject to change, the document itself isn't legally binding on both parties. Yet, as a proforma invoice is issued when a buyer is committed to purchasing from you, it is more binding than a quotation.
A proforma invoice is not considered to be an actual invoice. It isn't entered in accounting records and therefore, cannot be used as evidence of a financial transaction for tax purposes.
Why use a proforma invoice?
A proforma invoice has many advantages for WooCommerce stores, especially stores with physical outlets. It is also useful when you're exporting items. Here's a full list of the advantages of creating a WooCommerce proforma invoice.
A good faith agreement: The document formalizes the sale, and sets out sellers' and buyers' obligations and expectations in the early stages of the sale. It provides a ground for fair dealing and builds trust – 49% of consumers buy more from a company because of trust.
An instrument to negotiate better terms: If the tax rate, raw material cost, or other fee has changed from the time the invoice was issued to the delivery of purchased items, then the seller and buyer can make a new offer or counter offer.
Make it easier and quicker to create a commercial invoice: The goods, services, or quantities of the final order can be altered without the WooCommerce proforma invoice having to change. You don't have to create the final invoice from scratch.
Can be used in place of a credit note: A proforma invoice can replace credit notes as a means of giving a customer a refund. With a WooCommerce proforma invoice, a customer can simply hold back on paying funds until a full sales invoice is issued.
Track changes to sales terms: Sometimes customers' orders can change and evolve, especially if you sell services on your WooCommerce store. Proforma invoices can help keep track of the changes before a final invoice is issued.
Helps buyers legally import products: A proforma invoice is not a necessary shipping document but can be issued to a buyer so they may get an import license, open a letter of credit and make other arrangements to facilitate smooth international trade.
10% of payments are either never paid or paid so late that businesses have no choice but to write them off as bad debt. A proforma invoice can help you get paid quicker by informing your customers how much they owe in advance. It gives them time to make arrangements such as getting approvals from managers or ensuring sufficient funds in their business accounts. You could, for example, attach the invoice to an order email and give customers the particulars of the product or service, including cost and payment terms.
How to generate and print a proforma invoice in WooCommerce
WooCommerce is a great eCommerce platform but it doesn't have all the features that store owners might need to conduct business more smoothly. This includes not having built-in features for generating proforma invoices. To create a WooCommerce proforma invoice, you need a plugin, and BizPrint is perfect as an all-in-one plugin for generating and printing invoices and other common business documents, including receipts, packing slips, and delivery notes.
BizPrint pulls in orders from WooCommerce to populate different invoice templates, so it's easy to generate invoices on the fly. You can add an invoice date, customer contact details, your business details, and shipping information. Additional fields in the customizable template allow you to include company policy and tailored messages to customers. You have the flexibility to customize the appearance and number format of your invoices. 
Once you've configured the template, you can generate PDF files of those documents, download invoices as needed, or send your proforma invoices straight to your store printer to give directly to customers – all within WooCommerce! You can print PDF documents as and when needed – when you're ready, simply choose the files stored locally on your computer or a connected Dropbox or Google Drive folder. Take a look at the steps of creating a WooCommerce proforma invoice using BizPrint.
1. First, you'll need to create an order. For this, navigate to WooCommerce > Orders > Add Order in the WordPress admin dashboard. The order page lists all the WooCommerce orders you've created along with the order statuses.

The order details include the order number, order date in a specific date format, and the time of creating the order, billing address, shipping address, and email. It also includes a payment status. To avoid impacting your financial reporting within WooCommerce, set the payment status to 'Pending Payment'.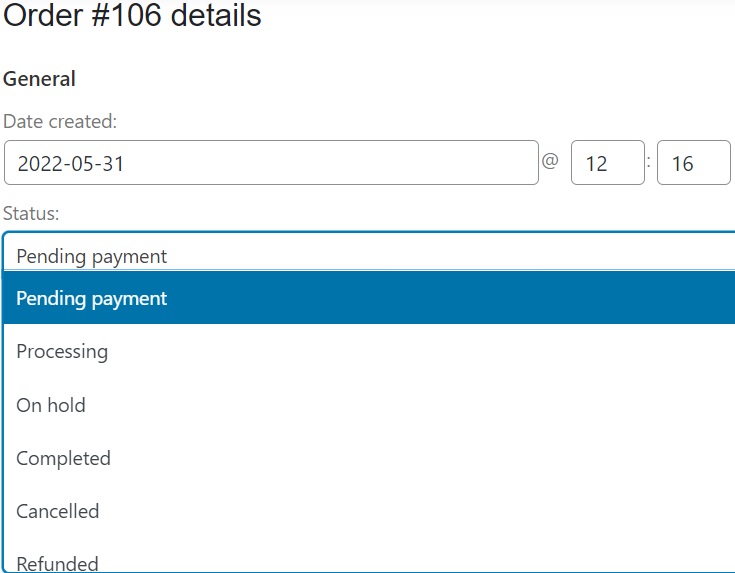 Alternatively, ​​you can build a new order in Jovvie, a native WooCommerce point of sale (POS) solution and sister product to BizPrint, and save the order in the POS. This will automatically assign the WooCommerce order a 'Pending Payment' status that you will see in the order list, and trigger a print job when the save event occurs.

An additional alternative is to use BizSwoop's Store Plus plugin. This option is ideal if you're a wholesaler or B2B company. Using Store Plus, you can create custom order statuses. For a WooCommerce proforma invoice, you could create a 'Proforma Invoice/Quote' status, and then create manual orders and mark them as a 'Proforma Invoice/Quote'. It will allow for easy tagging of the orders, and you can also enable auto-printing or manual printing for your invoices.
2. Input details for your potential customer, then click 'Add item(s)'. In this window, you can choose the items or costs to include in your WooCommerce proforma invoice, whether these are products from your WooCommerce store or costs for services.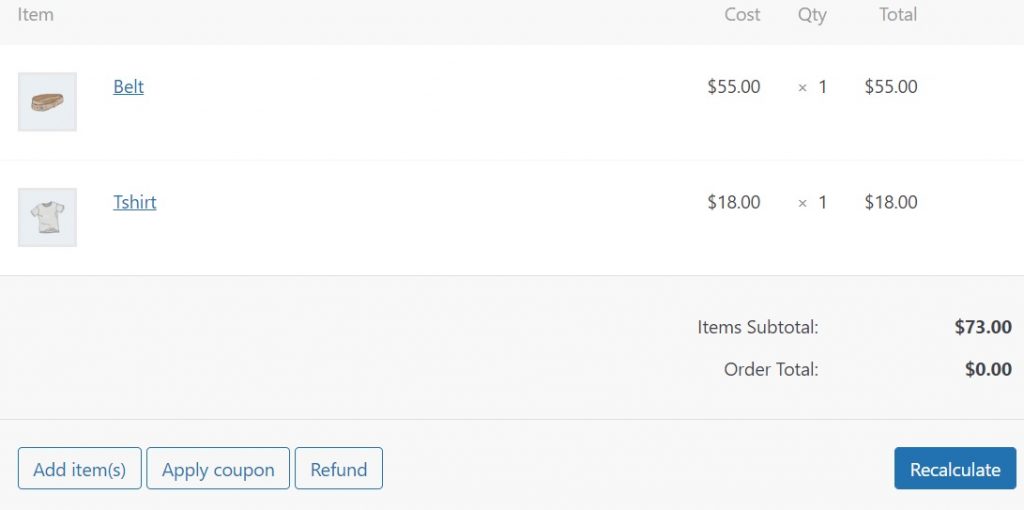 3. Save the order.

4. Next, download and install BizPrint and set up the invoice plugin using the quick start guide (if you've already installed BizPrint, you can skip this).
5. Within the Print Manager plugin, go to 'WooCommerce > Print Settings > Locations' and click 'Add New'.

6. Add a location title (for example: 'proforma invoice – instore') and choose the printer where you want your invoices printed.

7. Next, choose 'order receipt' as your template and save your location. You can customize your WooCommerce proforma invoice template further using the custom fields in the right-hand window.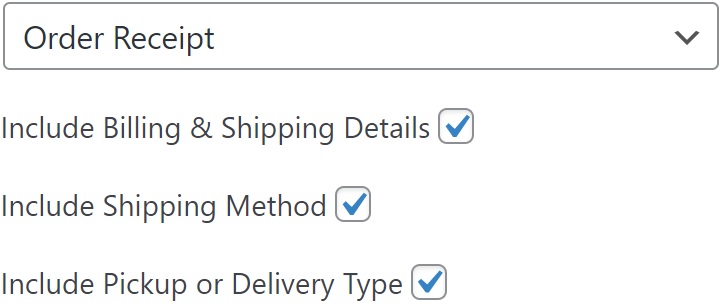 You're done! You can now see a list of orders inside BizPrint's WooCommerce > Orders window from which you can view your custom proforma invoices by invoice number. From here, you'll also be able to print your proforma invoices, individually or in bulk.
Buyers can request proforma invoices to check pricing and deliverables. When such a request is made immediately after the buyer has expressed an interest in buying your product/service, you can respond as quickly as possible. Some of your clients may prefer hard copies of proforma invoices, or both digital and hard copies for their reference. We recommend setting up automatic printing so that your proforma invoices are automatically sent to the printer as soon as they are generated.
Your WooCommerce proforma invoices can be ready in a matter of seconds
Proforma invoices set expectations between you and your customers in the early stages of a sale. Creating WooCommerce proforma invoices is beneficial for a number of reasons:
They help your customers to review the price and deliverables to make calculated decisions on purchases and initiate payment approvals quickly in case multiple stakeholders are involved.
They serve as a reference when adjustments to price, quantities, or deliverables are required in response to changing market conditions or renegotiated terms of the agreement.
They allow both parties to keep track of sale terms – when digital proforma invoices are inaccessible due to any reason, their physical copies come in handy for quick reference.
If you've been considering a solution that makes invoice generation less time-consuming and relieves your administrative burden, BizPrint is exactly what you need.
You can set up BizPrint to send customer invoices straight from WooCommerce to the store printer.
BizPrint is quick and easy to set up – it doesn't require any HTML/CSS/PHP coding expertise to change invoice settings and print documents within WooCommerce.
The WooCommerce plugin prints documents in bulk to help with documentation formalities during spikes in demand, pent-up demand, and business growth.
The solution prints various commercial documents, from WooCommerce PDF invoices and packing slips to delivery notes, shipping labels, pick lists, credit notes, and receipts at checkout. It is the only document generation and printing plugin you need for your WooCommerce store!
There are free and paid plugins that generate WooCommerce invoices. However, they exclude many features and conveniences which BizPrint addresses, including automatic printing which no free plugin includes. In fact, there is only one other more costly plugin that does automatic printing at all.
BizPrint's WordPress plugin is not a free solution but has pricing plans to suit different business types and sizes. Get started today to see how BizPrint makes admin work related to documentation easy for your business.