Do you accept in-store orders using a WooCommerce point of sale (POS) system and want the functionality to print receipts on the fly?
While digital receipts have become increasingly popular, surveys show that consumers still prefer printed receipts more than 3 to 1. With the right printing solution for WooCommerce and receipt printer, your checkouts can be fast and friction-free! Such a solution brings automatic printing functionality to your store and works with your existing printer so you don't have to make any additional investment.
In this post, we tell you how you can enable automatic receipt printing using BizPrint, a top WooCommerce POS receipt printer.
Why print receipts from your WooCommerce POS?
Processing receipts manually is time-consuming and error-prone. It is unviable when you receive multiple orders at your retail store. With automatic receipt printing, you don't lose time and also avoid the dollar costs to you and your customer arising from processing errors.
Receipts, bills and canceled checks are essential documents supporting expenses for taxpayers that have the burden of proof to support their statements during tax filing. Your customers may prefer physical receipts for their own or their company's accounting and tax purposes.
A purchase receipt proves that an item was bought at your store. Some stores also print the warranty/guarantee onto receipts, in which case maintaining their physical copies becomes even more important to buyers.
73% of people deem customer experience to be an important factor in their purchasing decisions, yet only 49% say companies provide a good customer experience. If you're looking to improve the in-store experience, a WooCommerce POS receipt printer can support your objective. An immediate benefit is that it makes checkouts as fast as possible. 80% of shoppers will go to a store to buy an item they need or want immediately – when time is of the essence, a slow and clunky checkout experience may make them think twice about returning to your store. Even those who have time to spare may not exactly take queues in their stride – surveys show that 60% of shoppers are irritated with long lines at stores.
If you're in the restaurant business, automatic receipt printing can help reduce wait times by ensuring that printed order receipts move seamlessly from your POS to your kitchen. It's worth noting that, post the COVID-19 pandemic, the willingness to wait for orders has dropped to six minutes from ten. This is something to draw on to drive competitive advantage and business success.
You can provide customers the option of getting printed receipts and also ensure minimal contact in-store in a situation where it becomes necessary. Simply print the receipts from your POS system and place your printer in a place that makes it easy for customers to take the receipts themselves.
A WooCommerce POS receipt printer has a place in your customer experience toolkit. You obviously want the best solution there is for your WooCommerce POS, and BizPrint can meet all your expectations. Here's a look at how the WooCommerce plugin works.
Why use BizPrint for automatic receipt printing?
BizPrint is a solution from the BizSwoop stable of WooCommerce plugins that support store owners in selling more efficiently online and in-person. It enables automatic receipt printing from WooCommerce point of sale systems to any printer connected to a computer. BizPrint's customers have reported being able to cut order processing times by 5x after installing the WordPress plugin.
An advantage of using BizPrint is that it is compatible with all major brands of printer, such as Lexmark, Xerox, Samsung or Sharp, as well as thermal printers from Epson, Star, and Zebra. Any printer that can connect to a Mac, PC or Linux machine and that has a supported driver will work! You can have your WooCommerce POS receipt printer up without expending time or money.
BizPrint allows for a lot of customization – you can use the custom receipt templates to create receipts that fit the needs of your physical or online store. Apart from receipts, you can also configure the plugin to generate and print WooCommerce invoices, packing slips, delivery notes, credit notes, pick lists, and shipping labels.
You can set up a single WooCommerce POS receipt printer or print documents at multiple locations using the product mapping addon to drive faster customer service or fulfillment. BizPrint is ideal for printing at scale, especially for growing businesses dependent on WooCommerce for their daily operations.
BizPrint is also perfect if you've been looking for a WooCommerce POS receipt printer to boost your workflow efficiency! You can streamline the retail checkout experience at your store, move orders to your kitchen quickly, and optimize the time taken to process WooCommerce orders at your fulfillment stations. All of this directly impacts customers' experience shopping at your store or ordering online on your eCommerce/restaurant website, and influences their perception of how you run your business.
With BizPrint, making time for the work that matters becomes a little less difficult! With a WooCommerce point of sale receipt printer, you can cut down on manual administrative tasks and focus on selling and strategizing.
How to set up receipt printing from a WooCommerce POS
In a few simple steps, you can add receipt printing functionality to your WooCommerce POS system. The tutorial below uses the example of Jovvie, a WooCommerce POS plugin from BizSwoop that offers seamless integration with BizPrint. Jovvie lets you sell anywhere – in-store, online, or on the go, with no need for investment in POS hardware; you can load it onto any browser, as well as iOS and Android tablets or phones. With BizPrint and your existing printer, you can have a physical receipt ready in near real-time for every new order you create in Jovvie.
1. Sign up for Jovvie, then head to the quick start guide and follow the steps outlined to connect the plugin to your WooCommerce store.
2. Sign up for your chosen BizPrint plan and then log in to your BizPrint account. Set up a printing station on the cloud printing dashboard.

3. Name your station and make a note of your public and secret keys – you'll need these in the next steps!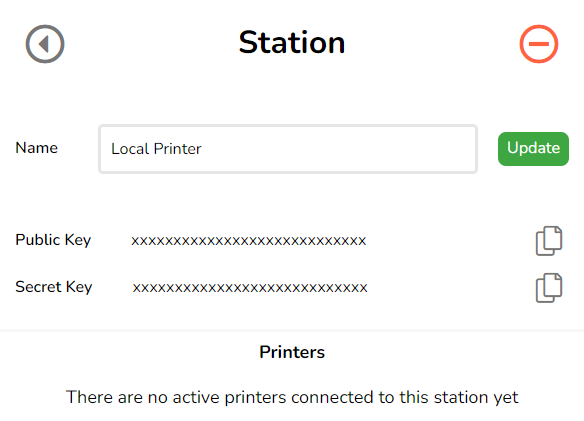 4. Download and install the BizPrint app and paste the public and secret keys. Your printers are now connected to BizPrint!
5. Next, you need to send receipts from the WooCommerce POS to the printer. On your WordPress dashboard, go to 'Plugins'. Click 'Add New' and search for 'BizSwoop'. You'll see all WordPress plugins from BizSwoop – find BizPrint Print Manager or download it here. This is the plugin that converts your existing printer into a WooCommerce POS receipt printer!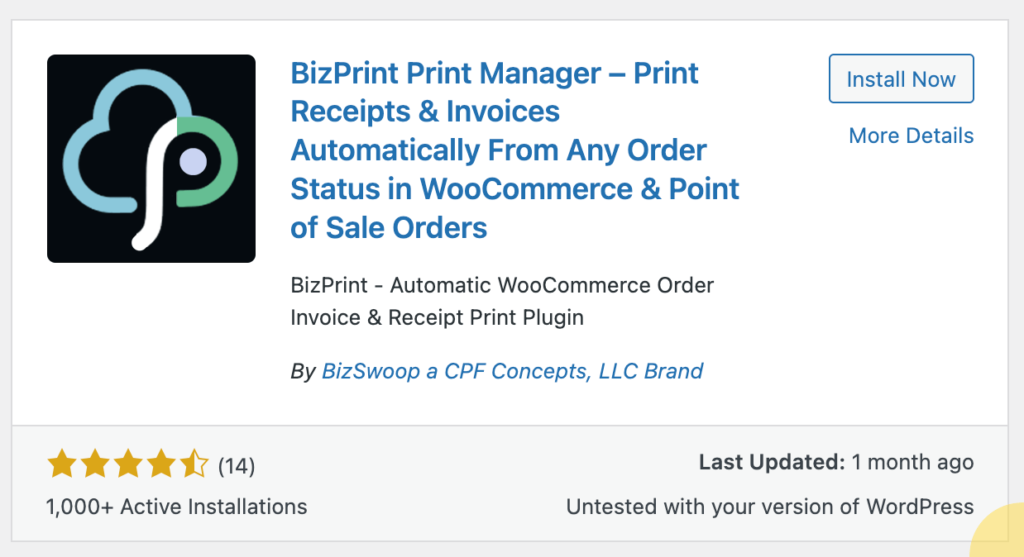 6. Install the plugin. Navigate to WooCommerce > Print Settings > Settings, where you can re-enter the public and secret keys from the previous step.
7. Now, in your WordPress dashboard, go to WooCommerce > Print Settings > Locations. Select 'Add New'.

8. Add the printer. Any printer you add will show up here. If you have multiple fulfillment stations, you can add the printer at each to BizPrint and send print orders as and when needed.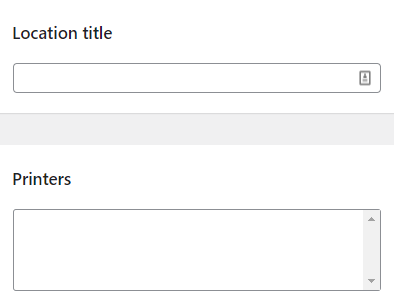 9. Lastly, go to WooCommerce > Print Settings > General and check the box to enable automatic printing. That's it!

Set up your WooCommerce POS receipt printer using BizPrint
Setting your existing POS thermal printer to automatically print receipts offers many advantages. If you're a retailer, it saves you time on manual entry and printing and ensures faster checkouts, enhancing customers' experience shopping at your store and encouraging repeat purchases. If you're a restaurant owner, a WooCommerce POS receipt printer can streamline order processing from POS to kitchen, and help reduce guest waiting times. In fact, any business that takes in-person or online orders and prints receipts can benefit from BizPrint!
There are many reasons why BizPrint is the best solution for printing receipts from a WooCommerce POS system. Here are some to note when you're looking for a WooCommerce POS receipt printer and comparing solutions.
Easy to set up: You don't need to know PHP or be technically proficient to set up and configure BizPrint.
Supports all major printer brands: BizPrint works with printers from all the top printer brands. You can have your thermal receipt printer up and running to generate hard copies of receipts and invoices in no time at all!
Integrates seamlessly with Jovvie: As an add-on for the Jovvie POS plugin, BizPrint helps create a more efficient and streamlined workflow.
Supports other WooCommerce POS systems: BizPrint connects your existing WooCommerce POS system to your on-premise printer for fast and secure receipt printing.
Take orders online for your restaurant? Try BizPrint now to eliminate manual order taking, improve kitchen times and boost customer happiness. Have an eCommerce business and also sell in-person? Create custom receipts that show all order details and contain your brand logo, colors, and policy. Email or print receipts and other commercial documents as needed to save customers time, help them file taxes, and ensure full transparency in business dealings.