When running an eCommerce business, shipping labels are essential to fulfilling orders. A good shipping label includes all the information required to ensure that your deliveries are made on time, to the correct address, and in good condition. This is why being able to easily print – or even better, auto-print – shipping labels for your WooCommerce orders is one of the ways in which you can make your store more efficient.
It's pretty common to make mistakes when printing shipping labels. For instance, you might print some incorrect information and end up with packages getting lost or damaged before your deliveries make it to their recipient. This is why it's vital to have the option to reprint your shipping labels.
This article will cover how you can set up high-quality WooCommerce shipping labels to ensure that your deliveries are always made on time and to a high standard, using our recommended automatic printing solution. We'll then show you how to reprint shipping labels for those instances when things go wrong, or details change after orders are placed.
Why are Shipping Labels Important?
There are many reasons why shipping labels are an essential part of your order fulfillment process. Firstly, they provide people in charge of delivering all the vital information so the products can make it to the customers (in fact, many shipping companies have made them mandatory). But there are more benefits, too; for example, labels can be used to promote your business and generate new leads. So, let's go through each of these in some more detail.
1 – Shipping Labels Contain Key Information
Shipping labels typically include the customer address, shipping details, handling information (for example, whether a package is heavy or fragile), and tracking data. This is the main reason labels are crucial; they ensure that deliveries are made to the correct address, on time, and arrive in good condition. Timely deliveries are key to customer retention, with 13% of customers saying that a late delivery would be enough to stop them from ordering from a retailer again.
2 – They Are Required by Many Shipping Companies
All major shipping carriers (such as USPS, Canada Post, DHL Express, FedEX) require some form of shipping label or customs form in order to make a delivery (usually because they need to include tracking information like barcodes on the parcel). Although labels are mandatory for these carriers, including tracking information on your deliveries is also an excellent way to improve the customer experience. More than 50% of customers prefer to have real-time visibility into their order status, and adding tracking information to your shipping labels means customers can be easily kept updated about their delivery without store owners having to intervene.
3 – They Can Be a Marketing Tool
It is easy to overlook the influence shipping labels can have on marketing your business right. Customized shipping labels can be a great branding tool – If your parcels are delivered promptly and without any issues, having your logo or some company information on your shipping label is a great way to associate your business or brand with quality service. This, in time, could also lead to helpful recommendations, and even to a boost in your revenue. Some WooCommerce shipping label plugins even allow you to include additional information on your labels, such as promotions for loyal customers or links to surveys so people can talk about how great the delivery experience was!
Why Would you Need to Reprint a Shipping Label?
A common scenario for eCommerce businesses is the need to reprint a shipping label after the original one has already been produced. There are a number of reasons why this might happen. For instance:
If any details included on the original shipping label have changed: One of the most common reasons you may need to reprint your shipping labels is if any information included has changed since the order was placed. For example, if the customer has changed their delivery address or has selected a new shipping method that requires different tracking numbers or details. In this case, quick editing and reprinting the shipping label for the order is key to maintaining high efficiency within your business. 
If you need to split a delivery into multiple packages: Once your fulfillment staff has picked all of the inventory for a particular order, they might notice that it doesn't fit into a single box, and the order will need to be split into multiple packages. This means you will require shipping labels for every new box, which is the reason why being able to reprint the shipping label (making any necessary adjustments to additional packages) is a great plus.
If the original shipping label gets lost or damaged: If you print your shipping label early in the fulfillment process, there is a chance it can get lost or damaged before affixing it to the package. You can get around this by using an automatic printing solution like BizPrint, which lets you auto-print your shipping labels exactly when you need them in the fulfillment process. In some instances, however, labels still just get damaged or lost despite your best efforts, so you need to be able to reprint them.
How Do You Print Shipping Labels in WooCommerce?
WooCommerce doesn't have built-in functionality for generating and printing shipping labels. If this is something you want to do, you will need to install a specialized shipping tool.
Many WordPress plugins allow you to set up and print shipping labels directly from WooCommerce. Still, many of them lack options for customization or extended functionality to help streamline your order fulfillment process. For this reason, we recommend BizPrint.
BizPrint is an all-in-one printing solution for your WooCommerce store or order fulfillment business. It allows you to auto-print all the documents you might need during the order fulfillment process, from invoices and receipts to picklists, packing slips, shipping labels, and more. So, let's go through a few of the features that make BizPrint stand out as the best printing plugin for WooCommerce in some more detail.
Auto-Printing Functionality
BizPrint allows you to automatically print shipping labels, return labels, and other documents required for the order fulfillment process in near real-time, as soon as a request is placed or at another pre-determined stage in the order fulfillment process. You can even configure BizPrint to automatically print multiple different documents at the same stage of the order fulfillment process. For example, you could print the packing slip and shipping label for an order simultaneously, ensuring that your fulfillment team has everything they need to send the order out as soon as the stock has been picked and packed.
If you pair BizPrint with its sister plugin Flow Notify, also developed by BizSwoop, you can actually set custom order statuses to trigger automatic printing. This combo can give you complete control over when your WooCommerce shipping labels are produced without requiring any input from your fulfillment staff – which saves staff time and reduces the chance of missed orders or errors being made when the labels are printed.
Using the above example of printing the packing slip and shipping label simultaneously, you could create a custom order status with Flow Notify along the lines of 'order packaged', so that when your fulfillment staff has got the delivery boxed up, they can move the order to this status and the packing slip and shipping label will be automatically printed, saving time in getting the order ready to send out.

Customizable Templates
BizPrint comes with several pre-built templates you can customize to fit your business needs. For example, you can adjust your WooCommerce shipping labels to include your company logo, notes about the order details, tracking information, and more. If you are working with a shipping carrier that requires you to have a barcode, you can do this with BizPrint using WordPress hooks and filters. And, if you need specific functionality that is not available with the standard templates, BizPrint can even design a bespoke template for you.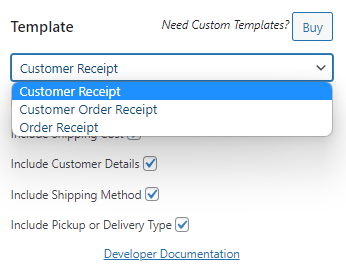 Category, Location, and Shipping Method Mapping
For larger WooCommerce order fulfillment businesses with multiple warehouses or fulfillment centers, BizPrint has even more scope for streamlining your order process. Using the dedicated mapping add-ons, you can configure BizPrint to print shipping labels, return labels, or other documents to a pre-determined location. This can be done based on the products the customer has ordered, the shipping method they have chosen, or the location to which the order is being shipped.
Because you don't need to pass information between different fulfillment sites, you are constantly handling your order shipping in the most efficient way possible, reducing shipping rates for your customers and keeping delivery times low. If you're using BizPrint, you can also be sure your order will never be sent to the wrong fulfillment center as a result of human error.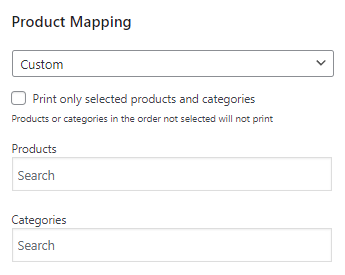 Printer Compatibility
BizPrint works with all printer models, including all of the major brands of thermal printers, such as Epson, Star, and Zebra. If you're using the plugin, you won't need to invest in new hardware to start printing shipping labels right away. Its compatibility with a broad range of thermal printers makes BizPrint ideal for printing labels on a larger scale – as they are much more cost-efficient to run and require less maintenance than typical digital models.
How to Print (and reprint) WooCommerce Shipping Labels Using BizPrint
Installing BizPrint is very straightforward. Here are the steps you will need to follow to start automating the printing of your order shipping labels:
Download and install the plugin: The first step is downloading and installing the BizPrint WordPress plugin. You can follow this quick-start document to guide you in the process (you will need to create a free account, set up a printer station, and connect it to the shipping plugin).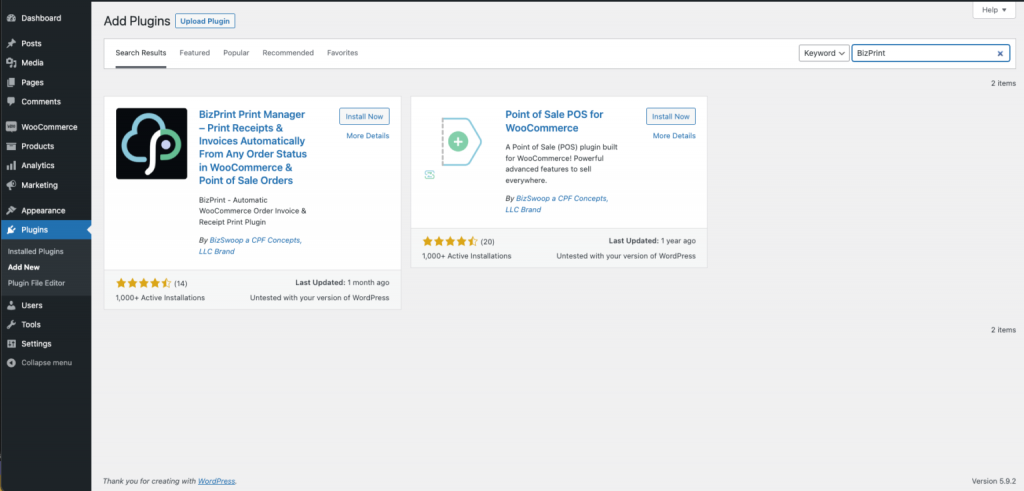 Create and customize the WooCommerce shipping label template: Next, it's time to make your labels truly yours. You can add your company logo, include order notes, and even add a barcode using WordPress hooks and filters.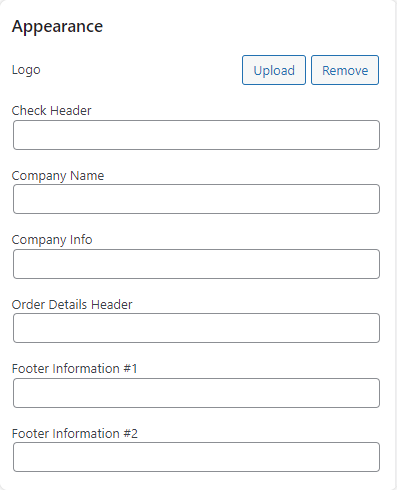 Set up automatic printing: BizPrint will automatically print shipping labels at a pre-determined stage of the order fulfillment process. You can set up custom order statuses using Flow Notify, another plugin from BizSwoop that helps you to fine-tune your order fulfillment process.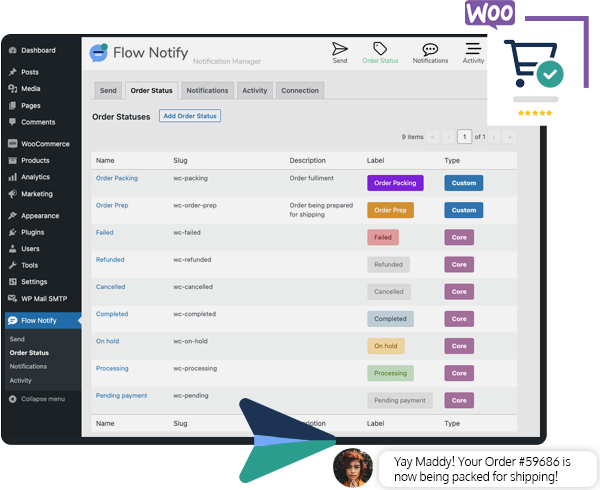 An added benefit of using BizPrint for your order fulfillment is that you can reprint shipping labels directly from the WooCommerce dashboard. All you need to do is:
Locate the orders that you want to reprint the label for on the WooCommerce orders page.
Go into the individual orders and make any relevant edits (for example, you can add order notes, new custom fields, change the billing and shipping addresses, and more).
Once you have edited the orders, navigate back to the 'Orders' page and select the orders you want to reprint by clicking the checkbox next to them. If you wish to print a single order, there is a dedicated print button available next to each one.
If you are printing multiple labels, use the bulk actions drop-down menu to select 'Print'. All selected labels will be reprinted.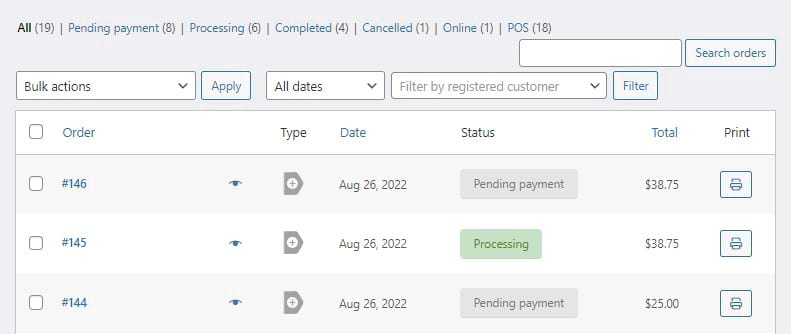 Reprint your shipping labels with BizPrint
Being able to print (and reprint) shipping labels is essential to ensuring your business is running its order fulfillment process efficiently. Labels give your orders the best chance of arriving on time, at the correct address, and in good condition. As we covered in this article, they are also required by most major carriers and can even be a good marketing tool for your business.
BizPrint is the best tool for both printing and reprinting your shipping labels. Firstly, it is expressly set up to avoid the mistakes that lead to having to reprint labels, but it also has you covered even when you do need to reprint your order labels. For example, if you break an order into multiple packages or the customer updates their shipping information. 
Some of the main features provided by the BizPrint plugin include:
Automatic printing functionality (set things up once and print all necessary labels automatically)
Customizable templates (include your own logo, colors, and branding)
Mapping addons (ideal if you have multiple warehouses or fulfillment centers)
Printer compatibility (BizPrint works with all printer models, including all major thermal printer brands)
BizPrint has a flexible pricing structure that allows it to scale with your business, making it a perfect fit for businesses of all shapes and sizes. Get started today to see how BizPrint can take your business to the next level.