Want to save time and effort while still creating professional-looking invoices for your WooCommerce store?
WooCommerce doesn't have a built-in solution to create and print invoices. So, you'll need a WooCommerce invoice generator plugin that can create customizable invoices.
In this article, we'll explore five of the best invoice plugins for WordPress, that you can run through WooCommerce. The plugins enable you to:
Create customizable invoices
Automatically email the invoice to your customer once the order is marked as complete
Print invoices automatically
Add taxes/fees to invoices
Provide multi-printer support to print invoices
Benefits of generating invoices for printing
Invoices are an important business and legal document required for various business functions and activities, from bookkeeping to tax filing. As a business regularly gives them out, they're also a free marketing and branding tool, doing their bit to keep the business front and center in customers' minds. Paper invoices come in handy for financial audits and order tracking, while also reinforcing your company branding strongly. Take a look at the many benefits of generating invoices for printing.
Reasons to make paper invoicing a daily part of running your business:
You and your customers can keep track of orders more easily
Paper invoices are easy to stack and organize at homes and offices. They're instantly accessible to staff working out of the office. That means your customers can process payments quickly and you get paid faster.
You can create more confidence in your business
A hard copy invoice provides a breakdown of the products or services provided, and any taxes or additional charges on the final amount. It is available at your customers' fingertips for review – any clarifications can occur quickly and customers don't have to raise issues, if any, over email and await your response.
Your customers can get through accounting audits painlessly
During the month-end closing process, auditors generally ask for invoices and all the important order details. Missing documents can cause unwanted headaches for businesses. Failing to provide these documents in a timely way can prevent a business from closing out the month quickly. It can also affect auditors' confidence in the company's internal controls. These are compelling reasons for businesses to ask for hard copies of invoices that they can immediately provide to auditors.
You can improve your order processing times
An efficient WooCommerce invoice generator helps process orders as quickly as they arrive. Paper invoices are ready at the printing station instantly after an order is generated. This improves your order processing workflow while reducing customer wait times.
You can reduce invoice errors
In an auto-printing system, the printing station receives invoice details in real-time, resulting in fewer order errors. Paper invoices offer a point of reference to parties in a transaction. Any clarifications or errors are available to be identified and resolved quickly.
You can provide customers the supporting documents they need while filing their taxes
Invoices also allow your customers to do their taxes easily and submit them as needed, which is a legal requirement in many countries. There's no sense having an online store if you can't fulfill legal requirements!
WooCommerce can't connect to a printer by default. To print an invoice, you have to go through a number of steps. You will need to set up a plugin to generate and download invoices, and print each one manually. This is a roundabout way of doing things. Instead, you can use a plugin, cut down on all those tasks and save time.
When you get down to finding the best WooCommerce invoice generator, consider these parameters, as already mentioned:
Ability to create customizable invoices
Automatic printing of invoices in set templates
Option to automatically add taxes deductions or fees to invoices.
Ability to generate different types of invoices (one-time, recurring, interim, standard, Proforma invoices, and others)
Ability to manage all invoices and taxes from ​​a single dashboard
Provide multi-printer support to print invoices
Support for popular payment gateways and credit cards
To make your job easier, we've identified the five top WooCommerce invoicing solutions that provide some or all of the abilities mentioned above.
What are the five best WooCommerce invoice generators?
You want to be able to create custom invoices as quickly and easily as possible. Any delays in generating invoices can affect customer experience and operational efficiency. So, a good understanding of what a particular solution can and cannot do will help you make the right choice.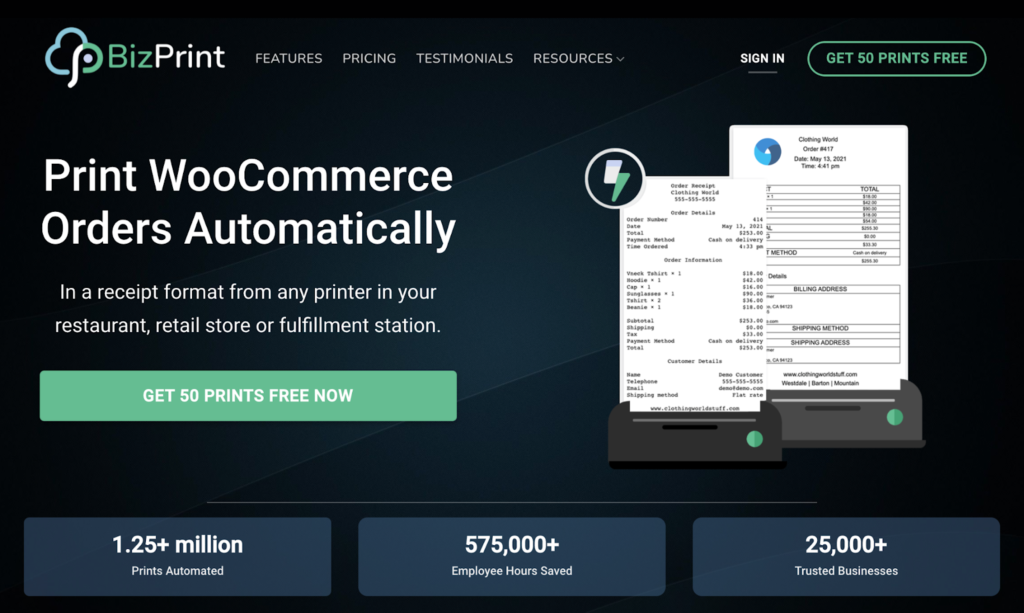 The BizPrint plugin from BizSwoop generates invoices from WooCommerce orders and prints them automatically. The WooCommerce invoice generator is best for busy restaurants or retail businesses looking for a quick, fast, affordable and reliable way to send order emails in PDF format, or create hard copy invoices.
BizPrint is a scalable solution that can print to multiple printers and locations at once. It works with Mac, PC, Linux or Raspberry Pi. It connects to your existing printer, so you can start printing invoices immediately without changing your technology infrastructure.
With BizPrint, you can automatically print customized invoice formats based on order status right at the point of sale or wherever else you need them printed. For example, if you're an event catering company serving businesses, your kitchen printer can churn out invoices as and when they need to go out to customers after their conference, exhibition, meetings and other events.
Automating the printing of invoices saves you time and effort. But if you don't need automation, you can control printing jobs manually. And you can do all this within WordPress – no sweat!
BizPrint creates great-looking, customized invoices. The WooCommerce invoice generator has templates using which you can create invoices that fit your brand design standards. You can add custom fields, choose a specific date and number format, set the typography and print layout, and change the logic of the styling or default templates for taxes. You also can customize and develop your own custom print templates to indicate applicable tax rates. All this makes it easy to communicate all the line items that your customer wants to see, while communicating a consistent visual identity, and company information and policies for customers' understanding.
If you're wondering whether you need technical knowledge to use BizPrint, you'll be happy to know that you don't have to know coding, PHP/HTML/CSS programming knowledge to make the most of the plugin. It takes even non-technical business owners, managers and salespeople less than five minutes to start generating and printing invoices using BizPrint.
BizPrint offers a range of pricing plans for businesses of all shapes and sizes. Get started today, and you can have automatic printing set up for your WooCommerce store in fewer than 5 minutes.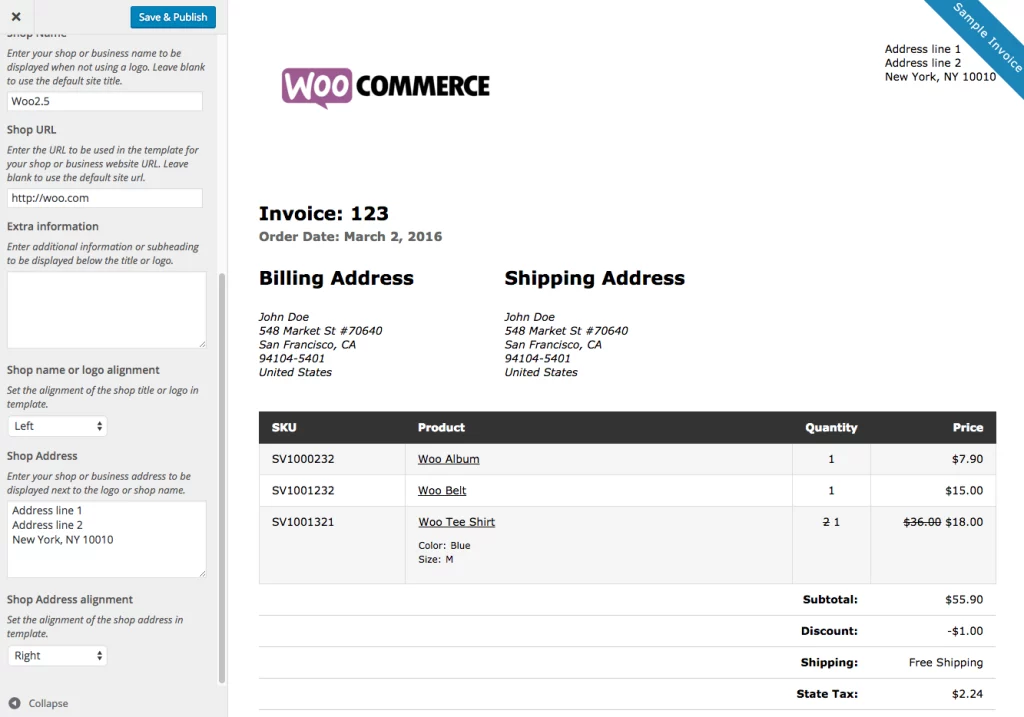 This plugin by SkyVerge (SkyVerge was acquired by GoDaddy – see below) allows you to print invoices individually or in bulk. It emails the invoices only when an order is paid for. In addition, it allows customers to view invoices from the 'My Account' page.
You can customize your invoices as per your branding requirements. Select the information you want to show customers, and adjust colors, font colors and other visual elements of your invoices.
When using the plugin to generate packing lists, you can organize the lists by product category/type, similar to how you normally organize your inventory. Packing lists show the items needed to fulfil a single order. You can exclude non-shipped items or include customer notes. Before sending out the invoice or packing list for printing, you can preview it by clicking on the 'Print' link.
Invoice numbers are an important aspect of invoicing as they make it easy to track payments and manage overdue invoices. WooCommerce Print Invoices & Packing Lists uses sequential invoice numbers or uses WooCommerce order numbers as your invoice numbers.
While these features are great, WooCommerce Print Invoices & Packing Lists does not offer automatic printing functionality. If you're looking to automate invoice generation from WooCommerce orders, this isn't the solution for you. There's also the fact that users have reported facing issues with the plugin and it isn't clear whether the 3.0+ version addresses those problems. Since the acquisition, it seems development of the product has been de-prioritized.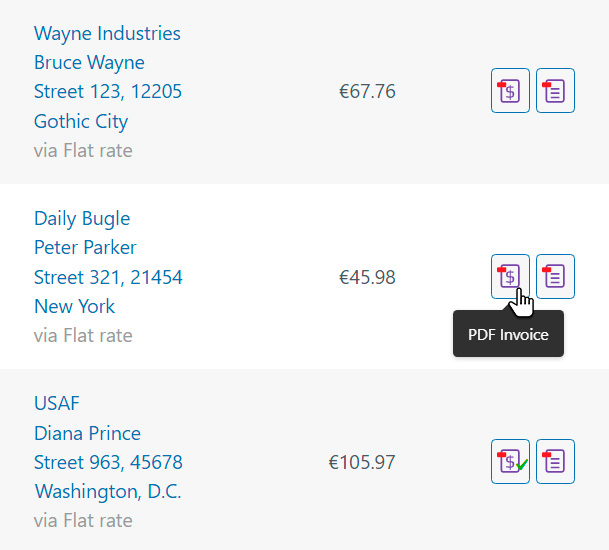 This extension by WP Overnight automatically attaches a PDF invoice to the new order confirmation emails you send out to your customers. You can download or print the invoices individually or in bulk from the WooCommerce order admin.
A common feature of the best WooCommerce invoice generators discussed in this article is their ability to tailor invoices to your branding needs. This WooCommerce extension offers HTML/CSS templates that are fully customizable. It includes the header, logo, layout fields, company policies and promotion. You can convey a uniform brand identity across your sale, supply and customer-facing documents.
A clear and consistent system for numbering invoices, such as keeping each invoice sequential, is useful for accounting and payment tracking purposes, both for you and your customers. It is particularly helpful if you issue multiple invoices each month. WooCommerce PDF Invoices & Packing Slips sequentially creates invoice numbers, with the added option for custom formatting.
You can do more with premium extensions from WP Overnight. For example, the WooCommerce PDF Invoices & Packing Slips Professional premium extension that automatically uploads the created PDF documents, credit notes for refunds, and packing slips to Dropbox. Premium templates offer better-looking and more advanced designs. A comparison of premium and free versions will help you decide which one works better for your needs and budget.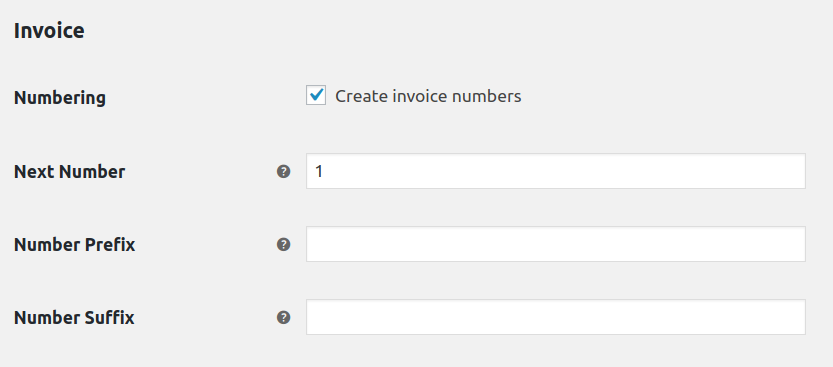 Want to give printed invoices to customers after you've fulfilled their orders? Looking for a way to send out delivery notes along with the products you dispatch to customers? This plugin from Tyche Softwares does both tasks, printing invoices and delivery notes for WooCommerce orders.
Like the other WooCommerce invoice generators discussed above, the plugin allows you to customize your order documents to your brand design requirements. Apart from allowing you to add your shop name and postal address, it lets you add conditions and policies, personal notes, and a footer imprint. You also have the option to add a link to print the digital invoice you've mailed to customers.
Invoice numbers can follow a logical order or sequence. Print Invoice and Delivery Notes for WooCommerce allows you to use simple or sequential invoice numbering. If you don't need distinctive invoice numbers, the plugin is also able to add simple invoice numbering.
The plugin is easy to use. It adds a new side panel on the order page. You can print invoices or delivery notes via this side panel. Your customers can print the order in the 'My Account' page.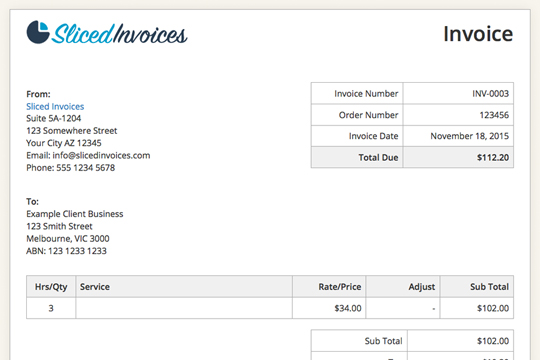 While the other invoice generators discussed here are native WooCommerce solutions, Sliced Invoices is a WordPress plugin with extensions (free and paid) and bundles (multiple extensions). They include the WooCommerce extension and PDF Invoice Extension, which generate and print invoices.
The WooCommerce extension acts as a middleman between the WooCommerce and Sliced Invoices plugins, offering the functionality to automatically create invoices from WooCommerce orders. PDF Invoice Extension enables one-click print functionality from the admin area. They are both paid extensions.
Creating invoices with this PDF invoice plugin is easy and intuitive. It provides pre-defined items to create quotes, without having to leave your WP dashboard, for emailing to your customers. Once they accept your quote, you can click the 'Convert to Invoice' button to create your invoice. Send the customer the link via email and get paid via PayPal.
It also offers a number of customization options. You can choose a pre-designed invoice template, add your own CSS or use a combination of both. Add your company logo, footer text, and format addresses to your requirements, based on your HTML and CSS knowledge.
As far as printing the invoices is concerned, the plugin adds a PDF button to each invoice using which you or your client can print the document. The button is present in the admin area and also on the front end. The PDF files look similar to the online version of your invoices and quotes as they share the same template.
BONUS
BizPrint is the best way to auto-print order invoices. But you can take it one step further by combining it with other add-ons like Pickup Delivery Scheduler and Jovvie – the best Point of Sale plugin for WooCommerce.
Jovvie Point of Sale sets up a frontend management system for managing your online store and in-person sales operations. It has key features for all your WooCommerce POS needs, including complete customer management, easy order tracking, digital payments, dynamic live inventory, and access and permissions for cashiers, managers and register stations. Even with all the features and capabilities, Jovvie POS is easy to set-up, even for non-technical business owners.
Pickup Delivery Scheduler adds essential pickup and delivery features for smooth customer checkout and easier employee order fulfillment. With Pickup Delivery Scheduler, you can set up time slots for orders and even define the number of orders per slot. This enables you to show customers time slots that they can choose from automatically, and set the right expectations.
What makes BizPrint the best WooCommerce invoice generator?
Customizing your invoice templates helps your branding efforts by ensuring a consistent look, format, and static information such as company policy or any legal information across all your invoices. BizPrint is a user-friendly plugin that allows you to easily create personalized invoices and print them automatically individually or in bulk, at multiple printer locations. It is the only solution to offer instant invoice printing at the point of sale by sending orders directly from anywhere in real-time as soon as they come through. This makes it a WooCommerce invoice generator in the truest sense.
You don't need any new infrastructure to start printing invoices. BizPrint works with your existing printer. You can have absolutely no programming knowledge and still make the most of BizPrint's features. You get the templates to create order documents that align to your brand identity and present key information to customers. No need for a developer to figure out how to create better-looking invoices – you can get started with BizPrint on your own! You can understand this better with a quick tutorial, as seen below.
First select a built-in template you need by ticking the relevant checkboxes. There are items relevant to that template that appear as a list. Once again, you can select the items you want to include by ticking the checkboxes next to each.

Alt text – Select items you want to add
You can review and finalize your selections.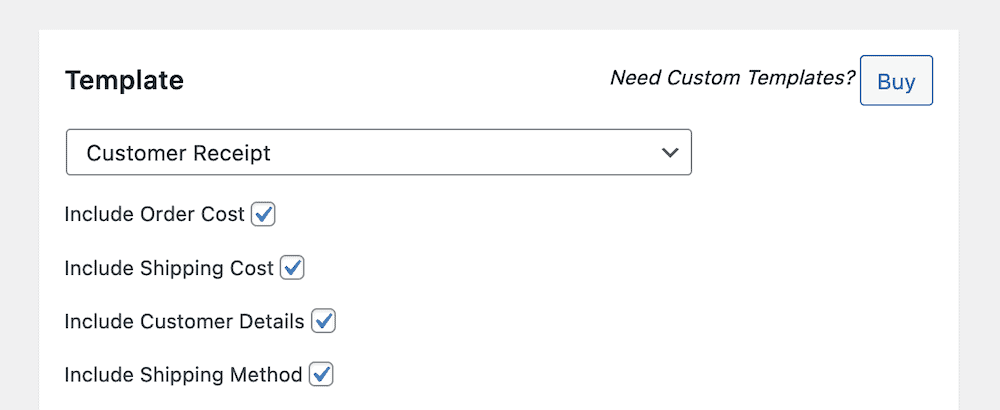 From there, you can look at the 'Appearance' section. This gives you a number of ways to add unique branding elements or company information to your printed order.
Lastly, you can add more customization by setting typography, printout format (HTML or plain text),
along with layout orientation and page margins.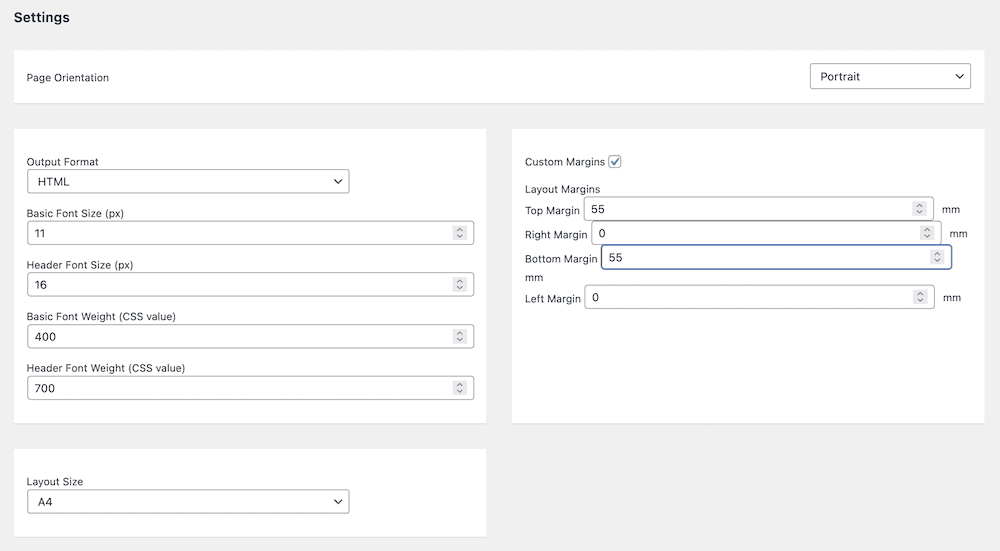 You can enable automatic printing with a single-click option. Go to WooCommerce > Print Settings > General, within WordPress. Alternatively, you can print manually from the order list page or the order details page.

Do more with other plugins from BizSwoop
You can extend the functionality and user experience of your WooCommerce store further with other purpose-designed plugins from BizSwoop. We've mentioned two among a range of premium plugins for WooCommerce, created to help restaurants, retailers, and sales teams enhance their customer experience. A big advantage of sticking to the BizSwoop ecosystem of plugins is the ease and speed with which you can leverage their features in meeting your business operations and sales goals.
Print your WooCommerce invoices as soon as they come through!
For retailers and restaurants using WooCommerce, printing hard copies of invoices can be problematic as the ecommerce platform doesn't have a default auto-printing option. To set up a system that prints out an invoice automatically after you create it, you need a WooCommerce invoice generator.
A comparison of the best WP invoicing solutions reveals BizPrint as best plugin for the job. Its easy set-up, ease of use, customizable templates and compatibility with thermal and impact dot matrix/line printers from all brands, makes it a convenient solution for all businesses, not just the tech-savvy ones with developers on their team. BizPrint allows you to print at multiple locations – kitchen printers, POS machines, pick stations and more. You can create invoices in real-time from anywhere as soon as they're ready. This level of speed and efficiency is missing in other WooCommerce invoice generators.
So, whether it's a business policy or a buyer preference, you can make auto-printing invoices and other customer-facing documents fast, seamless and straightforward with BizPrint. The affordable solution is sure to help you take your operational efficiency to the next level.