Looking for a way to print invoices, packing lists, and other documents in WooCommerce? As printing isn't a default feature of the eCommerce platform, you'll need a third-party solution. In this post, we take you through the best WooCommerce print invoice and packing list plugins.
Why print invoices and other documents for your WooCommerce store?
Physical copies of invoices may seem outdated in an age of order emails and electronic receipts. But their importance remains, now and in the future. Here's why.
Good records: The IRS advises businesses to maintain good records as they support the items reported on their tax returns and help monitor the progress of their business. Recent receipts and invoices are among the important documents that businesses are advised to keep as physical backups.
Proof of purchase: Invoices and receipts identify the payee, amount, and items. Your customers will want to hang on to physical receipts and invoices for stress-free returns and refunds, which is an important consideration for many customers – 67% of customers say they check a store's returns policy before making a purchase. For their peace of mind, it's a good idea to offer the option to receive physical receipts and invoices.
Faster item picking: A WooCommerce print invoice and packing list plugin can create different kinds of documents used in the fulfillment process. For example, physical pick lists can boost order picking pace and accuracy, leading to faster fulfillment and more satisfied customers.
Enhance transparency: You can create packing lists directly from your WooCommerce orders to include in shipments to customers, who can then cross-check the received items against their orders. This is important for brand transparency and customer loyalty.
Reinforce your branding: Printed invoices and other documents with your brand logo, return policy, and other branding elements help showcase a professional image and create a memorable brand.
WooCommerce does not offer the functionality to create and print invoices and other documents out-of-the-box. So, you'll need a plugin that has been developed to add this functionality to WooCommerce sites. You have good choices in WooCommerce print invoice and packing list plugins, but you'll want to consider the features and limitations of each to find the best solution.
What are the best WooCommerce plugins for printing invoices and other documents?
Here's a roundup of the seven best invoice plugins that bring print functionality to your WooCommerce store.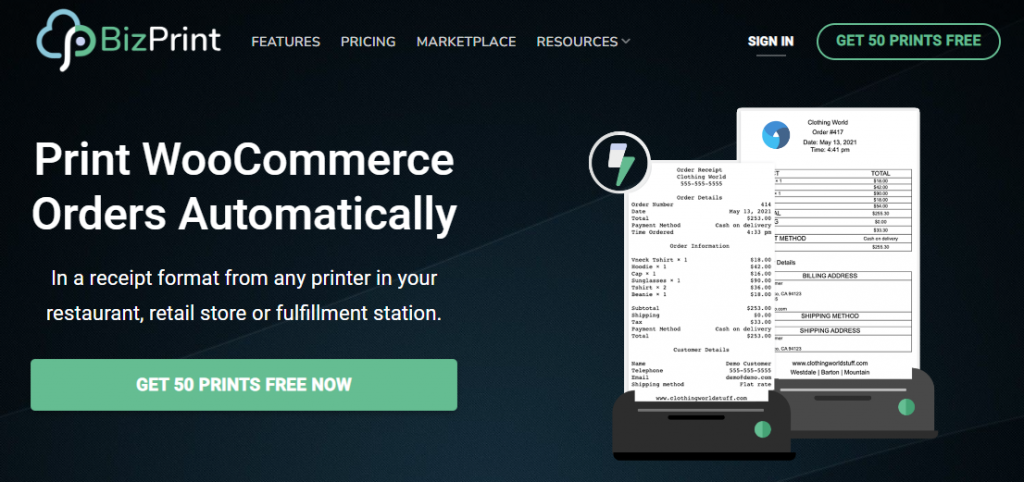 Using BizPrint, you can create customized invoices, packing slips, and a variety of other documents, which are key to the order fulfillment process. You can configure the WordPress plugin to auto-print documents at the point of sale or through any printer connected to your network, or print them manually. What makes BizPrint a great WooCommerce print invoice and packing list plugin?
Streamlines order fulfillment: When a customer places an order, BizPrint generates an invoice from that order. If you have enabled auto-printing, BizPrint instantly creates a physical copy of the invoice at the linked printer. You can also email the invoice to the customer straight from your WordPress dashboard, as seen below. Aside from invoices, BizPrint can print all types of documents required for an efficient order fulfillment process. You can auto-print anything from pick lists and packing slips, to shipping labels, delivery notes, order receipts, and more directly to the printer at your fulfillment station or point of sale (POS) without human intervention.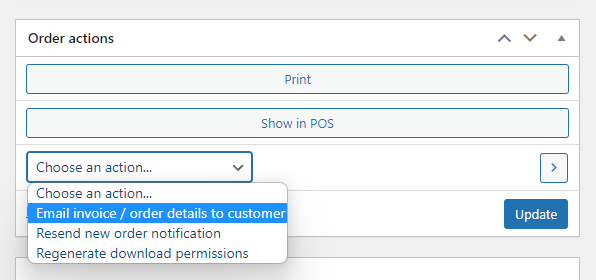 You don't need HTML/PHP/CSS skills to configure BizPrint to your needs. It's one of the most user-friendly and intuitive packing slip plugins for WooCommerce.

The plugin lets you manually print invoices, pick lists, and packing lists individually or in bulk from your WooCommerce admin page in just two clicks after a new order is placed on your store. Your customers can view invoices from the "My Account" page.
Similar to BizPrint, the plugin also allows you to print email invoices directly from the dashboard, and run bulk actions for as many customer orders as you've selected. Though there is no auto-printing functionality, this feature can still save your staff a lot of time on order fulfillment and customer communications.
Thanks to a variety of customization options, you don't have to bother using custom CSS to create documents tailored to your requirements. However, reviews describe the customizations as 'basic', which raises questions on the value of the plugin considering its $79/year price tag. It is also worth noting that updates for the plugin are not especially regular, with the latest update released in September 2021.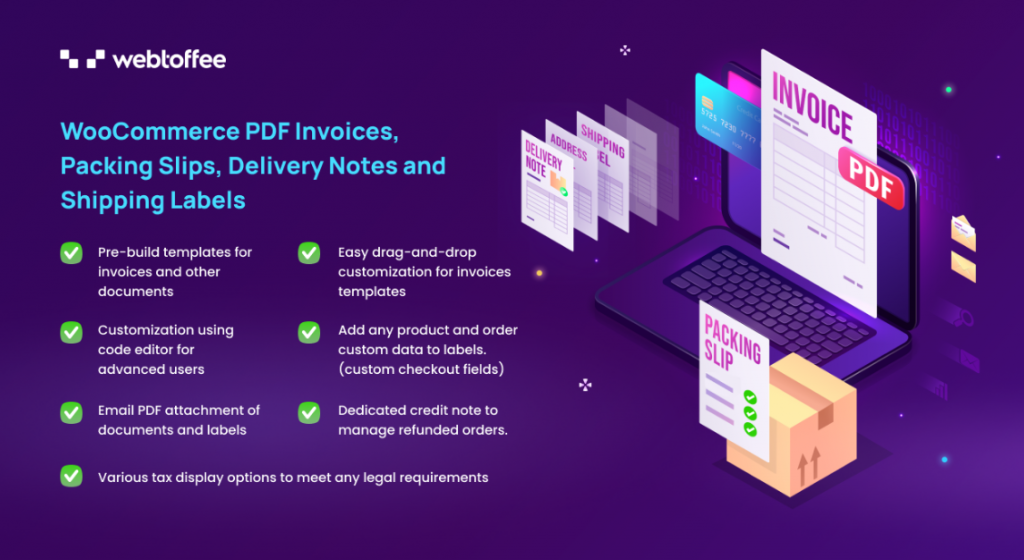 The plugin allows you to create and manually print WooCommerce Proforma invoices, packing slips, credit notes, pick lists, and delivery notes. Multiple pre-built templates help you get started, and further customizations are possible with the built-in code editor. Custom fields allow you to add VAT and other tax details, tracking details, and branding elements.
The solution is compatible with WPML and supports multiple language translations. It's worth noting that the plugin doesn't integrate with any shipping/courier services to generate supported shipping labels. Prices for the WooCommerce print invoice and packing list plugin start from $69/year.
WooCommerce PDF Invoices & Packing Slips is a free plugin that allows you to attach a PDF invoice automatically to order confirmation emails that you send out to customers. It also offers functionality to manually print invoices and packing slips directly from your WooCommerce order page. A basic invoice template is included, with some customization options available. However, you will need to upgrade to the professional version of the plugin to unlock some of its more advanced features, including auto-printing documents and automatic uploads to Dropbox. The premium WooCommerce extensions of the plugin come in at $59.

Smart Manager is a WooCommerce stock and inventory management plugin that also supports individual or bulk printing of invoices manually. It has a centralized hub where you can bulk edit orders.
The plugin comes with a variety of store management features for products, prices, orders, and coupons, alongside its functionality for generating and printing PDF invoices. These extra features do come at a cost, however, with the premium version of the plugin starting from $149/year for a single site.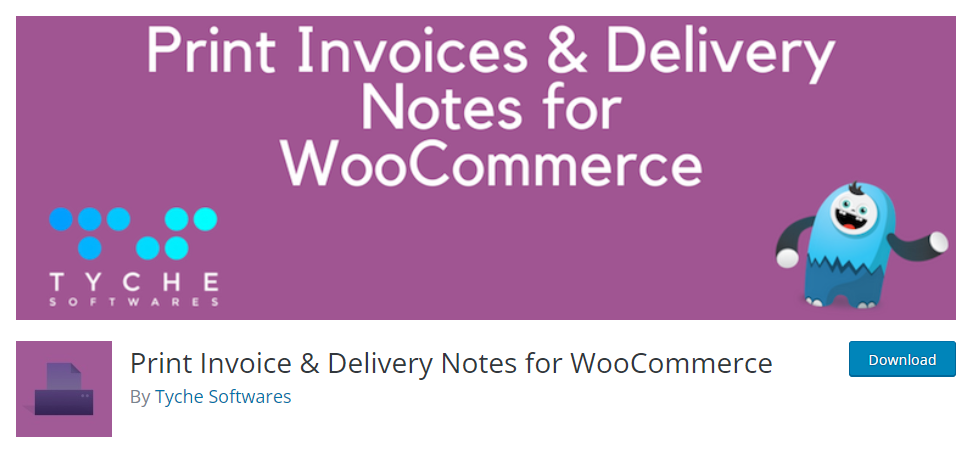 The free plugin supports the manual printing of invoices and delivery notes from the "Orders" page in WooCommerce, as well as allowing customers to print their own invoices from their "My Account" page. Complete customization of the invoice and delivery note templates is possible using hooks and CSS style sheets.
The WooCommerce print invoice and packing list plugin allows simple invoice numbering and supports sequential order numbers and the WooCommerce refund system. It also includes a print link in customer emails. However, customer support is only available through the WordPress public forums.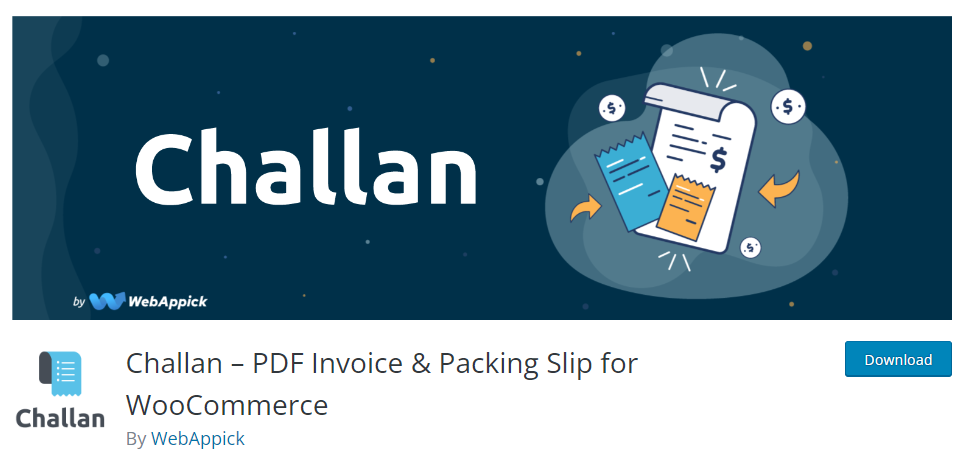 Challan is a free plugin designed to automatically generate PDF invoices, attach them to order confirmation emails, and send them out when the order status changes. You can download invoices and packing slips individually or in bulk from your WooCommerce orders page and manually print them.
However, most advanced functionality, including printing at custom paper sizes beyond A3, A4, A5, or Letter, is unavailable in the free version of the plugin. The premium version starts at $29/year.
Automate document printing with BizPrint
Physical copies of invoices, packing lists, and delivery notes serve as proof of purchase. They're among the key business documents to back up and include in your records, and also support your brand reinforcement efforts. Adding auto-printing functionality to your WooCommerce store offers unignorable benefits: it streamlines your order fulfillment process, saves staff time, and also helps you never miss a single order.
Of the many WooCommerce print invoice and packing list plugins available, BizPrint stands out for being a complete solution. Here are just some of the features which make it the best option:
Auto-print receipts, invoices, packing lists, and all other documents crucial to the order fulfillment process directly to your point of sale or fulfillment center
Print different documents at different locations, depending on the needs of your business – you can even use the Product Mapping addon to print orders for specific products in pre-determined locations
Produce professional-looking documents using BizPrint's customizable built-in templates, or have a bespoke template built for the needs of your business
Avoid the need for new hardware, as BizPrint is compatible with all printer brands, including the major models of thermal printers
Streamline your entire order fulfillment process through tight integration with Jovvie POS – process orders online, in-store, or on the go, then produce custom receipts or other documents right at the POS checkout
BizPrint has a flexible pricing structure, so you can choose what fits your needs and budget, and scale up your plan as your business grows.