The e-commerce world is moving to a completely online format a little more every day. However, there's still the need for offline elements – receipts or delivery notes, for example. Customers will need a copy of the transaction, as will the store owner. The good news is you can add functionality to WooCommerce to print receipts whenever you need, with a lot of flexibility.
If you work in a brick-and-mortar establishment, but have an online WooCommerce store, you'll need a solution to bridge the gap. BizPrint is a stellar way to print off a physical receipt at checkout. If you combine it with other BizSwoop premium plugins such as Point of Sale for WooCommerce and Pickup Delivery Scheduler, you'll have a full-featured WooCommerce site ready for any and every customer.
In this post, we're going to show you how to add WooCommerce print receipt functionality to your site using BizPrint. First, let's help you understand why this functionality is so vital.
Why WooCommerce Print Receipt Functionality is Valuable
Despite online business being in a boom period, there's still the need for physical receipts. This is especially true for stores that sell both physical and digital items. Warehouses and logistic companies will (of course) need delivery notes and shipping labels for customers. It's even somewhat true for businesses that deal in physical goods, but also relies on its online presence.
For example, a restaurant may use WordPress to promote its business online, and show off the menu.
However, in order to offer online take-out or delivery services, that restaurant may need to turn to third-party solutions. For a WordPress website, WooCommerce could help you deliver these services, but it suffers when it comes to in-person transactions. What's more, there is no native functionality for WooCommerce to print receipts (although you might be able to set up email notifications).
BizPrint can plug this gap and provide a restaurant with the ability to offer extra services without the need for third-parties, among other use cases. Let's discuss this in more detail next.
Introducing BizPrint
If you want to have the ability to auto-print receipts from WooCommerce, BizPrint will be your go-to solution. It's a great plugin to help you print WooCommerce orders as they come in, rather than the manual process of hand-writing and fulfillment.

You're able to accept new orders online, which can then be processed automatically through integration with your printer. In fact, you won't need any special equipment to use BizPrint, as it has compatibility with almost all printers. In fact, you can use your existing printer: the one you have at home, office or restaurant will often be fine, but if you have a dedicated receipt or thermal printer, BizPrint will support it.
The plugin combines with your WooCommerce installation and printer to provide a lot of functionality:
A customer can order online, while you send a physical copy of the order details (such as a food order, packing list, or pick list) to your warehouse, restaurant kitchen, or fulfillment station. This improves efficiency, and makes your business run smoother.
You can customize receipts using either built-in or custom templates. This will help the customer understand the transaction, and smooth the Point-Of-Sale (POS) process.
With the functionality on hand, you won't need a more expensive POS system, nor any maintenance or support payments. You'll also lower your overheads, because the technology is straightforward to set up and use.
You're also able to extend the functionality of BizPrint using various add-ons. For instance, the Product Mapping add-on lets you take a multiple printer setup and send WooCommerce orders and receipts to specific locations and printers. This means if you have the need to print an order receipt in the kitchen, pick lists in the warehouse, or packing lists at your fulfillment station, this add-on will let you do it with BizPrint.
If you fulfill your own deliveries – maybe you run a take-out service or have a delivery fleet at the warehouse – the Pickup Delivery Scheduler will be a godsend. This lets customers book an order slot from a pre-set number you specify.
However, you can also limit the number of available slots in order to match your capacity. Delivery notes and shipping labels will be invaluable here, and will help your fleet get the right packages to the intended customers.
Why BizPrint Can Be Your New Fulfillment Partner to Print Order Receipts in WooCommerce
The danger of a solution that takes on some of the heavy lifting for your fulfillment strategy is a lack of flexibility. However, BizPrint has lots of scope to tailor the experience to your business. For example:
You can have full control over the ordering experience, especially for online transactions, from the WordPress dashboard.
You're able to customize the fulfillment side of the purchasing process. This can happen through customizable and branded receipts, the ability to send fulfillment orders to customers' email accounts, and more.
The solution can mean faster turnaround times on an order, with less manual work involved. This is thanks to the automation that BizPrint provides.
If you work in a service industry, within logistics, or a niche that requires you to use payment methods and fulfill an order that involves a delivery or in-person transaction, BizPrint will be a vital cog in the wheel.
How to Enable WooCommerce Print Receipt Functionality for Your Website
Over the next few sections, we're going to show you how to set up WooCommerce print receipt functionality on your WordPress website. We'll tell you everything you need to start, along with the necessary links to find out more.
1. Install and Set Up the BizPrint Plugin
To install, activate, and set up BizPrint, you'll first need to sign up for a BizSwoop account. We cover the full steps in our Print Setup article. You'll need to click the "Applications" tab within the BizPrint Cloud Dashboard.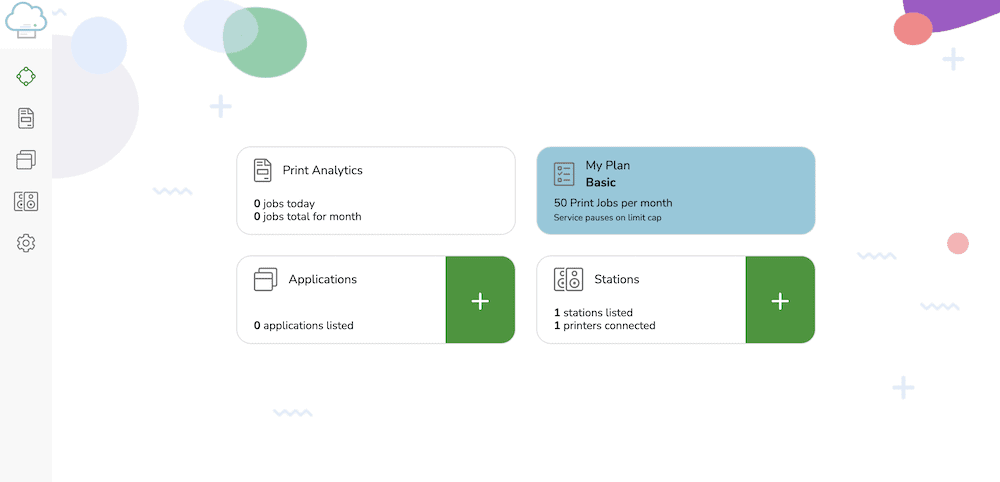 This will ask you to add a name for your site, and enter a URL for your WooCommerce store.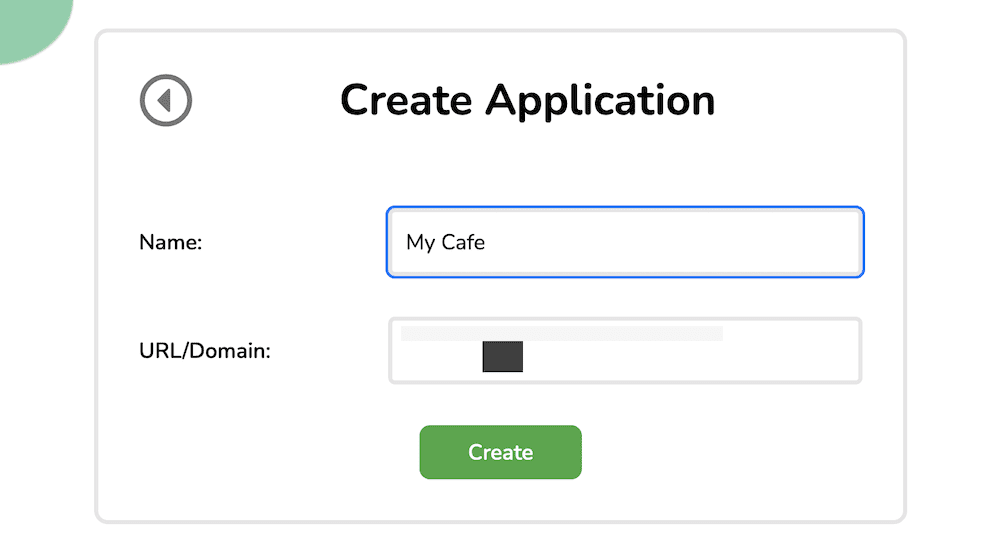 Once you do this, head into WordPress (to the "Plugins > Add New" screen), and search for the Print Manager for WooCommerce plugin: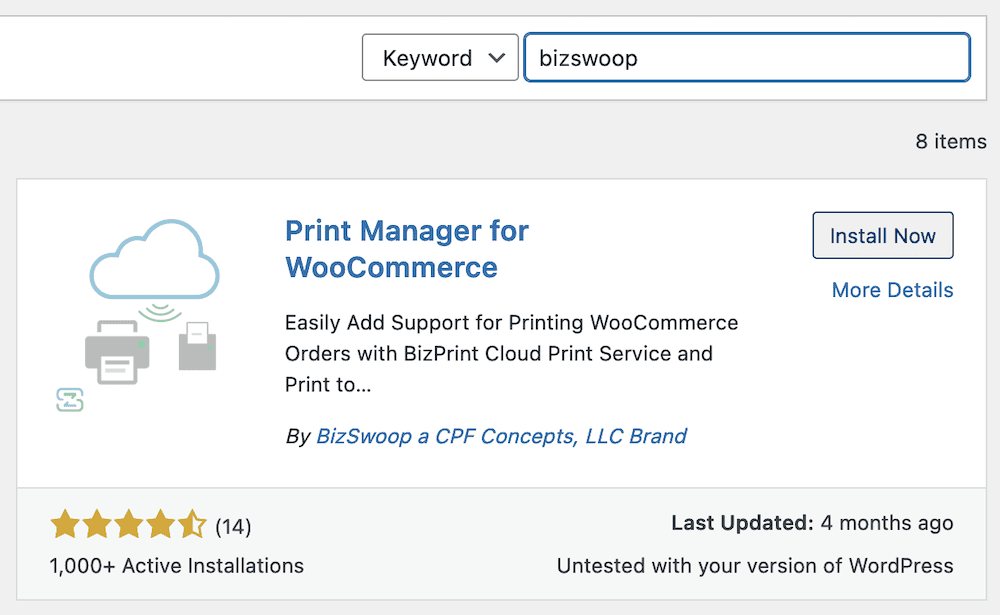 You'll install and activate this in the typical way for other plugins, at which point you can head to the "WooCommerce > Print Settings > Settings" screen.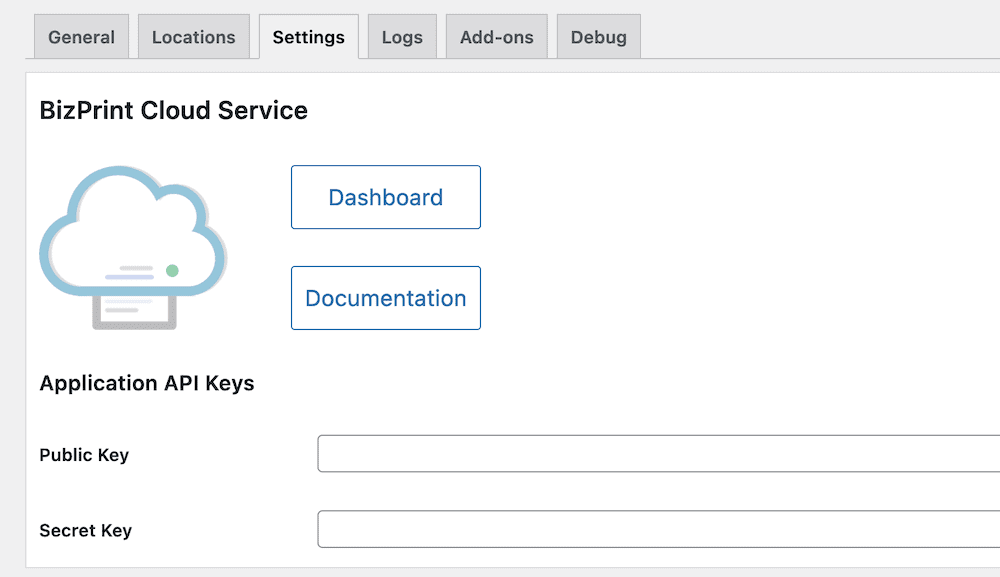 Here, add in your public and secret keys to connect your site to BizPrint Cloud service.
2. Set Up Custom Receipt Formats Using Templates
Using custom receipt or invoice templates is a core feature of BizPrint, so it's no surprise that it's a breeze to use.
Within WordPress, head to the "WooCommerce > Print Settings > Locations" screen, and click the "Add New" button in the top right-hand corner. This will open up a whole array of fields and options to help you set up your order slips for your different locations: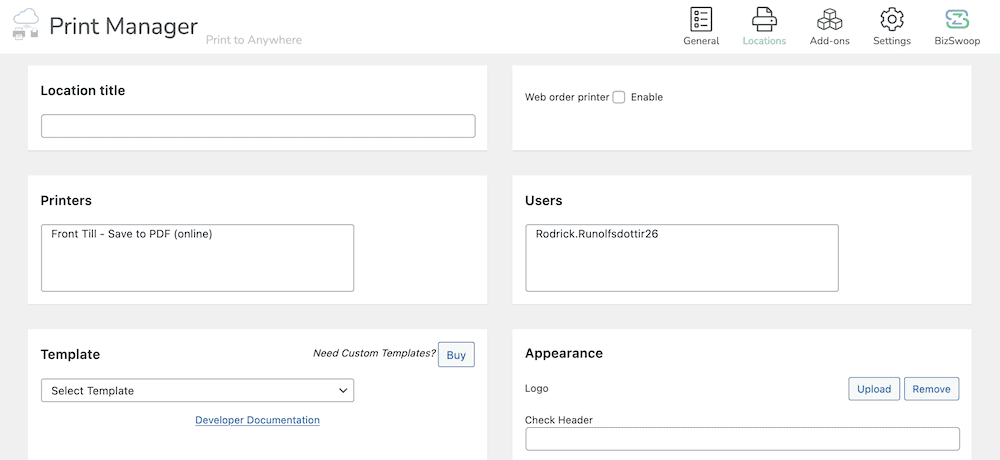 While there are a lot of options here, we can set up how your order receipts will look using the "Template" tab drop-down menu:

You're able to choose a number of different templates, along with a bunch of options based on what you can edit with each template (such as adding a sequential order number, invoice number, billing information, and more). To the right of this section, you can also add a logo, enter your shop name and information, include header and footer information, and remove the BizSwoop branding: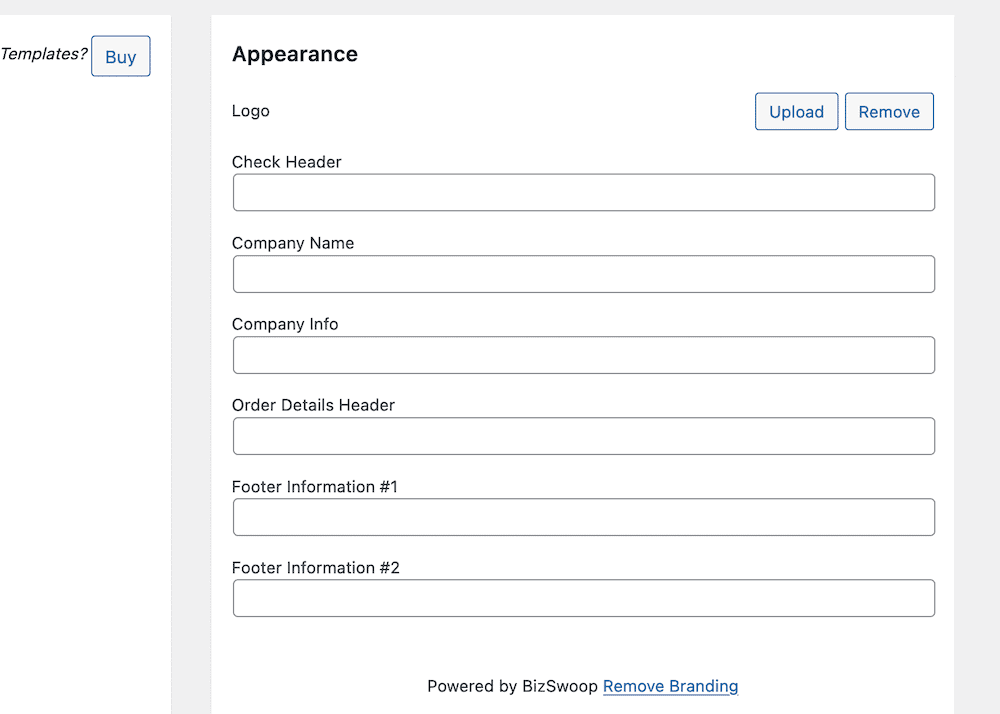 There are also some options under the "Settings" section: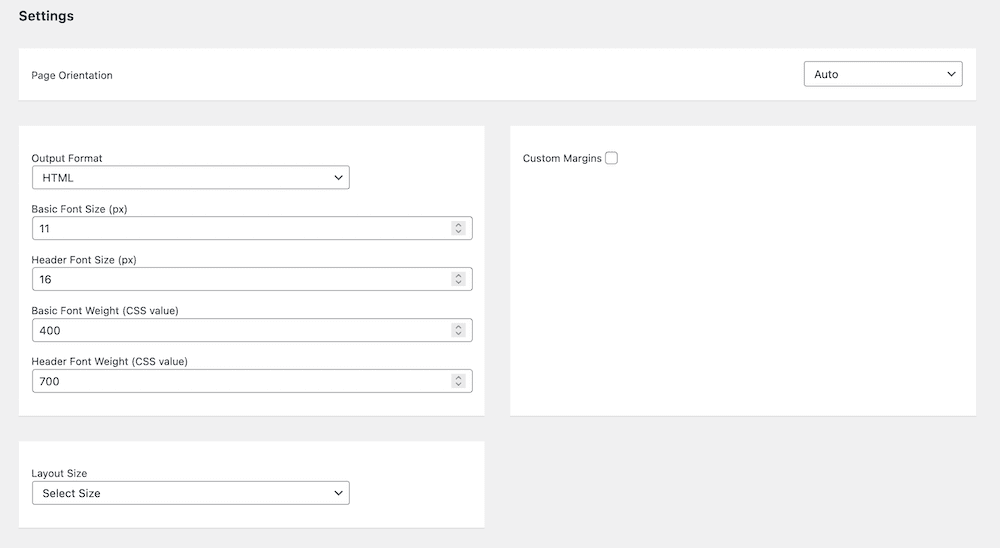 Here, you can set the page orientation and layout size, and customize the output format. For example, you can choose either HTML or plain text formats, and work with font sizes and weights to achieve your ideal layout. When you finish, save your changes, and look to some of the other features available in BizPrint.
3. Enable Automatic Order, Packing Slip Generation and Print Invoices
If you head to the "WooCommerce > Print Settings > General" tab, you can enable automatic order printing and packing slip generation with one click:

Here, you can choose which order statuses will trigger order printing. What's more, you can choose the number of copies you print. This is ideal for situations where both you and the customer need a version of the print receipt.
This is all you'll need to do at this point. Once a user finalizes a completed order, WooCommerce will print the receipt or order. If you have a physical printer, this will (of course) show up in that location.
However, you can also set up a PDF printer, which will save a digital copy to a specified location.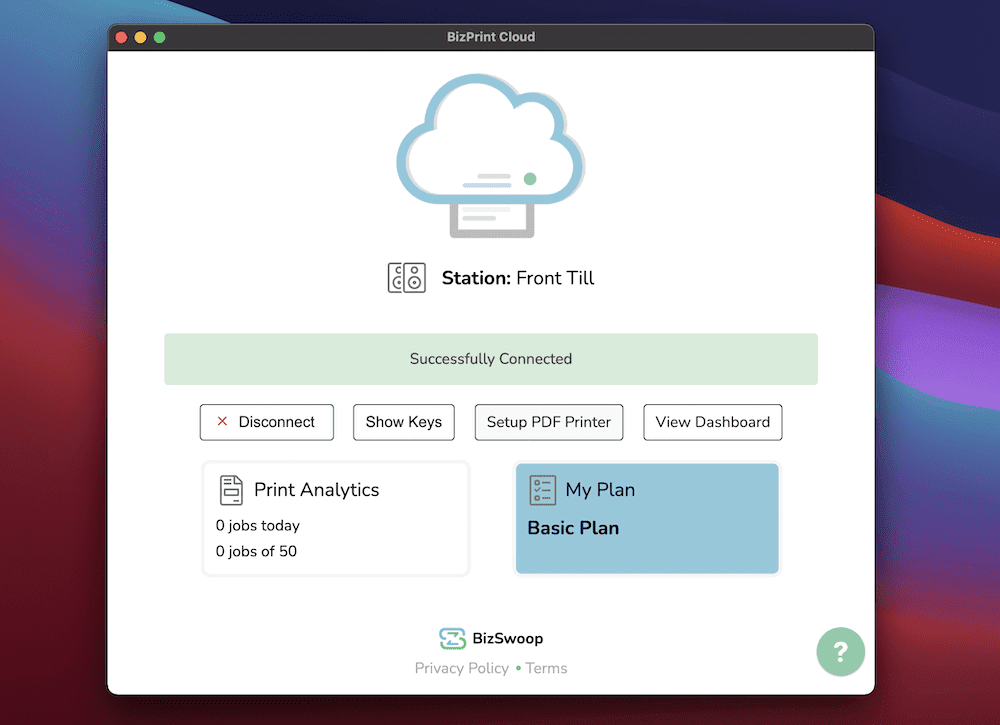 You'll do this through the BizPrint Cloud app on your computer, and takes a minimal number of clicks to implement.
Conclusion
Despite the ever-increasing online shift for commerce-based businesses, there is still lots of need for physical receipts, printed invoices, the ability to email invoices, and hard copies of fulfillment slips. Lots of websites use WordPress and WooCommerce, and while they are fantastic in some situations, you'll need third-party help to achieve a robust WooCommerce print receipt solution.
BizPrint is a leading way to provide automatic print fulfillment for brick-and-mortar stores, and POS locations. It integrates into WooCommerce stores, and with your existing printer, to let you and your customers keep a hard copy of a transaction. What's more, BizPrint is a breeze to set up and use – if you know your way around WordPress and WooCommerce, you'll be at home.
BizPrint offers your first 50 prints free, and you can upgrade to a premium plan when you need more print jobs. You get the full feature set of the plugin, regardless of your chosen tier.